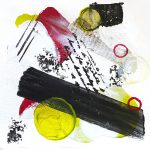 Feels like I should catch up here. Pretty much all my art news is in my July and August newsletters. The most important thing I did in the past year is enroll in Louise Fletcher's 8-day "Find Your Joy" Taster course back in June. She had us doing amazing painting exercises daily, and the by the end of the week, I simply had to plunk down a rather large amount of pounds sterling for her 10-week workshop. Louise is an artist whose work is deep and wild and gorgeous, but more importantly she teaches from her heart as well as her experience. What she teaches is how to find ones artist-voice. She presents very creative assignments that we work on for a week. There are about 1500 people from all over the world enrolled in this online course, with a private facebook group where we can share, ask questions, get ideas and inspiration as well as participate in a couple of sessions live each week.
My work is transforming and my Joy is on a trajectory to the stars. I've published all the 'finished' pieces on my site, instagram and my online store, but I'll post some of the sketches here. They may or may not become the basis for larger works; some may get framed and offered online or at Open Studios. Some will just become part of my references.
These 3 were painted to music: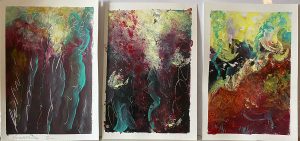 These were an exploration of mark making – using as many tools as possible. The blue feathery bits were made when I dipped a sprig of rosemary into blue paint.

And these were all exploring various kinds of contrasts:


Along with all that there is a good deal of prompting to explore what one likes and doesn't like doing, is satisfying or not, etc. August should be interesting.