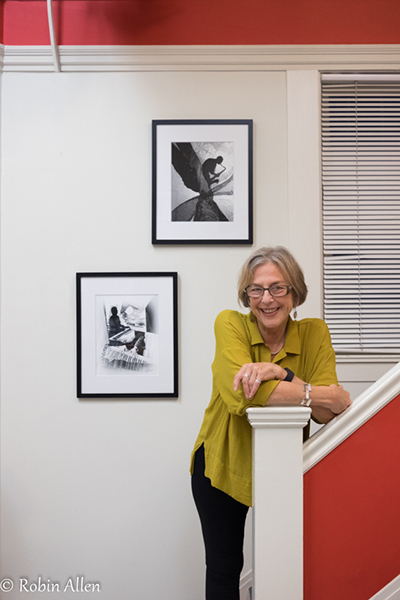 JESSICA LEVANT is a native San Franciscan who spent 30 years living in New York and London. When she returned to the Bay Area in the late 90s, she re-designed her career and therefore the rest of her life. As an artist, she is mainly self-taught but has learned from every artist and every piece of art she has ever admired. For a dozen years her Photo Art was defined by 'unexpected views of the ordinary and ordinary views of the unexpected'. She is drawn to shapes, juxtapositions, shadows and white space – and visual irony, mostly in urban settings. She has an eye for and a penchant for the quirky. Her mixed media pieces are all about shapes and textures and are largely abstract.

The silver lining to the 2020 Shelter In Place regimen of Covid-19 was to provide months of unending days in which to explore a new direction. In the first 5 months Jessica created over three dozen mixed media collages. By 2021 she dove into abstract painting, much of the time under the exquisite tutelage of Louise Fletcher. Please see the MIXED MEDIA link on this site to explore what 'Lockdown' has spawned!
Jessica also sometimes combines her art with her other passion: live jazz. She has documented Bay Area jazz musicians in two photo books, is frequently called upon to photograph bands or individuals. More recently she has created a body of 'Music Art' including the 'Sounds of Jazz" series and her "Chameleon Jazz Project". (See MUSIC gallery.)

WHERE TO SEE THE WORK: Her photo art has been regularly accepted in the monthly juried shows at the historic San Francisco Women Artists Gallery (647 Irving Street, San Francisco). Over the years her work has also been shown at various Bay Area galleries and shows The first public showing of her mixed media pieces was at the iconic North Beach gallery, Live Worms in September 2020.

(See a full listing of past and present shows here).