In the SFWA Gallery
I have 5 pieces in the Gallery in September, one on the wall - Exploring the Vortex, a small and unusual image framed at 14x17" in narrow black metal - an interesting conversation piece. Let's talk about it!

and 4 very different kinds of photo art in the Unframed Art Bin - Colorful Sunset district houses, with cat, plus lots of letters and symbols, all matted and ready for your frame.
Come on over to the SFWA Gallery, 647 Irving Street to see them all. Opening Reception is Thursday, Sept 12, 5:30-8.
---
On Now - online & one in print:
Still Point Art Gallery and Quarterly Journal: I currently have 3 pieces in 'THE DANCE', the Fall exhibit of this beautiful Maine online art gallery. 'Dance Me' is also in the current edition of the Still Point Arts Quarterly, (page 25) available online free here. It's a lovely Art and Literature journal and the print version is worthy of any coffee table.

I have a special fondness for this longstanding Maine arts institution. I entered my first competition in February 2010 and it was their acceptance of three of my entries that led me to pursue art-making as a fulltime endeavor.

The BIG Music Art Show - with BIG Music!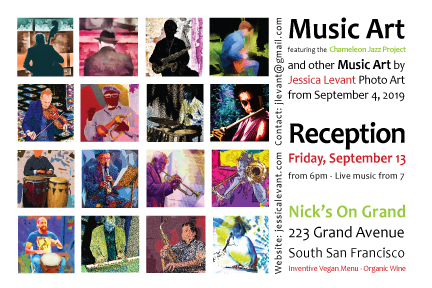 So exciting! I HOPE YOU'LL JOIN ME! My music-themed photo art will be inhabiting an entire restaurant from September 4. There will be a big party -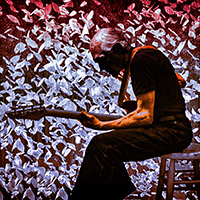 OK, an Opening Reception - on Friday the 13th from 6pm with live jazz from 7 - Steve Nelson's Ensemble including Sharman Duran on keyboard, Chris Amberger on bass, and Dave Bendigkeit and his horn will be hotting up the patio. Nibble and sip as you look over the artwork or take the opportunity to enjoy a full dinner if you fancy trying some inventive and delicious vegan food (You don't have to be vegan to love it!). I hope you'll come see my new Chameleon Music Project featuring jazz instruments as well as several other recent pieces where I melded my love of jazz with my art efforts. Here's one example - redone from a black and white you may remember from last year..
DETAILS: Friday September 13th at NICK'S ON GRAND, 223 Grand Avenue, South San Francisco. Jazz in the Patio from 7, Reception starts at 6. Enjoy or discover this joyful neighborhood venue. Check out some of their menu items at https://www.nicksongrand.com/
---
The Books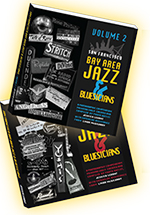 The two volumes of Bay Area Jazz and Bluesicians, with a total of 251 local musicians photographed while performing are available on amazon.com (fastest way to get them) or online at www.bayareajazzandbluesicians.com probably a bit cheaper and takes 7 - 10 days to receive them. You can preview some of the pages on either site. If you prefer hand to hand consumerism, they can be purchased at Glen Park's Bird & Beckett Books & Records and at The Jazz Conservatory bookstore in Berkeley.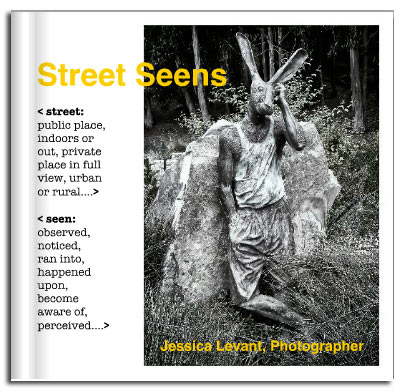 And never out of date, Street Seens can still be had from blurb.com. It's full of street photography from my jaunts here and there in the world, and it's available in both paper and hard cover versions.

You can preview the whole book HERE. It's only available online - to purchase, click the shopping cart icon on the preview page.
---
Please forward this email if you think it would be of interest to anyone you know. And, of course, if you don't want to receive my nearly monthly announcements any more, you can unsubscribe below. Previous newsletter editions are available here.