Snippets & Invites
New Exhibition of my brand new series: Sounds of Jazz - Will be part of Misho Gallery's "Photographer's Storyline" on exhibit from September 8th to 22nd. 680 8th Street, Suite 230, San Francisco, CA 94103 The two-week show opens on Saturday, September 8 with a reception from 3 to 5 pm. Misho Gallery is in the Design District at 680 8th Street, Suite 230A.


Another never before seen piece of mine, The Road Ahead? will be in the SFWA September show opening on 9/11. The opening reception on Thursday, September 13th from 5:30 - 8pm at the SFWA Gallery, 647 Irving Street @ 8th Avenue, San Francisco.

---
Music Art at Noise
4 of my musical silhouette series are on the wall at Noise Vinyl Records and Art Gallery. 16" square, all framed in white:



Noise, 3427 Balboa St. in SF's Outer Richmond, is open 7 days a week, often offering live music. Stop in and enjoy the art on the walls and pick up that vinyl you wish you never got rid of in the 70's.
---
The Books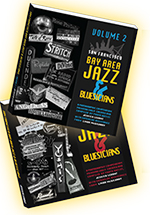 The two volumes of Bay Area Jazz and Bluesicians, with a total of 251 local musicians photographed while performing are available on amazon.com (fastest way to get them) or online at www.bayareajazzandbluesicians.com probably a bit cheaper and takes 7 - 10 days to receive them. You can preview some of the pages on either site. If you prefer hand to hand consumerism, they can be purchased at Glen Park's Bird & Beckett Books & Records, at Noise, a really cool record store on Balboa St, San Francisco and The Jazz Conservatory bookstore in Berkeley.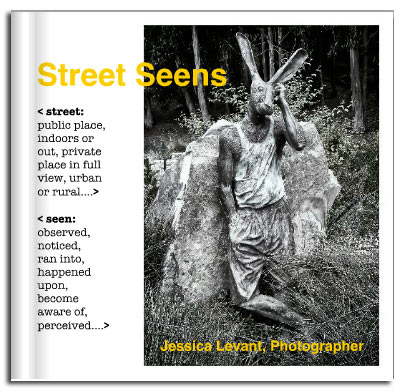 And never out of date, Street Seens can still be had from blurb.com. It's full of street photography from my jaunts here and there in the world, and it's available in both paper and hard cover versions.

You can preview the whole book HERE. It's only available online - purchase details on the preview page.
"The Sounds of Jazz" at the Misho Gallery
I am so happy that my Sounds of Jazz series will be featured at the Misho Gallery show, "A Photographer's Storyline" which opens Saturday. I created these 5 new pieces for this show which asked for photographs and words.  Do come have a look! The five 20"x16" framed works make a colorful display and if sold as a complete set, come with significant discount! Reception details on the left.
---
At the SFWA Gallery
Coinciding with the International Climate Change Summit convening in San Francisco next month, the gallery's October theme is GAIA - Age of Climate Change. I have one piece in this show, rather bleakly called "The Road Ahead?" an abstract which, to me, shows a beautiful space devoid of people. As artwork though, you could look at its more positive colors and shapes and perhaps think of it's earlier title: Arabian Nights.

New In the Print Bin:
Paris, LA and San Francisco represented in the print bin this month: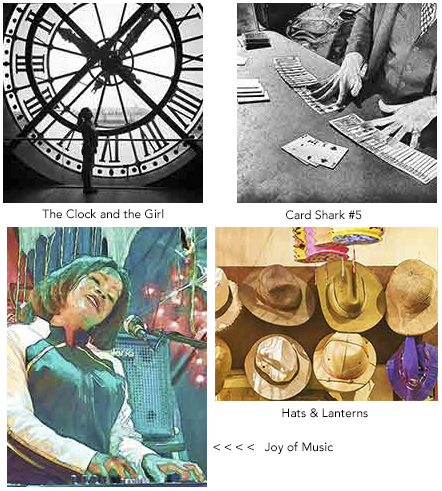 Hope to see you on the 13th for the reception. With live music, wine and nibbles, what better way to celebrate art and consider our planet?
New Works in August

My lens was pointed at walks in San Francisco and New York City this month.
All my work is, of course, available for you to look at on my website or in person, and are available in various sizes and display options. Let me know your interest, or any other comments - always good to hear from you!
---
Please forward this email if you think it would be of interest to anyone you know. And, of course, if you don't want to receive my nearly monthly announcements any more, you can unsubscribe below. Previous newsletter editions are available here.