If images below are not visible, please click HERE to view online.
It's all abstract
As I mentioned last month, I've recently started creating abstract art from my photographs and luckily that fit into the September show theme at the SFWA gallery. I have one piece in the show and four in the print bins. I think there are two ways to produce abstract art with photography: one is to shoot a part of a thing or scene or person so that the shape or lines are their own image, separate from what they came from. The other method is to manipulate a photograph or layer different parts of images on each other, possibly shifting the colors and opacity. I have done the former, but have much more fun doing the latter. So, here's the piece that made it into the show. I called it Silk Forest because it reminds me a bit of layers of silk or tissue paper, but it started life as a photograph of tree bark merged with one of peeling paint. The colors on each layer were all changed to what you see. It looks very decorative in an 18x24" black frame with white matting around it.
---
In the Print Bin
In the unframed art department, you will find four of mine, matted and ready for standard 16x20" or 18x24" frames.
---
The Gallery Opening Reception is Wednesday, September 7 from 5:30 - 8pm at the SFWA gallery, 647 Irving Street @ 8th Avenue, San Francisco. Looking forward to seeing you there.
---
News and New Works

Since my last newsletter, I've done a bit of wandering - around Mission Bay and the Embarcadero and to the Cotati Accordion Festival.  Below is a sampling of a few new pieces from those excursions.  Below is a sampling of a few new pieces. Of course, they're all on my website. Have you ever seen (or played) Bubble soccer? Looks really fun!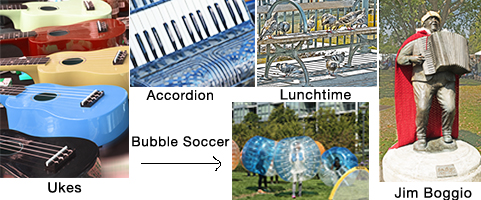 I'm also pleased to announce that my set of SF Giants statues is now complete with the latest, Gaylord Perry, which was unveiled last month. (L to R: Perry, Mays, Marichal, Cepeda, Seal).



Finally, if you didn't make it to the Heavy Metal show in August, here's a shot of what you missed. Some pictures are still available, so let me know if you want to decorate your space with glossy metal Cuban cars. (The license plate is not for sale).


---
The Books
Still being talked about by musicians and music lovers, Bay Area and beyond -- San Francisco Bay Area Jazz & Bluesicians
Now being offered at the new, cool Vinyl store, Noise, in the Outer Richmond district - live music every week!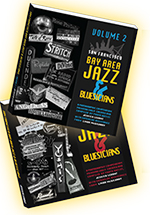 The two volumes of Bay Area Jazz and Bluesicians, with a total of 251 local musicians photographed while they were performing are available on amazon.com (fastest way to get them online) or at www.bayareajazzandbluesicians.com probably a bit cheaper and takes 7 - 10 days to receive them. You can preview some of the pages on either site. If you prefer hand to hand consumerism, they can be purchased at Glen Park's Bird & Beckett Books & Records and at Noise a really cool record store in San Francisco, the Piedmont Piano Co. in Oakland and The Jazz Conservatory bookstore in Berkeley.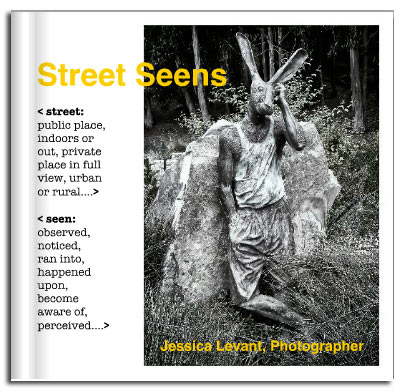 And never out of date, Street Seens can still be had from blurb.com. It's full of street photography from my jaunts here and there in the world, and it's available in both paper and hard cover versions.

You can preview the whole book HERE. It's only available online - purchase details on the preview page.
---
Please forward this email if you think it would be of interest to anyone you know. And, of course, if you don't want to receive my nearly monthly announcements any more, you can unsubscribe below. Previous newsletter editions are available here.