Snippets
My: Sounds of Jazz series was very well received last month at Miisho Gallery's "A Photographer's Storyline", but alas the five pieces came back home with me. They would be very well placed in a venue that offers live music and has some appropriate wall space. If you know of such a place, let me know and I'll pursue them! (None of the jazz venues I go to have the space or lighting to accommodate them). Here's a reminder:

.



SAVE SOME TIME TO COME TO MY OPEN STUDIO ON NOVEMBER 17th or 18th! MORE INFO NEXT ISSUE...
---
See My Music Art at Noise
4 of my musical silhouette series are on the wall at Noise Vinyl Records and Art Gallery. 16" square, all framed in white:



Noise, 3427 Balboa St. in SF's Outer Richmond, is open 7 days a week, often offering live music. Stop in and enjoy the art on the walls and pick up that vinyl you wish you never got rid of in the 70's.
---
The Books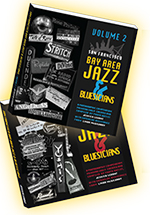 The two volumes of Bay Area Jazz and Bluesicians, with a total of 251 local musicians photographed while performing are available on amazon.com (fastest way to get them) or online at www.bayareajazzandbluesicians.com probably a bit cheaper and takes 7 - 10 days to receive them. You can preview some of the pages on either site. If you prefer hand to hand consumerism, they can be purchased at Glen Park's Bird & Beckett Books & Records, at Noise, a really cool record store on Balboa St, San Francisco and The Jazz Conservatory bookstore in Berkeley.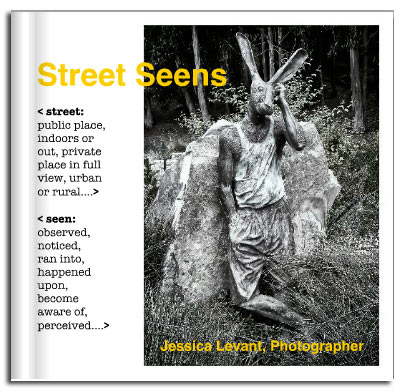 And never out of date, Street Seens can still be had from blurb.com. It's full of street photography from my jaunts here and there in the world, and it's available in both paper and hard cover versions.

You can preview the whole book HERE. It's only available online - purchase details on the preview page.
"Virbrant Visions" at the SFWA Gallery
Please join me at the Opening Reception is on Thursday, October 11th from 5:30 - 8pm. Refreshments and live music of course. If you can't make, the Gallery is open from 11 to 6 Tuesdays - Saturdays and noon - 4 on Sundays. 647 Irving Street @ 8th Ave.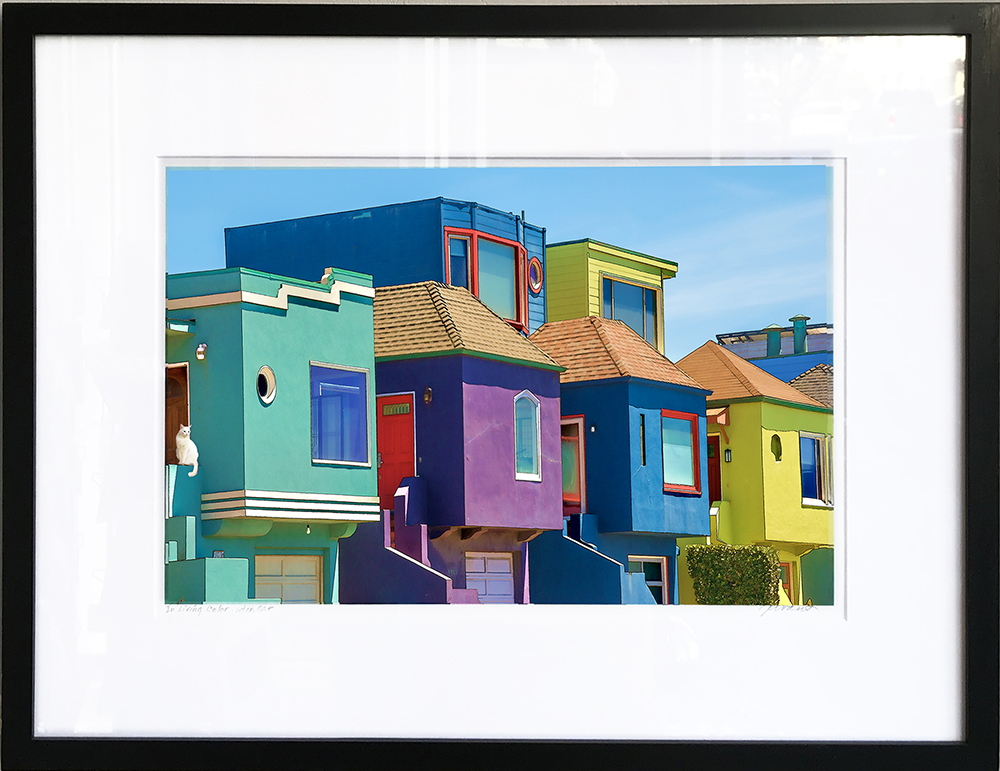 I am pleased that my In Living Color with Cat was selected to be part of the Vibrant Visions exhibit at the SFWA Gallery. The gallery is awash with bright color - perhaps luckily, mine is in the window area so has a little space around it! Look to your right when you enter the gallery! I drove around the greater sunset one sunny afternoon looking for brightly colored buildings. I did shoot quite a few, but this row of buildings one got my main attention.
---
Still In the Print Bin:
Paris, LA and San Francisco represented in the print bin this month: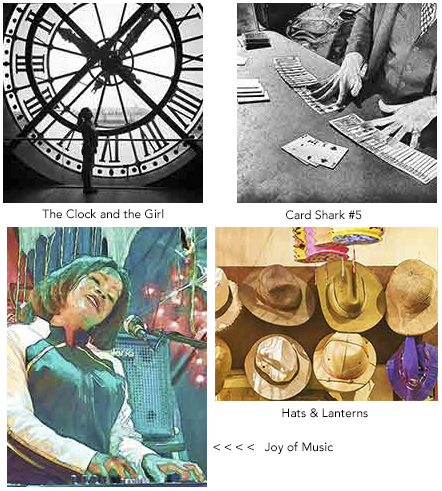 ---
New Works in September
From Sacramento front yards to San Francisco wanderings....
---
Please forward this email if you think it would be of interest to anyone you know. And, of course, if you don't want to receive my nearly monthly announcements any more, you can unsubscribe below. Previous newsletter editions are available here.