OPEN HOUSE - Just for You - and your friends...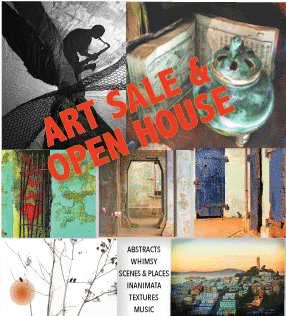 Please come to my Open Studio/Art Sale/Annual Clear-out for holiday art gifts, cards, small and larger prints, unframed and framed - for walls or tabletops. You'll also be able to look at everything, even unprinted, if you should want to order something 'just right'. No traipsing around huge studio buildings. Just come to my apartment, have a sip of something, look on the walls, tables, chairs, in the bins, stacks and piles and find just the perfect thing!

NOVEMBER 17th & 18th from noon to 5pm. 801 Indiana Street @ 20th in Dogpatch, SF. Intercom Code: 6754 will get you in.

My Sounds of Jazz greeting cards are now for sale at Bird & Beckett, 653 Chenery St, SF
---
See My Music Art at Noise
4 of my musical silhouette series are on the wall at Noise Vinyl Records and Art Gallery. 16" square, all framed in white:



Noise, 3427 Balboa St. in SF's Outer Richmond, is open 7 days a week, often offering live music. Stop in and enjoy the art on the walls and pick up that vinyl you wish you never got rid of in the 80's.
---
The Books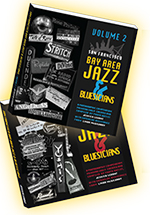 The two volumes of Bay Area Jazz and Bluesicians, with a total of 251 local musicians photographed while performing are available on amazon.com (fastest way to get them) or online at www.bayareajazzandbluesicians.com probably a bit cheaper and takes 7 - 10 days to receive them. You can preview some of the pages on either site. If you prefer hand to hand consumerism, they can be purchased at Glen Park's Bird & Beckett Books & Records, at Noise, a really cool record store on Balboa St, San Francisco and The Jazz Conservatory bookstore in Berkeley.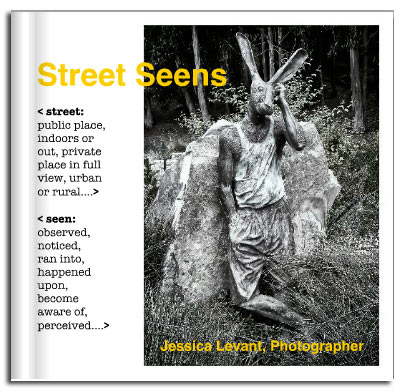 And never out of date, Street Seens can still be had from blurb.com. It's full of street photography from my jaunts here and there in the world, and it's available in both paper and hard cover versions.

You can preview the whole book HERE. It's only available online - purchase details on the preview page.
At the Gallery this month - Iconic "Trifecta"
I'm happy to report that I had three pieces accepted into November's SFWA Gallery exhibit, themed: Iconic., I had fun turning a couple of my photos from recent travels into Photo Art, and at least one of them into Ironic Iconic.... It even got picked as the Juror's Choice which of course makes me happy. I was intrigued that these two icons were next to each other on Fifth Avenue (NYC). I ended up calling it Icons with Apples. Can you find all three apples?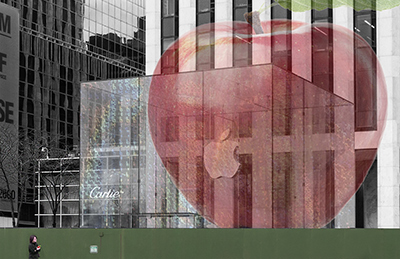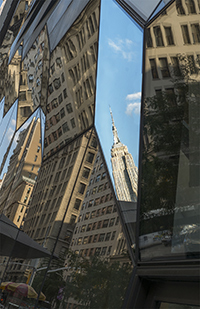 Another piece, also shot in Manhattan, happened when I looked up and found an amazing reflection of the Empire State Building in front of me, quite a distance from the actual building. Can you figure out which Greenwich Village building with the wonky windows enabled this reflection? Artwork title is Icon Rising.
And finally, the third piece, Origin, in the Iconic show is one I shot this spring at the Musée D'Orsey in Paris.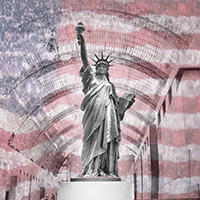 The flag background came later from a very old photograph I took of a giant American flag hanging in a public building and reflected on the marble floor.
I hope you will join me at the Opening Reception on Thursday, November 15th from 5:30 - 8pm. Refreshments and live music of course. If you can't make it, the Gallery is open from 10 to 6 Tuesdays - Saturdays and 11 - 4 on Sundays. 647 Irving Street @ 8th Ave.(Inner Sunset).
---
In the Unframed Print Bin:
For the next two months, these four prints will be in one of the print bins, matted in white and ready for a standard 16x20" frame.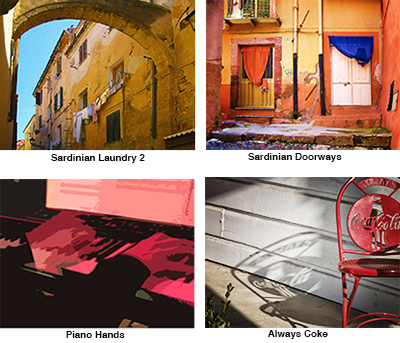 ---
New Works in October
All but one of these were taken during the SF Trolley Dance weekend in October. The dog was in a tailor shop....
---
Please forward this email if you think it would be of interest to anyone you know. And, of course, if you don't want to receive my nearly monthly announcements any more, you can unsubscribe below. Previous newsletter editions are available here.