If images below are not visible, please click HERE to view online
Thank You!
For those of you who came to my art exhibit at the Troll House in September or October, Thank You!  For those I hadn't met before, I hope we will stay in touch. Two months, two fun parties, friends, strangers, passers-by from near and far - I met so many people! Happily I sold some art too, some of which will be hanging on walls thousands of miles from here! It was a great experience for me. Here's a little slideshow covering the timespan.
---
Something to Reflect on
The November exhibit at the SFWA Gallery is called REFLECTIONS - interpreted as both visual and internal. My two pieces that were juried in are both of the visual type. Above is called "Reflections on Gehry". I shot it at the Wiseman Art Museum at the University of Minnesota in July where a nearby building was reflecting on Frank Gehry's undulating structure. It's matted in white and framed in a 21 x 29" black frame.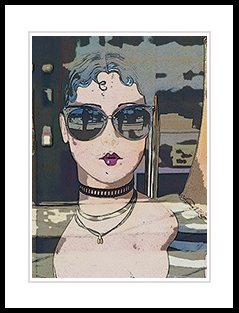 On the right is Watching the Watchers. If you look closely you'll see my reflections, but one might also think of the figure reflecting on the onlookers. This one was in a shop window in San Francisco, framed in a white mat and a 25 x 19" black frame.

The opening reception is Thursday, November 9th from 5:30 - 8pm at the SFWA Gallery, 647 Irving Street @ 8th Avenue, San Francisco. The usual nibbles, liquid refreshment, live music and good cheer will be on hand along with many of the artists whose work is reflected on the walls.
Plus In the Print Bin
I will have four prints in the print bin for two months, matted in white at standard sizes, ready for your own frames:

---
And at Noise Vinyl Record Store and Art Gallery...
My Open Studios showing this year is part of a group show at Noise - a wonderful place for vinyl record lovers as well as art lovers with walls of artwork and live music. Stop in between noon and 7 any day, or check their website to see if there's music happening that interests you: 3427 Balboa @ 36th Avenue, San Francisco. My pictures above, L to R are Checker Game, Kerouac Alley, Magic in the Night and Keys of Joy.

---
New Works last month

A variety, mostly from things I shot earlier but hadn't had time to look at - clockwise from left top: No Sale, a cartoony treatment of Taraval Street's 'Gold Mirror' Restaurant's actual gold mirror. Then First Light, the sun coming up over Machu Picchu, a colorful presentation of a Pietro Bulgarelli statue I saw at the National Theater in San Jose, Costa Rica. I call it Play On. And finally, there's Cheers, a group of very young sailors celebrating Fleet Week on the Embarcadero, toasting with their mobile phones.


All of the above and more are on my website of course, which now sports a search box to make it much easier to find particular images or 'topics'.
---
Holiday Giving?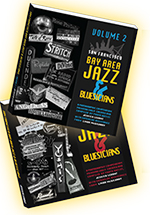 The two volumes of Bay Area Jazz and Bluesicians, with a total of 251 local musicians photographed while performing are available on amazon.com (fastest way to get them onlinr ae) ot www.bayareajazzandbluesicians.com probably a bit cheaper and takes 7 - 10 days to receive them. You can preview some of the pages on either site. If you prefer hand to hand consumerism, they can be purchased at Glen Park's Bird & Beckett Books & Records and at Noise a really cool record store on Balboa St, San Francisco and The Jazz Conservatory bookstore in Berkeley.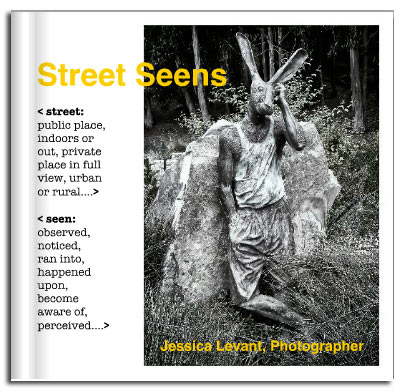 And never out of date, Street Seens can still be had from blurb.com. It's full of street photography from my jaunts here and there in the world, and it's available in both paper and hard cover versions.

You can preview the whole book HERE. It's only available online - purchase details on the preview page.
---
Please forward this email if you think it would be of interest to anyone you know. And, of course, if you don't want to receive my nearly monthly announcements any more, you can unsubscribe below. Previous newsletter editions are available here.