Dates for your calendar:
Saturday, May 4 - Art in the Garden at The Noe Valley Garden Tour: 10 - 4. Details below
Thursday, May 9 - Celebrating Bay Area Culture, SFWA Gallery Opening Reception: 5:30 - 8pm, 647 Irving Street, SF

Tuesday, June 18 - Reception for my solo show at the Bay View Boat Club - 6 - 8pm and stay for live jazz - more on this next month, but consider yourself invited now
Celebrating Bay Area Culture - May Gallery Show
I am delighted that my three entries were all juried into the May SFWA show. Above is one way San Franciscans celebrate Sundays - I call it Invasion of the Photogs (Alt: Sunday in the Park with Photogs).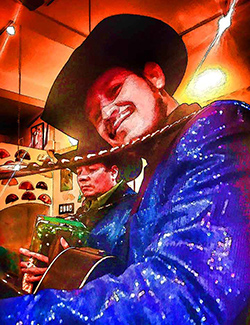 I shot it during a Spring photo walk when it seemed like the park was full of a new species of humans, all of whom had cameras sprouting from on appendage or another. It's framed in 12" X 24" black metal with a narrow white mat.

Another traditional piece of San Francisco culture is the singers who wander in and out of Latin American restaurants prepared to serenade you as you dine. These two, both called Miguel, wore blue sequined jackets and were happy to be photographed. San Francisco Serenade is printed on metallic photo paper, matted in white and in a black 20"x16" wooden frame.

My third piece is a sort of pastel image of an early morning at a grocery store in San Francisco's Chinatown. Called, for obvious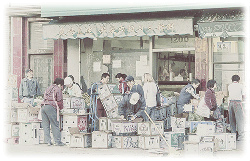 reasons, Stockton Street, it is 19" x 25" framed in black as well.

In the Print Bin
For the next two months,
the four prints below will be available in the print bins.
All are matted and ready for your standard sized frames.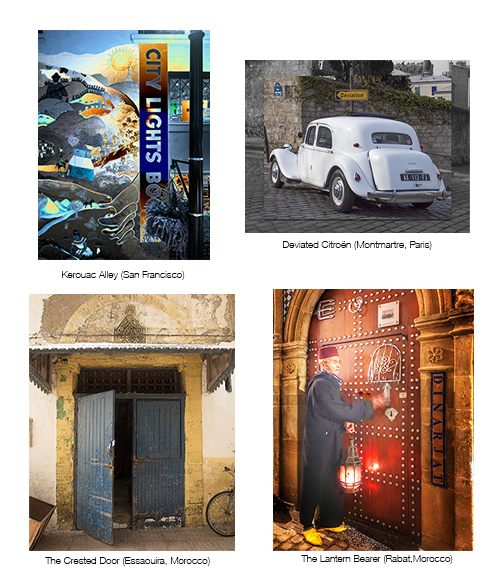 I'd love you to join me at the OPENING RECEPTION on Thursday, May 9th from 5:30 - 8pm at 647 Irving Street @ 8th Avenue, San Francisco. As usual, light refreshments and live music will accompany your meeting many of the artists while checking out the artwork, ceramics, jewelry and other elegant crafts. Or, the gallery is open Tues - Sundays. This show runs until midday June 1st. I'd be happy to showyou around!
---
Fancy a Garden Tour?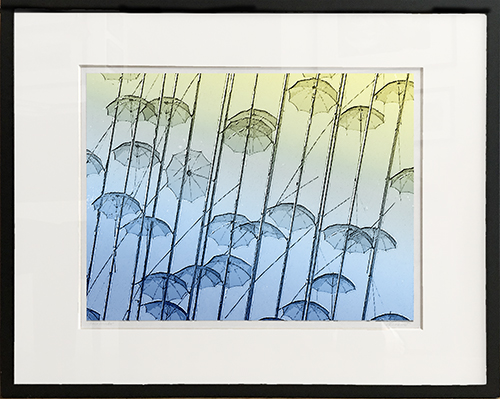 Some of my art was chosen to be displayed in one of the 10 gardens being highlighted this year by the Friends of Noe Valley's annual tour on Saturday, May 4. Two large pieces, Fair Winds and Rainbow Leaves (above) plus some smaller table-top pieces will 'decorate' the lovely terraced Tuscan style garden paired with my art. Infomation and tickets at http://friendsofnoevalley.com/2019/noe-valley-garden-tour-2019/.
---

New Works in April

Many of you know I managed to get back to Paris in the end of April. A wonderful week of walking, watching, listening and taking lots of pictures. The ones below are all from that week which included another visit to the Atelier des Lumières where the digital van Gogh show was projected on all the surfaces and all the spectabors. The four horizontal pieces below are from that series.
---
Do you know?
All works seen here, in earlier issues of my Art News, or on my website are available in many different sizes, printed on a choice of papers, canvas, metal, acrylic or wood, and you can even get them on coffee mugs and phone cases! Check out the shopping cart site at https://jessica-levant.pixels.com/. And, of course, let me know if there is anything you would like!
---
The books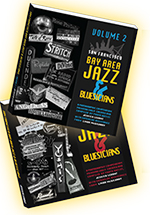 The two volumes of Bay Area Jazz and Bluesicians, with a total of 251 local musicians photographed while performing are available on amazon.com (fastest way to get them) or online at www.bayareajazzandbluesicians.com probably a bit cheaper and takes 7 - 10 days to receive them. You can preview some of the pages on either site. If you prefer hand to hand consumerism, they can be purchased at Glen Park's Bird & Beckett Books & Records or The Jazz Conservatory bookstore in Berkeley.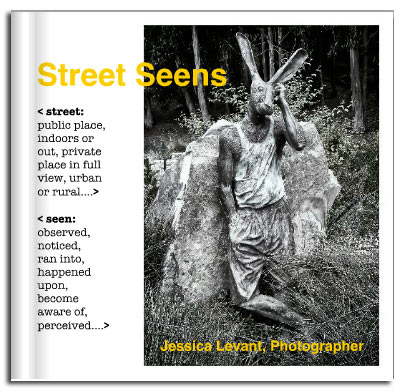 And never out of date, Street Seens can still be had from blurb.com. It's full of street photography from my jaunts here and there in the world, and it's available in both paper and hard cover versions.

You can preview the whole book HERE. It's only available online - purchase details on the preview page.
---
Please forward this email if you think it would be of interest to anyone you know. And, of course, if you don't want to receive my nearly monthly announcements any more, you can unsubscribe below. Previous newsletter editions are available here.