If images below are not visible, please click HERE to view online.
Two Shows for your Calendar!
"CUBAN TAKEAWAY" - Solo Show at the Bay View Boat Club: May 1 - 31, 2016. Reception Thurs. May 5, 6 - 8pm

"NEW PERSPECTIVES" at the SFWA Gallery 5/9 -6/4. Reception Wed. May 11, 5:30 - 8pm
The Solo Show - well, here's the postcard: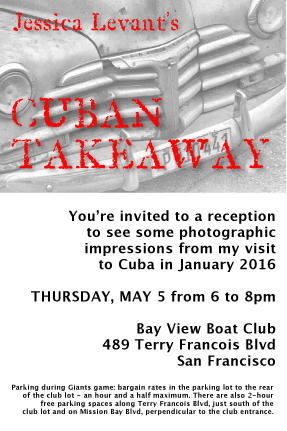 Just remember to stick a name badge on when you come in - an ABC rule for a private club. Please use my name as your sponsor. In addition to the art on the wall, there will be greeting cards featuring Havana cars, a bin of prints (not necessarily from Cuba) at discounted show prices, and of course, the expected wine and cheese. Cash bar for other than wine is always available too. Hope to see you.
---
In the Gallery: The Rhino in the Room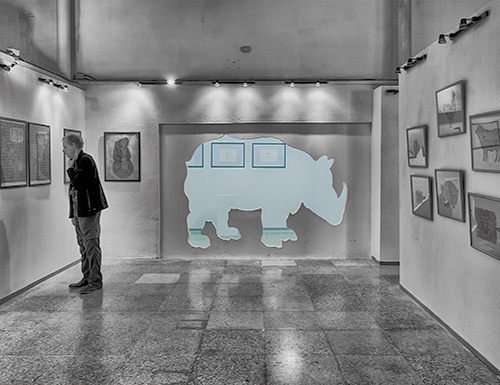 One of the three pictures of mine juried into the May SFWA show is the picture above which was taken in an art gallery in Old Havana. I never could find out what the significance of the Rhino cut-out was, but I knew for me it was a photo! It's in a 20x16" black frame with a white mat.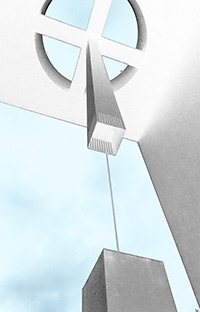 In the same color tones, and also fitting the theme of 'New Perspectives' is The Connection (at right) which was my view looking upwards while having coffee outside my gym. The actual structure was New Mexico colors, but I liked the image in a more toned down version. It's framed in an 18x24" black frame with a white mat.

For those of you who have spent any time in London during the past 16 years, you will recognize my third picture (below) in this show as the Millennium Bridge. This view is looking north across the Thames from a window in the Tate Modern. I call this one Helping Hand for what I think is an obvious reason (!). It is framed at 29 x 19", again in black with white mat.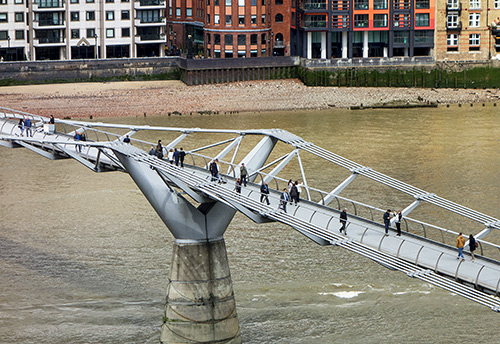 And in the print bins:
Can't fathom (no pun...) why all my prints for the bin are water scenes, but there it is. Four unframed prints, matted and ready for your own frame choices.




The show will run from May 9th to June 4th. The opening reception is Wednesday, May 11th from 5:30 - 8pm at the SFWA gallery, 647 Irving Street @ 8th Avenue, San Francisco. Come and meet artists, take in the beautiful fine crafts and artwork, enjoy the wine and nibbles and gentle guitar music of Tom Lander.

---
New Works

During several city wanderings plus a trip to Sacramento (where the tree below lives) the following crossed my path. These may or may not make it into a show, but they're all on my website.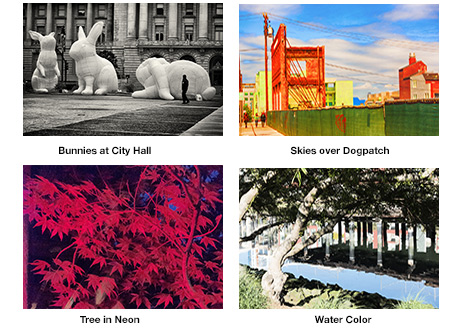 ---
The Books:
Still being talked about by musicians and music lovers, Bay Area and beyond -- San Francisco Bay Area Jazz & Bluesicians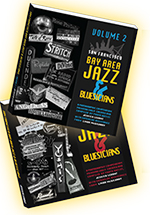 The two volumes of Bay Area Jazz and Bluesicians, with a total of 251 local musicians photographed while they were performing are available on amazon.com (fastest way to get them online) or at www.bayareajazzandbluesicians.com probably a bit cheaper and takes 7 - 10 days to receive them. You can preview some of the pages on either site. If you prefer hand to hand consumerism, they can be purchased at Glen Park's Bird & Beckett Books & Records in San Francisco, Piedmont Piano Co. in Oakland and The Jazz Conservatory bookstore in Berkeley. One of my favorite non-profits, Jazz in the Neighborhood, also offers them for purchase at most of their performances.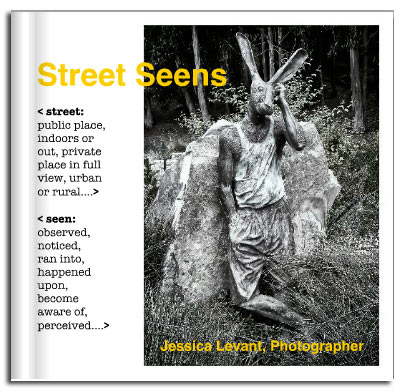 And never out of date, Street Seens can still be had from blurb.com. It's full of street photography from my jaunts here and there in the world, and it's available in both paper and hard cover versions.

You can preview the whole book HERE. It's only available online - purchase details on the preview page.
---
Please forward this email if you think it would be of interest to anyone you know. And, of course, if you don't want to receive my monthly announcements any more, you can unsubscribe below. Previous newsletter editions are available here.