If images below are not visible, please click HERE to view online.
In this issue: May Gallery Show; Solo Show - Reception Tuesday; New Work
Light and Shadow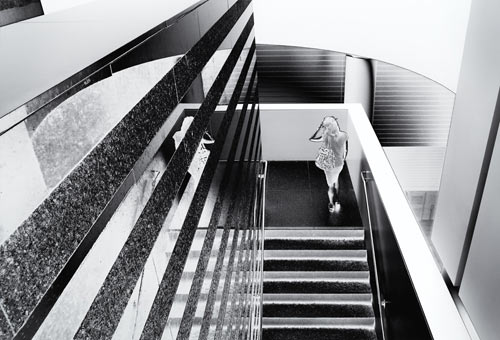 What a concept for a theme! Light and Shadow covers a lot of ground and is great for photography. I'm pleased to say that I had two submissions accepted into the show. The piece above, which I unsurprisingly named SFMOMA, is a black and white rendition of their wonderful stairway, with a women in negative. It's in a contemporary black 16 x 20" frame with a white double mat.
My small entry is White Buddha, which is actually a rather weathered garden statue in Sonoma. I preferred the monochrome to the full color as I think it adds to the serenity of the subject. It's framed in white, 10 x 12".
There are also some gorgeous paintings and mixed media pieces that will be keeping the photographs company. Lots to enjoy!
The show opens on the May 9th and runs to June 5th. The Opening Reception on Thursday, May 10 from 5:30 - 7pm at 3489 Sacramento Street, San Francisco. Do come if you can!
---
But Wait, there's More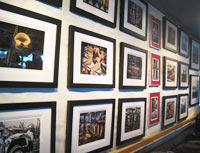 My third annual solo show at the Bay View Boat Club went up this week and will be on display for the month of May. I'm having a reception Tuesday May 8th from 6:30 - 8 followed by our regular Tuesday night jazz featuring the great Don Prell and his band, 'Sea Bop'. If you're in the bay area, please do come by. I have 21 pieces up, including some of my 'street photos', and a few from Mexico and Belize. At the reception, I will also have a bin of unframed pieces at a special show discount. The boat club is at 489 Terry Francois Blvd, San Francisco - that's on the waterfront south of the Ball Park. You can find directions at bvbc.org under 'clubhouse'.
---
New Work!
More from my recent visit to SFMOMA and some street photos from a neighborhood wander: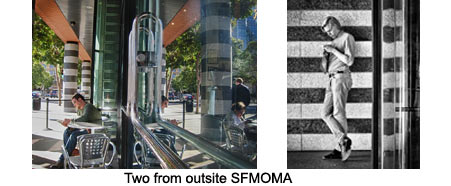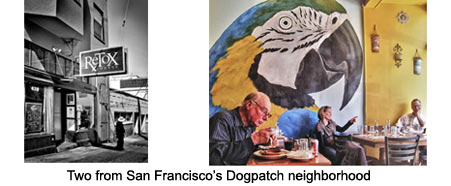 ---
Street Seens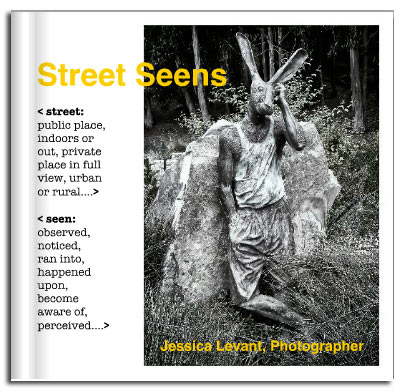 Just a repeat of my blatent pitch for you to look at and preferably enhance your coffee table and those of all your friends with my book (Well, a girl's got to make a living!):

You can preview the whole book HERE. It's only available online - details on the preview page.
---
As always, FREE E-CARDS of any of my works are available from my website in various formats and sizes. For free e-cards, click on a picture you like in any of the portfolios and follow the links at the bottom.
---
I love hearing from you with comments, critiques, suggestions, etc. and to just generally keep in touch. Please forward this email if you think it would be of interest to anyone you know. And, of course, if you don't want to receive my monthly announcements any more, you can unsubscribe below. Previous newsletter editions are available here.