If images below are not visible, please click HERE to view online
Three of my artworks the Gallery this month - and one got a prize!
To celebrate Women's History Month, the gallery set an exhibit called Women's Work (which was later changed to Celebrating Women). I am delighted that all three of my submissions were juried into this show, and one was given a Juror's Choice Award. Above is Three Sisters Spinning, photographed in Southern Peru of Aymara Women spinning alpaca yarn.
Another of my photographs from the same trip Is The Alpaca Weaver, a highly skilled craftswoman in Arequipa, Peru. The third photograph is from my recent trip to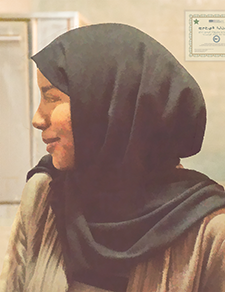 Morocco. The woman in the piece below is named Houria. She, at age 23, is the head of a Woman's Association in her small village. The association's purpose is to train local women in being independent - of both family and tradition, in order to be in charge of their own lives regardless of marital or parental status. The association supports itself by baking cookies and other sweets which they sell to hotels and pensions for both resale and restaurant service and in so doing, the women gain business and management skills. All three of these pieces are matted in white and framed in black wooden frames.

In the Print Bin
For the next two months, four more prints from Morocco will be available for your enjoyment. All are matted to a standard 20"x16" and ready for your own frames. A few 5"x7" greeting cards of these prints are also in the gallery.

Please do come to the opening reception on Thursday, March 7th from 5:30 - 8pm at the SFWA Gallery, 647 Irving Street @ 8th Avenue, San Francisco. As usual, light refreshments and live music will accompany your meeting many of the artists while checking out the artwork, ceramics, jewelry and other elegant crafts.
---
New Works in March

Blame it on the Winter (or not!) but I didn't do a whole lot of shooting in February - except of jazz artists of course but that always happens. So, here are 3 favorites, two of which are from the 'music side'...
Do you know?
All works seen here, in earlier issues of my Art News, or on my website are available as greeting cards or as prints in many different sizes, printed on a choice of papers, canvas, metal, etc. Let me know if there is anything you would like!
---
The books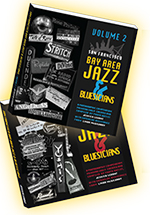 The two volumes of Bay Area Jazz and Bluesicians, with a total of 251 local musicians photographed while performing are available on amazon.com (fastest way to get them) or online at www.bayareajazzandbluesicians.com probably a bit cheaper and takes 7 - 10 days to receive them. You can preview some of the pages on either site. If you prefer hand to hand consumerism, they can be purchased at Glen Park's Bird & Beckett Books & Records or The Jazz Conservatory bookstore in Berkeley.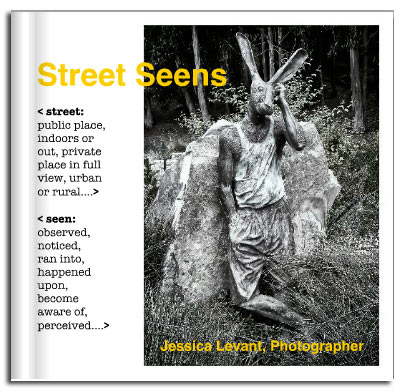 And never out of date, Street Seens can still be had from blurb.com. It's full of street photography from my jaunts here and there in the world, and it's available in both paper and hard cover versions.

You can preview the whole book HERE. It's only available online - purchase details on the preview page.
---
Please forward this email if you think it would be of interest to anyone you know. And, of course, if you don't want to receive my nearly monthly announcements any more, you can unsubscribe below. Previous newsletter editions are available here.