If images below are not visible, please click HERE to view online
Celebrate HER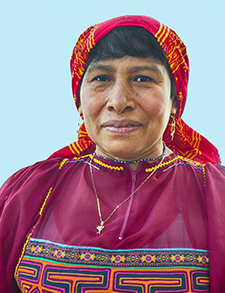 Here it is, International Women's Month again. In that regard, the March exhibition at the SFWA Gallery is in honor of women. I was happy to have two pieces juried into the show. The first, Gula Woman, is a portrait of a woman I encountered in Panama City. There are a number of indigenous people from the Gula region who dot Panama's streets with color as they sell their wares, welcome you into craft shops or just rush around taking their children to school or buying groceries. It's hard to get candid shots, and both shy and astute, this lady tried so hard to stand still after we agreed a price that she looked like a statue.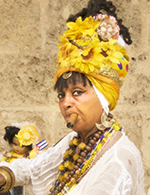 Eventually she seemed to soften just a little. In the image on the right, you might recognize Señora Habana who is well used to posing both obligingly and with humor in the plazas of Habana Viejo. She was a popular piece in a show last year and when I put her image on note cards, they sold out more than once!
So come and look at 'the Ladies' hanging on the walls of the gallery. They'll be in good company with 58 other pieces in the same theme, along with jewelry, small sculpture and ceramics and note cards always available at this charming gallery. The show runs from March 7 - April 1.
---
in the Print Bin
One hat-tip to Women and 3 from my Costa Rican adventure, all unframed archival prints.

---
The Opening Reception for the San Francisco show is Thursday, March 9th from 5:30 - 8pm at 647 Irving Street @ 8th Avenue, San Francisco. Music, wine, finger food and many, many women!
---
New Works

Here are a few from Arizona - Native dancing today, a rather lovely branch of a cotton plant and the remains of a 1400 year old dwellings at Casa Grande.

---
And where you get your Bay Area jazz documentation...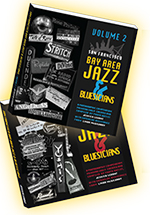 The two volumes of Bay Area Jazz and Bluesicians, with a total of 251 local musicians photographed while performing are available on amazon.com (fastest way to get them online) or at www.bayareajazzandbluesicians.com probably a bit cheaper and takes 7 - 10 days to receive them. You can preview some of the pages on either site. If you prefer hand to hand consumerism, they can be purchased at Glen Park's Bird & Beckett Books & Records and at Noise a really cool record store on Balboa St, San Francisco, the Piedmont Piano Co. in Oakland and The Jazz Conservatory bookstore in Berkeley.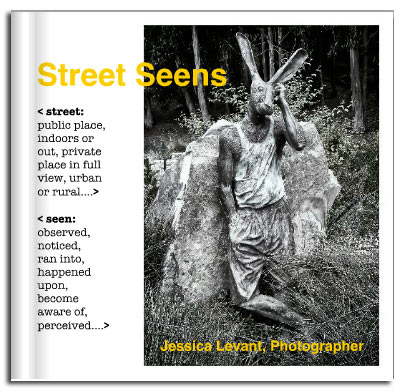 And never out of date, Street Seens can still be had from blurb.com. It's full of street photography from my jaunts here and there in the world, and it's available in both paper and hard cover versions.

You can preview the whole book HERE. It's only available online - purchase details on the preview page.
---
Please forward this email if you think it would be of interest to anyone you know. And, of course, if you don't want to receive my nearly monthly announcements any more, you can unsubscribe below. Previous newsletter editions are available here.