If images below are not visible, please click HERE to view online
Dates for your calendar:
THURSDAY, JUNE 6th

- OPPOSITES, SFWA Gallery Opening Reception: 5:30 - 8pm, 647 Irving Street, SF

TUESDAY, JUNE 18th

- Reception for

my solo show

at the Bay View Boat Club, SF- 6 - 8pm plus stay for live jazz - no ballgame that night, so parking should be fine. Details below.
Three of my photographs in the June gallery show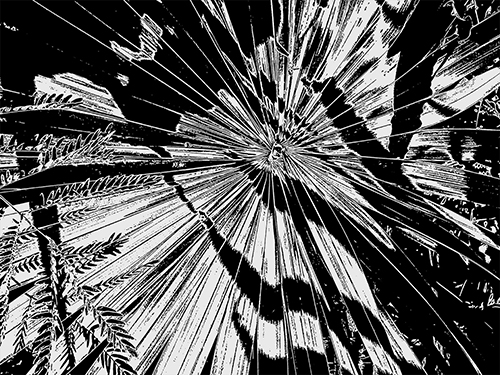 The theme for this month's juried show is 'OPPOSITES'. It was left to interpretation how to define this and here are my takes on the theme. The above image is an altered photograph that I call "Tropix Noir". It started as a 'regular' photograph of a fan fern in Mexico - but green is not my color. So I made it black and white and then played with some filters until I came up with this more graphic looking image. It's matted in white and framed in black (18x24") and hanging in the gallery for you to see.
The other two are more 'traditional' at least in technique, but both have my visual irony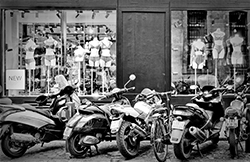 embedded in their juxtapositions. I hope you like them too. The first I call "Stop and Shop", shot in Paris last year. Where are all those bikers if not buying those lacey 'smalls'....?
Also from France last year, but this time from the South, in the center of a small city called Sete, I found a street mural that fascinated me. I don't actually know what it was depicting, but because of the motorcycles parked in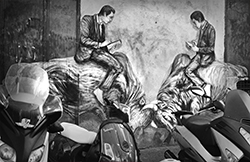 front of it, my whimsical brain decided to call it "Three Modes of Transport". Up to you to work out the other two.... These are also matted in white and framed in black. Do come and see them close up.


*** Still In the Print Bin ***
For one more month, my four prints below will be available in the gallery print bins.
All are matted and ready for your standard sized frames.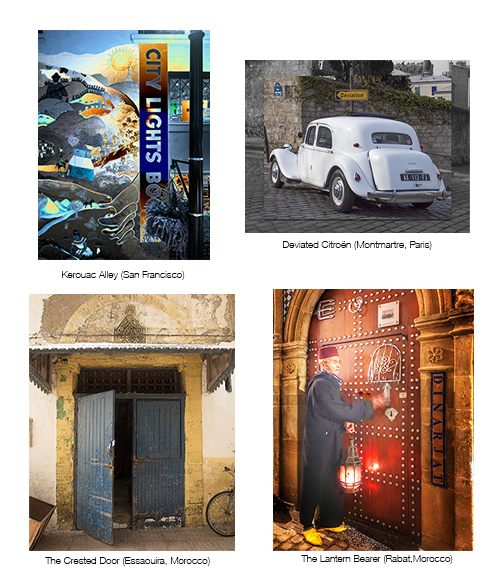 I hope you will join me at this show's OPENING RECEPTION on Thursday, June 6th from 5:30 - 8pm at 647 Irving Street @ 8th Avenue, San Francisco. As usual, light refreshments and live music will accompany your meeting many of the artists while checking out the artwork, ceramics, jewelry and other elegant crafts. Or, the gallery is open Tues - Sundays. This show runs until midday July 6th. I'd be happy to show you around!
---
Now, the solo show

If you're around the Bay Area, I do hope you can make it to my annual solo show at the Bay View Boat Club. It's always fun + the live jazz till 10 is a bonus! This year I'm featuring some of my Morocco works, but on the night of the reception I will of course have some bins with a variety of other prints available as well as some small loose ones at clearance prices. Here's the postcard with all the details: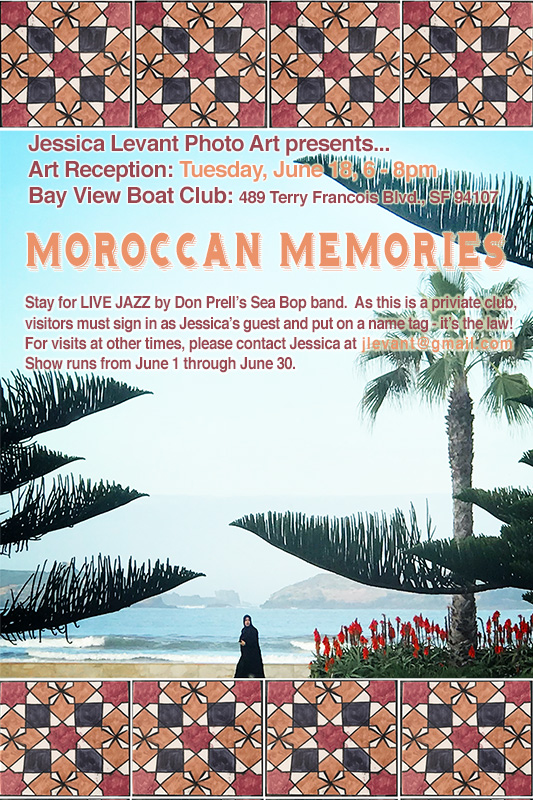 ---

Some New Directions in May - and your ideas wanted!

I started a whole new project in May that I'm calling my Chameleon Series. I'm working towards a series of 15 or so, but currently have 10. As you can see they are all featuring jazz instuments and are in abstract or cartoon format. The colors are my choice but can be changed to suit, ergo the series name. I think they would be splendid in white frames lined up on the wall of a large jazz club, but that remains to be seen. To see the 10th (which didn't fit in my grid) and the and the new ones to come, check my website and/or my instagram account. Here are some to whet your whistle: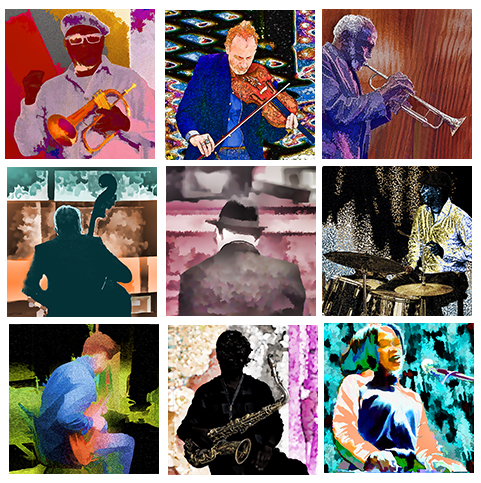 By next month I hope to have a clarinet, trombone, flute, alto sax, and well, who knows? Your thoughts and suggestions are most welcome. Your ideas for getting these installed somewhere are even more welcome!! They can be printed up to 30" square and framed in a 36" thin white frame (my choice for presentation).
---
Do you know?
All works seen here, in earlier issues of my Art News, or on my website are available in many different sizes, printed on a choice of papers, canvas, metal, acrylic or wood, and you can even get them on coffee mugs and phone cases! Check out the shopping cart site at https://jessica-levant.pixels.com/. And, of course, let me know if there is anything you would like!
---
The books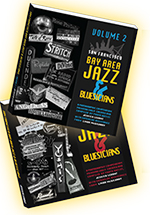 The two volumes of Bay Area Jazz and Bluesicians, with a total of 251 local musicians photographed while performing are available on amazon.com (fastest way to get them) or online at www.bayareajazzandbluesicians.com probably a bit cheaper and takes 7 - 10 days to receive them. You can preview some of the pages on either site. If you prefer hand to hand consumerism, they can be purchased at Glen Park's Bird & Beckett Books & Records or The Jazz Conservatory bookstore in Berkeley.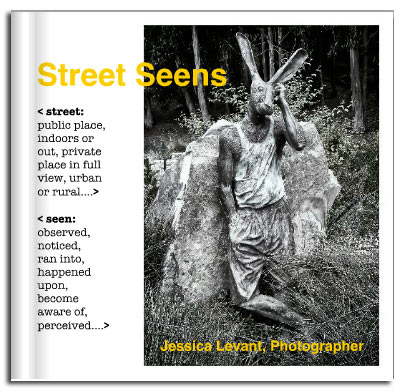 And never out of date, Street Seens can still be had from blurb.com. It's full of street photography from my jaunts here and there in the world, and it's available in both paper and hard cover versions.

You can preview the whole book HERE. It's only available online - purchase details on the preview page.
---
Please forward this email if you think it would be of interest to anyone you know. And, of course, if you don't want to receive my nearly monthly announcements any more, you can unsubscribe below. Previous newsletter editions are available here.