If images below are not visible, please click HERE to view online
At the Boat Club - Tuesday, June 5th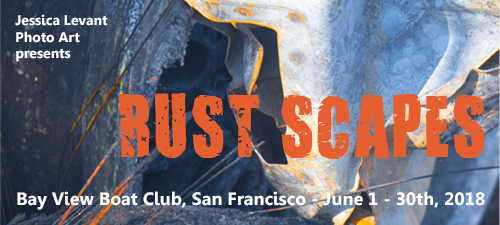 If you're anywhere near San Francisco, you are happily invited to my latest solo show Opening Reception. On the wall will be never-seen-before pieces of abstract art from a photographic study of RUST. The texture, colors, shapes, variations, juxtiposition of other materials found in four rusted automobiles kept me happy for hours! I have printed them small (11" x 14" each) so they are very portable and can be easily grouped in twos or threes, but they can be ordered in any size. I think they would be most interesting printed on metal.
Along with the wall art, I will have more never-before-shown prints with me - some of my favorites from my very recent South American adventure and a few from France.
The Rust show will be up all month, and if you can't make it on Tuesday, I'll be happy to meet you at the club at a mutually convenient time.
Reception: Bay View Boat Club, 489 Terry Francois Blvd, SF 95138 (China Basin) from 6 - 8pm + you are most welcome to stay for Don Prell's Sea Bop jazz band which plays from 7 - 10 or later.
---
At the Gallery
I had one piece accepted into the June Intrigue show. It's called Keeping Her Waiting.
I found this reflection-filled corner in Paris where the man on the right looked very much like he was mimicking the subject of the painting on the left. Through the window, my friend is waiting for me to catch up, ergo the title, Keeping Her Waiting. It's matted in white and in a 16" x 20" contemporary black frame.

Still In the Print Bin
For one more month, the following images will be available at the gallery in the unframed print bin. They are matted in white, ready for your own standard 16" x 20" or 18" x 24" frames. Clockwise they are from The Amazon River, London, and Bethlehem, PA.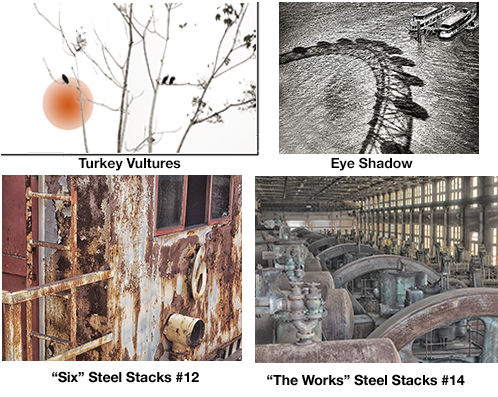 You are cordially invited to the opening reception on Thursday, June 7th from 5:30 - 8pm at the SFWA Gallery, 647 Irving Street @ 8th Avenue, San Francisco.
---
New Works in April - oh, where do I start?

Three weeks in Southern Peru, Bolivia and the Chilean desert - I returned with thousands of photographs. Here are a few, some of which I'll have with me at the boat club.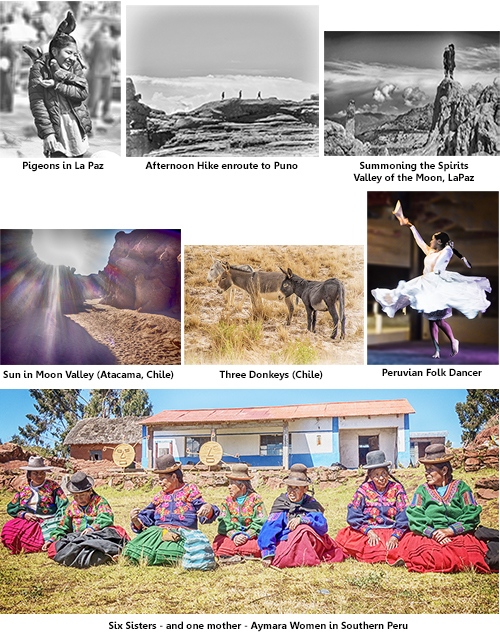 ---
The books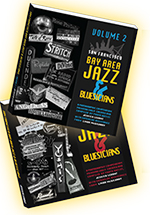 The two volumes of Bay Area Jazz and Bluesicians, with a total of 251 local musicians photographed while performing are available on amazon.com (fastest way to get them) or online at www.bayareajazzandbluesicians.com probably a bit cheaper and takes 7 - 10 days to receive them. You can preview some of the pages on either site. If you prefer hand to hand consumerism, they can be purchased at Glen Park's Bird & Beckett Books & Records who just got a new supply, at Noise a really cool record store on Balboa St, San Francisco and The Jazz Conservatory bookstore in Berkeley.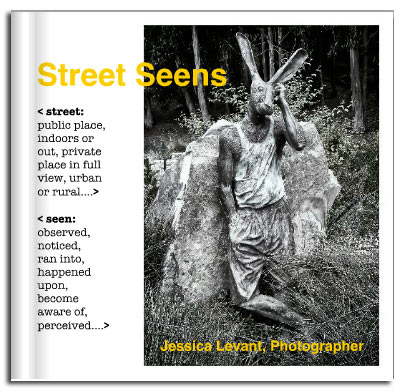 And never out of date, Street Seens can still be had from blurb.com. It's full of street photography from my jaunts here and there in the world, and it's available in both paper and hard cover versions.

You can preview the whole book HERE. It's only available online - purchase details on the preview page.
---
Please forward this email if you think it would be of interest to anyone you know. And, of course, if you don't want to receive my nearly monthly announcements any more, you can unsubscribe below. Previous newsletter editions are available here.