If images below are not visible, please click HERE to view online
An All Botanicals Show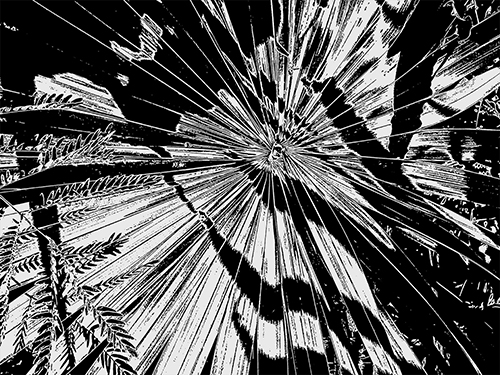 In this month's SFWA juried show, the theme is All Botanicals - not an area I generally focus on. However, two of my pieces were juried into the show which opens this week and I'd love you to come see them.
Above, Tropix Noir, is 18x24" floating in it's black frame and Rainbow Leaves, to the right, weighs in at 31.5" wide x 25" high. They are both photographs which I have 'altered'. Tropix Noir started as a fan palm I shot in Mexico; Rainbow Leaves is actually 4 different leaves I found on the ground. I recolored them digitally and added the textured backgrounds.  I hope you'll be able to make it to the gallery while the show is on.  It runs until July 1st.
---
Still In the Print Bin
The following four, which are definitely NOT botanical, are planted in the unframed art bin until the end of the June show- unless one of them finds a home of course, in which case it will be replaced. All are 18 x 24", matted in white and ready for framing. If one of them 'speaks to you', it would love to meet you.
The Opening Reception for the All Botanicals show is Thursday, June 8th from 5:30 - 8pm at 647 Irving Street @ 8th Avenue, San Francisco. Music, wine, finger food and 57 other botanical images on the walls along with the unframed works and jewelry, ceramics, sculpture, glasswork, greeting cards, etc etc ....
---


I'm very happy to have two of my pieces, Magic of the Night and Reading Room, selected for this year's Marin Society of Art Photographic Show which runs from June 15 through July 8th.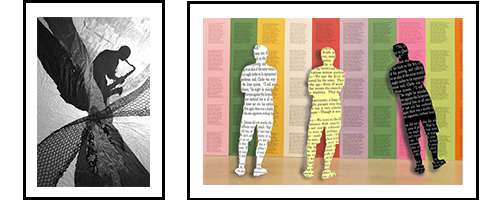 Above left, a photograph of my original collage celebrating the magic of music. On the right, A digitally manipulated image of a figure looking at an installation at the Perex Art Museum in Miami. Both are 18 x 24 " and framed in black contemporary wooden frames. And both are for sale.
The reception is on Sunday, June 25 from 4 to 6pm at their new digs in San Rafael at 1515 3rd Street @ E Street, San Rafael. I plan to be there and would love to see you there too!
---
New Works last month

All but one of the photographs below are from my New York City visit in April. Can you figure out which one is from San Francisco?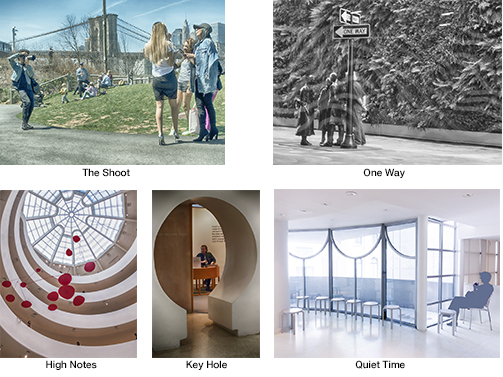 ---
And where you get your Bay Area jazz documentation...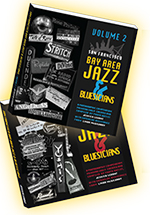 The two volumes of Bay Area Jazz and Bluesicians, with a total of 251 local musicians photographed while performing are available on amazon.com (fastest way to get them online) or at www.bayareajazzandbluesicians.com probably a bit cheaper and takes 7 - 10 days to receive them. You can preview some of the pages on either site. If you prefer hand to hand consumerism, they can be purchased at Glen Park's Bird & Beckett Books & Records and at Noise a really cool record store on Balboa St, San Francisco, the Piedmont Piano Co. in Oakland and The Jazz Conservatory bookstore in Berkeley.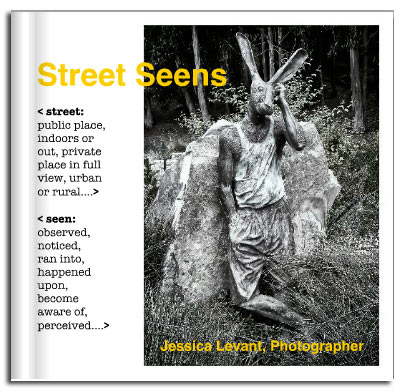 And never out of date, Street Seens can still be had from blurb.com. It's full of street photography from my jaunts here and there in the world, and it's available in both paper and hard cover versions.

You can preview the whole book HERE. It's only available online - purchase details on the preview page.
---
Please forward this email if you think it would be of interest to anyone you know. And, of course, if you don't want to receive my nearly monthly announcements any more, you can unsubscribe below. Previous newsletter editions are available here.