If images below are not visible, please click HERE to view online.
You are invited: THREE July Shows - THREE Receptions
Artists' Choice
The SFWA Gallery, my 'art home' since 2010, has completed moving into the newly renovated space in the Inner Sunset. The first show opens on July 1 and continues to August 1. I have two pieces - two of my favorites which is the theme of this month's show - and would love to share them with you.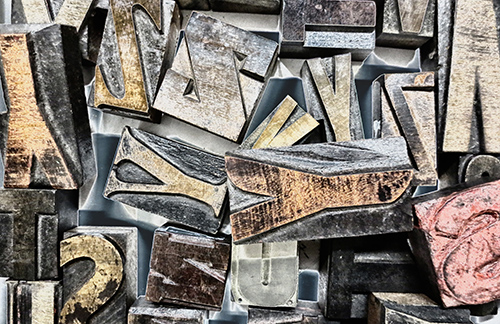 Poem Unwritten began in a salvage shop where I noticed trays of old printers' letters. Of course I did some colorizing and came up with the above. It's framed at 24 x 18".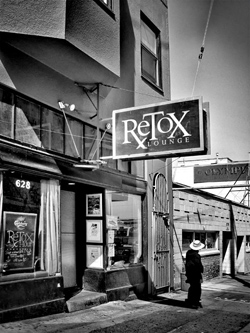 My other fav was taken in my neighborhood when I first moved here. Retox, a brilliantly named local lounge is now gone, being replaced by something more appropriate for this oh so trendy locale. I first called this one 'Noir', but later changed it to White Hat since I think that without that figure and its shadow, there would be no picture. This one is also framed at 18 x 24".

The Opening Reception is on Thursday, July 9 from 5:30 - 9pm. With all the lively eateries nearby, you could come for 'dinner and a show'! The gallery is at 647 Irving Street, San Francisco @ 8th Avenue - previous home of the iconic Irving Variety Store. For those on public transit, it's half a block from the 7th & Irving stop on the N-Judah line.
---
Next stop: Ross
I was really excited to have all three of my entries accepted into the Marin Society of Artists' photography show, "Exposed". Here they are, still in my living room, just having been framed.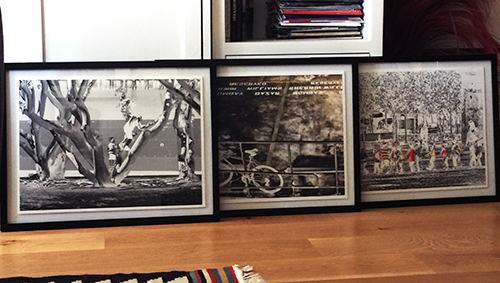 Left to right: Silver Banyan, shot a couple of months ago in San Diego at the Midway and then passed through many digital filters to create a silverish fantasy picture, Night Bike, an equally manipulated shot of some parking spaces seen through an upper story window of a building on South Van Ness, and finally, Summer Excursion, turned into a sketchlike piece with only the children's teeshirts and their end-to-end 'harness' in color. All are in black 24 x 18" wooden frames.

There will be a reception on Sunday, July 12 from 2 to 4pm at 30 Sir Francis Drake Blvd in Ross (tel. 415 454 9561) where I'm told there will be about 100 photographs or digital art pieces on exhibit. You'll probably find me looking at those since two hours is not long to see so much! And as my daughter will be visiting from New York that weekend, you will have a chance to meet my absolutely greatest creation.  

---
Women and Money - an artist's perspective
I was late in entering this show since the theme really threw me, but in the end I submitted one photograph that I had taken at a second hand shop a couple of years ago. The figure has a 'certain look' that always makes me think she is real and is having thoughts of just looking really spiffy - impressing someone maybe - in new found bling. I call it The Necklace, but really it's the eyes that get me. I was pleased it was juried into the show and look forward to seeing it hung on a wall! It is 18" wide and 24" tall, matted in white in a black frame.
The show, sponsored by Rhodes & Fletcher Wealth Management LLC, is being held at the Small Change Gallery from July 1 to August 27. There will be an Opening Reception on Thursday, July 16 from 6 - 8pm and a Closing Reception and Artists' Talk onThursday, August 27th also from 6 - 8pm. You are all invited to see this small show and see how this interesting theme was interpreted by the other artists. The Gallery is in the financial district at 465 California Street, SF. Parking after 6 should not be a problem.
---
New Works

An eclectic assortment of work I've 'worked on' this month. The first - a new shot of London's Embankment from my April visit, middle - a playful portrait of the Sunday jazz jam at the 7 Mile House, and on the right, a recent abstract right outside my front door. I may still do some work on the last one. Most are on my website, but not all, so if you want more details on any, please get in touch.
---
And, of course, The Books...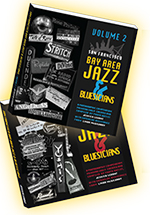 The second volume of Bay Area Jazz & Bluesicians was launched in October with its 134 full page photos and bios, bringing the total for both volumes to 251 local musicians. At present I am not entertaining doing Volume 3 (despite several requests), but of course I'm keeping a list of who should be in it.... The books are available on amazon.con (they've lowered the price (but not my royalty) so that's probably the best place to get them if price is an issue. If you prefer to support local businesses, Glen Park's Bird & Beckett Books & Records stocks them as well as The Jazz Conservatory bookstore in Berkeley, and one of my favorite non-profits, Jazz in the Neighborhood offers them for purchase and sometimes as perks of membership.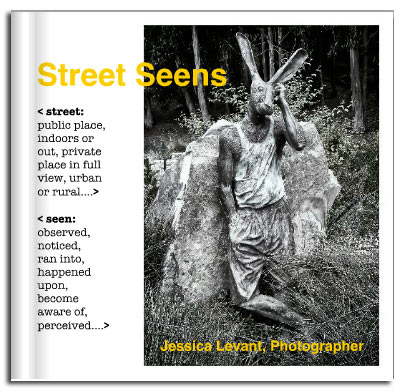 And never out of date, Street Seens can still be had from blurb.com.
It's full of street photography from my jaunts here and there in the world, and it's available in both paper and hard cover versions.

You can preview the whole book HERE. It's only available online - purchase details on the preview page.
---
Ongoing Installation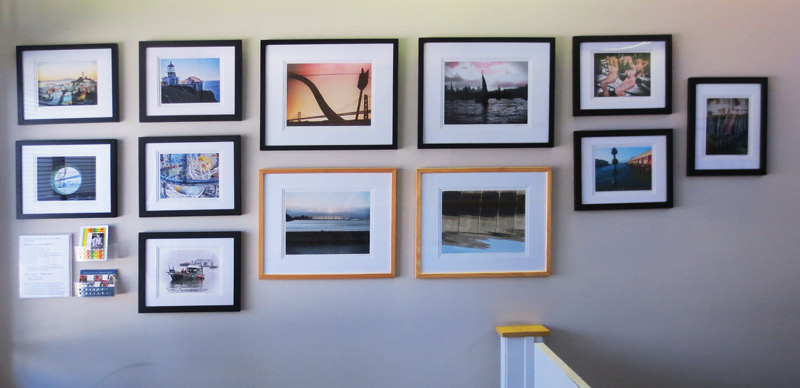 In the Harbor Master's Office of Brisbane Marina. Open 7 days a week during the day. Prints of all of the pieces are available for purchase, framed or unframed, in a variety of sizes. Let me know your preferences and we'll go from there.
---
As always, keep those cards and letters coming (well emails anyway). Every month I get back in touch with a few folks from far away. Please forward this email if you think it would be of interest to anyone you know. And, of course, if you don't want to receive my monthly announcements any more, you can unsubscribe below. Previous newsletter editions are available here.