If images below are not visible, please click HERE to view online.
LOTSA NEWS !

SFWA GALLERY IN TRANSITION
MAY SHOW IN NORTH BEACH
ART AT THE OAKLAND AVIATION MUSEUM
NEW GALLERY - NEW SHOW

JUNE 6
---
Life is full of changes
The San Francisco Women Artists, an organization that accepted me as a member 4 years ago has sold its gallery - too small, bad foot traffic, too much money, etc. We're looking for a new 'home' which will better accommodate us, but in the meantime, life goes on of course. We're having our first all online show in July so I will write about that next month.
Meanwhile we've been busy drumming up external shows for our member artists and the next one is at the Oakland Aviation Museum beginning June 6 and running to July 16.
There's a big 'do' on Father's Day, June 15, from noon to 4pm - they're calling it 'Open Cockpit Day, with music and BBQ. I plan to be there, along with three of my pieces, To The Moon, which was as near as I could get to an aviation theme before I borrowed some prints of a RAF aricraft book of amazing oil paintings by Tony White of early fighter planes. I then photographed them and 'did my thing' with filters and colors and came up with the two outer images, Gloster Gamecock Mk1 and Avro 504K.
The May show in North Beach
It was an exhilarating and exhausting weekend at the beginning of this month.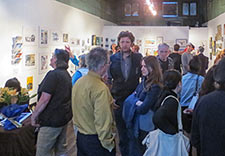 Many of my readers were there, but if you weren't, here's a peek. My work was very well received and some of it is now hanging on various walls around the area. One of the highlights was that I got 'picked up' by another North Beach gallery, the new and slightly eclectic I Heart North Beach Gallery at 461 Green Street. Initially, 3 of my pieces are there and will be until mid-June.
There's a big opening on June 6 (First Friday Art Walk in North Beach) and then there's the North Beach Festival on June 14 and 15th. On the right is my Kerouac Alley, available in the gallery both framed and unframed. Yes parking is horrible. But there are lots of busses that get you right there, and it's got to be San Francisco's livliest neighborhood. Hope you make it. If you stick around I might even buy you a cappucino!
---
AND THEN THERE'S THE BOOK...
So, working on Volume 2 of my book is now getting frantic. I'm checking for gigs and getting them on my calenar up to the end of summer.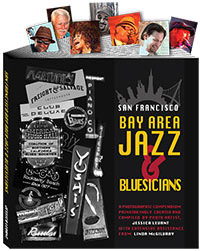 At present I have about 55 photographs done out of somewhere between 100 and 150 musicians. Finding them where I can shoot during a performance, and am not already booked for a different gig proves quite a challenge. Not complaining though. In fact I'm having a ball. Sales continue to occur and kudos keep coming in, so I bask in the glory and run out and shoot some more. Below are a few of my newer photographs. The current volume with its 117 musicians is available at bayareajazzandbluesicians.com or on amazon.com - or wherever I am - I usually have some copies in my car. In addition, Glen Park's Bird & Beckett Books & Records stocks it. A partial preview is available here.
My previous book, Street Seens can still be had from blurb.com.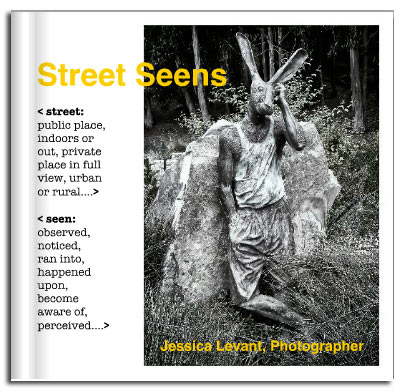 It's full of street photography from around the world, and it's available in paper and hard cover versions.

You can preview the whole book HERE. It's only available online - purchase details on the preview page.
---
My views of Water still on show at the Brisbane Marina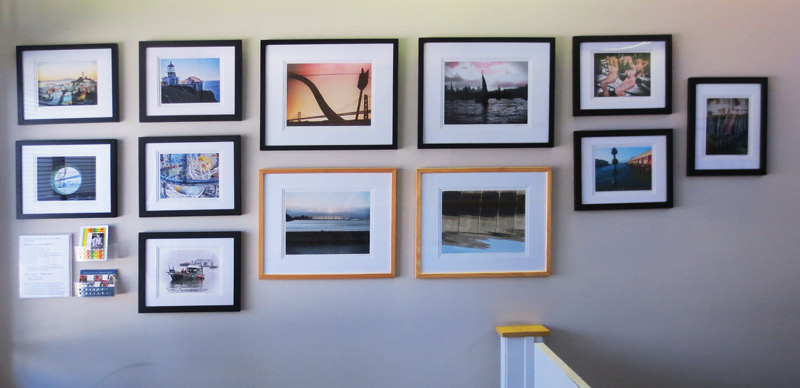 In the Harbor Master's Office. Open 7 days a week during the day. Prints of all of the pieces are available for purchase, framed or unframed, in a variety of sizes. Just let me know your preferences and we'll go from there.
---
As always, I love hearing from you with comments, critiques, questions and suggestions or to just generally keep in touch. Every month I get back in touch with a few folks from far away. Please forward this email if you think it would be of interest to anyone you know. And, of course, if you don't want to receive my monthly announcements any more, you can unsubscribe below. Previous newsletter editions are available here.