If images below are not visible, please click HERE to view online
Are you going to the Marin County Fair?
A new venue for me - Two of my pieces will be in the Photography section at the Marin County Fair which runs from July 3 - 7 at the Fairgrounds in San Rafael. Apparently it's considered to be "the best Fine Art/Craft/Photography show in California," so I am honored to have two pieces in it. Here's one of them that you haven't seen before - but just might look familiar from days gone by. It's framed in black with a white mat, 18x24".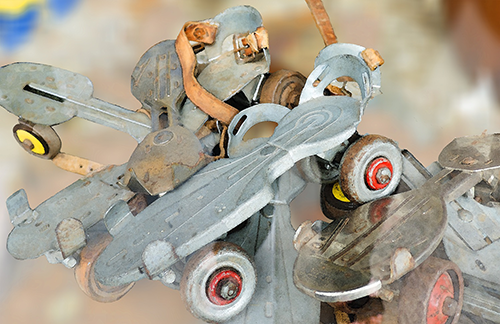 I plan to go to the fair on Wednesday, 7/3. Let me know if you are going and we can see the art exhibition together - I'm also looking forward to the origami showl and antiques and cows and pigs and maybe watching people enjoying an old fashioned American Fair. See marinfair.org for more info.

---
<<< At the Gallery In the Print Bin >>>
These are the four I'm planning on having at the SFWA gallery this month - haven't printed them yet, so there's a chance I'll change my mind. The show for July is going to be gorgeous - "The Season of Abundance", a floral whirl of a show, plus some astounding modern art in the Salon, curated by my Gold Country artist friend, Irene Yesley,one of the astounding abstract artists. I recommend viewing both (and looking through the unframed art bin of course). The gallery on Irving St.at 8th Avenue is open Tues - Saturday 10 - 6 and Sunday from noon - 4.


The reception as always is on the Thursday of Opening week, in this case July 11th from 5:30-8pm at 647 Irving Street @ 8th Avenue, San Francisco. Light refreshments and live music and great vibes. I will be there amonst the color.
---
The Chameleon Project is moving along
As mentioned last issue, and as can be seen on my website, I'm producing several music pictures featureing the instrument rather than the player and meant to be fun to look at and a way to combine my visual work with my musical passion. I have done a few new ones which I'll share here and am working on a few more. Looks like there will be Bay Area exhibition of all of them in the Fall.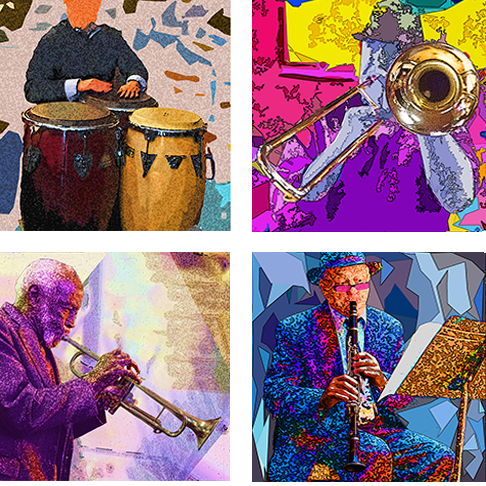 They can be printed up to 30" square and framed in a 36" thin white frame (my choice for presentation).
---
The Moroccan Show

Thanks to all who came - it was really fun! They're down as of today, but if you meant to get there, look at the Morocco section of my
---

Do you know?
All works seen here, in earlier issues of my Art News, or on my website are available in many different sizes, printed on a choice of papers, canvas, metal, acrylic or wood, and you can even get them on coffee mugs and phone cases! Check out the shopping cart site at https://jessica-levant.pixels.com/. And, of course, let me know if there is anything you would like!
---
The books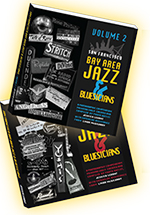 The two volumes of Bay Area Jazz and Bluesicians, with a total of 251 local musicians photographed while performing are available on amazon.com (fastest way to get them) or online at www.bayareajazzandbluesicians.com probably a bit cheaper and takes 7 - 10 days to receive them. You can preview some of the pages on either site. If you prefer hand to hand consumerism, they can be purchased at Glen Park's Bird & Beckett Books & Records or The Jazz Conservatory bookstore in Berkeley.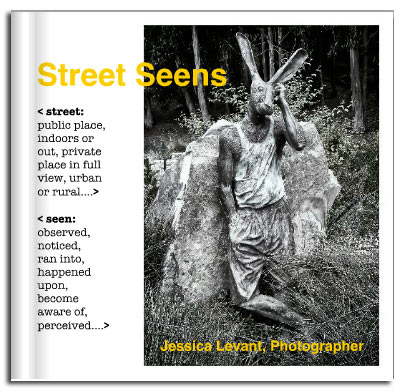 And never out of date, Street Seens can still be had from blurb.com. It's full of street photography from my jaunts here and there in the world, and it's available in both paper and hard cover versions.

You can preview the whole book HERE. It's only available online - purchase details on the preview page.
---
Please forward this email if you think it would be of interest to anyone you know. And, of course, if you don't want to receive my nearly monthly announcements any more, you can unsubscribe below. Previous newsletter editions are available here.