If images below are not visible, please click HERE to view online
News snippets
I have two pieces in the SFWA Gallery Show, Patterns, 7/9 - 8/4 - details below

I am honored to have one of my photographs, Shadow Play, selected to be in the literary journal, San Francisco Peace and Hope 2018 which was launched today.

A while back I entered an international art competition called 'Solitude' - Happy to be granted Honorable Mention for my photograph, Counting.

My Rust Scapes exhibition in June was well received - This one went home with a happy collector plus some of my South American photographs now have new homes.

Peruvian Moon was chosen to be part of the Kids & Arts Benefit show which runs from July 4th through 8th from 12 - 8pm. The reception is Friday, July 6th from 6 - 9pm at the Art Attack Gallery, 2358 Market Street, SF (In the Castro). Proceeds from art sales help the Kids & Arts Foundation which does amazing work with young cancer patients, helping them create art as part of their healing process.  Come if you can!
Lastly, should you be in the Outer Richmond on August 4th, please come out to the 2nd Playland on Balboa Music & Art Festival on Balboa between 35th & 38th Avenue from noon - 6pm. I will have an art table there with many small prints, a few larger ones, greeting cards, and of course the ability to take orders for prints in many sizes and configurations. Don't know who the musicians will be yet, but should be fun!

July SFWA Gallery Show - "Patterns"
Two of my pieces were juried into the July show. If you attended my exhibit at Pier 26 last Fall, you may recognize these - They remain two of my own favorites.

The Red Leaf, above, a mixed media piece that started as 3 photographs of shattered safety glass. It's 25" high x 36" wide, and framed in white.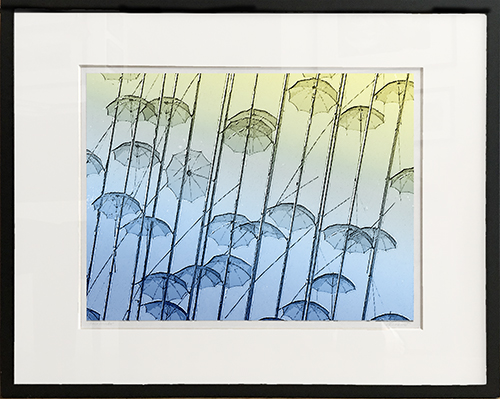 Fair Winds, originally a photograph I took in Thessaloniki, Greece is of Giorgos Zogolopolous' gigantic steel installation along the seafront (c. 50' high). I used extensive digital enhancement and color filters to create this piece. It is 31" wide and 25" high.
In the Print Bin
For two months, the following images will be available at the gallery in the unframed print bin. They are from near and far. With the Fishes and Vinyl Variations below are abstractions based on photographs I took in Los Angeles last year. The Salt Flat Sandpiper, not my usual subject matter, was just 'there' and appealed to me. 'There' was the Chilean salt flats in the Atacama desert in May. And Rust Scapes #15 is one of the results of my Sacramento photo shoot a couple of months ago. Come in and see them close up and personal. Bin prints are an easy and inexpensive way to get original, signed artwork that you can frame as you like.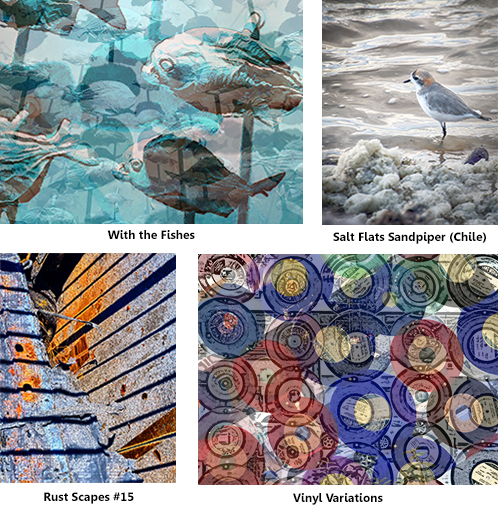 You are invited to the opening reception on Thursday, July 12th from 5:30 - 8pm at the SFWA Gallery, 647 Irving Street @ 8th Avenue, San Francisco.TheIinner Sunset is a lovely area to explore and stroll through on a summer's night. Hope to see you there.
---
New Works in June

My travels in June extended to the corners of my local Bay Area haunts: North Beach, The Mission and Brisbane. From that please enjoy these:

All of them are, of course, available for you to look at on my website or in person, and like most of my pieces, are available in various sizes and display options. Let me know your interest, or any other comments - always fun to hear from you!
---
The books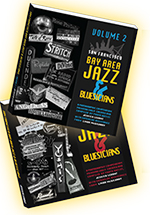 The two volumes of Bay Area Jazz and Bluesicians, with a total of 251 local musicians photographed while performing are available on amazon.com (fastest way to get them) or online at www.bayareajazzandbluesicians.com probably a bit cheaper and takes 7 - 10 days to receive them. You can preview some of the pages on either site. If you prefer hand to hand consumerism, they can be purchased at Glen Park's Bird & Beckett Books & Records, at Noise, a really cool record store on Balboa St, San Francisco and The Jazz Conservatory bookstore in Berkeley.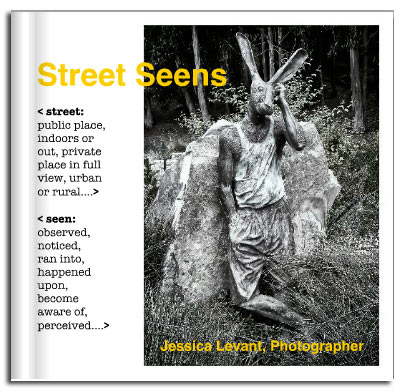 And never out of date, Street Seens can still be had from blurb.com. It's full of street photography from my jaunts here and there in the world, and it's available in both paper and hard cover versions.

You can preview the whole book HERE. It's only available online - purchase details on the preview page.
---
Please forward this email if you think it would be of interest to anyone you know. And, of course, if you don't want to receive my nearly monthly announcements any more, you can unsubscribe below. Previous newsletter editions are available here.