If images below are not visible, please click HERE to view online.
Summer is here and the sky is LIGHT - which is the theme of the July show the SFWA gallery.
I am very very pleased to have three pieces juried into this show. Below is Light Over Dogpatch, a surreal scene in my neighborhood where much building is happening, but generally not too many walls being preserved. Framed at 25 x 18" in black.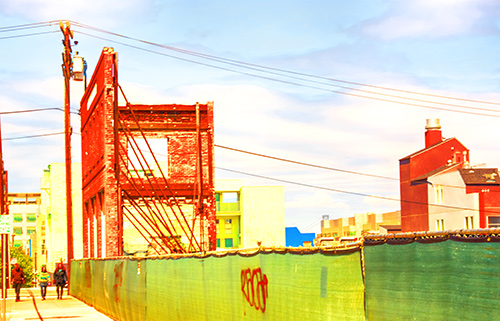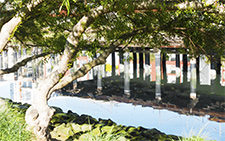 Another piece happened in the next neighborhood north of me, during a sunny morning walk. Reflections of the pier and the condos on the shores of Mission Creek were just irresistable. I call it Water Color. This one is 29 x 21 in its black wooden frame.
The third piece in the show was one I shot in Roatán,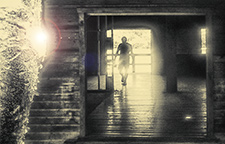 Honduras this Spring. It was a former hotel looking for a buyer, hence the title, Hotel for Sale. The tropical midday light was amazing on the highly polished wooden structure. This one is also framed in black wood measuring 25 x 19". As usual, they are better seen in full size, so I hope you'll make it to the reception.
The opening Reception, Wednesday, July 6 from 5:30 - 8pm at the gallery, 647 Irving Street @ 8th Avenue, San Francisco. Live music, wine and cheese of course and lots of wonderful art including jewelry, sculpture and some gorgeous ceramics.
---
In the Print Bin
The print bins offer visitors an opportunity to pick up matted art ready to frame the way you want. I'll have a couple of new ones and a couple of old favorites in the bin for your viewing pleasure.

---
New Works

I love visiting new galleries. The art is always of interest, but often the building and the people interacting with art are equally interesting. Recently I've visited the Pace Gallery in Menlo Park where the very high tech installations were meant to be interacted with, the new Minnesota Street Project, a renovated warehouose with two floors of galleries, and of course San Francisco's wonderful new Museum of Modern Art. Below are a few pieces that came out of these visits.

---
The Books
Still being talked about by musicians and music lovers, Bay Area and beyond -- San Francisco Bay Area Jazz & Bluesicians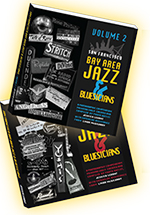 The two volumes of Bay Area Jazz and Bluesicians, with a total of 251 local musicians photographed while they were performing are available on amazon.com (fastest way to get them online) or at www.bayareajazzandbluesicians.com probably a bit cheaper and takes 7 - 10 days to receive them. You can preview some of the pages on either site. If you prefer hand to hand consumerism, they can be purchased at Glen Park's Bird & Beckett Books & Records in San Francisco, Piedmont Piano Co. in Oakland and The Jazz Conservatory bookstore in Berkeley. One of my favorite non-profits, Jazz in the Neighborhood, also offers them for purchase at most of their performances.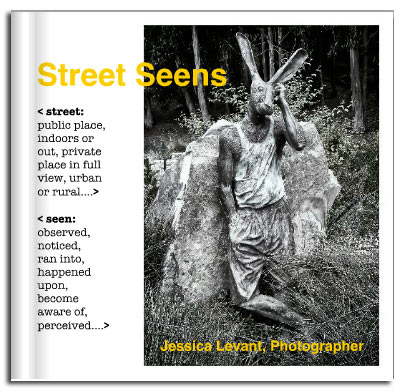 And never out of date, Street Seens can still be had from blurb.com. It's full of street photography from my jaunts here and there in the world, and it's available in both paper and hard cover versions.

You can preview the whole book HERE. It's only available online - purchase details on the preview page.
---
Please forward this email if you think it would be of interest to anyone you know. And, of course, if you don't want to receive my nearly monthly announcements any more, you can unsubscribe below. Previous newsletter editions are available here.