If images below are not visible, please click HERE to view online.
First things First:

My very best wishes for you and for us all in the coming years. I am grateful to you for looking at my art in this little newsletter every month and for all the responses I have received over the years. Now - for a big blank space, but please scroll down for this month's Art News.
---
January Gallery Show Theme:
C
O
L
O
R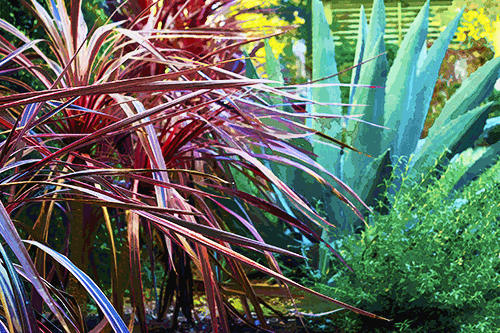 I am excited to have 3 pieces juried into this month's show at the San Francisco Women Artists Gallery, This one, shot in my own courtyard, and enhanced to become more colorful, is called My Secret Garden. It's matted in white and in an 28 x 21" black wooden frame.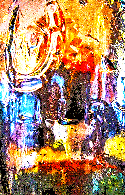 Also in the exhibit is an abstract I did called Party in a Glass, about as full of color as one glass could get. (I did shoot it through a glass). This one is also matted in a 21x28" frame.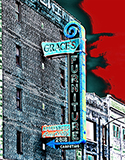 And my third piece has always been one of my favorites - I hope yours too. It's called Grace's and I shot it in Chicago a few years ago, but then of course applied some PhotoShop magic, my favorite way to paint. I confess to a bit of Warhol influence. It's framed in a 16 x 20" black frame.


The Opening Reception is on WEDNESDAY, JANUARY 6 from 5:30 - 8pm at 647 Irving Street, San Francisco @ 8th Avenue. I will be there along with many of the other artists responsible for the 60+ pieces of art on the wall. I hope you can come and join the party.

---
New Works ...
The following were taken on a night walking tour, a couple of museum visits, hanging out at the boat club and on a morning walk along the Embarcadero.
---
Bay Area Jazz & Bluesicians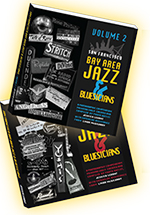 The two volumes of Bay Area Jazz and Bluesicians, with a total of 251 local musicians photographed while they were performing are available on amazon.com (fastest way to get them online) or at www.bayareajazzandbluesicians.com probably a bit cheaper and takes 7 - 10 days to receive them. You can preview some of the pages on either site. If you prefer hand to hand consumerism, they can be purchased at Glen Park's Bird & Beckett Books & Records in San Francisco, Piedmont Piano Co. in Oakland and The Jazz Conservatory bookstore in Berkeley. One of my favorite non-profits, Jazz in the Neighborhood, also offers them for purchase at most of their performances.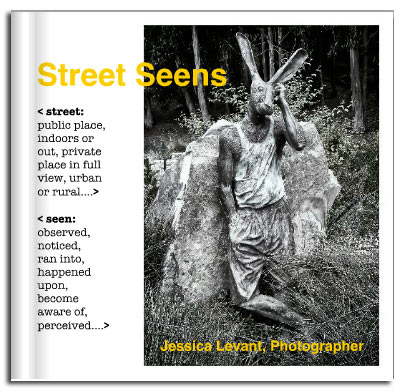 And never out of date, Street Seens can still be had from blurb.com. It's full of street photography from my jaunts here and there in the world, and it's available in both paper and hard cover versions.

You can preview the whole book HERE. It's only available online - purchase details on the preview page.
---
Please forward this email if you think it would be of interest to anyone you know. And, of course, if you don't want to receive my monthly announcements any more, you can unsubscribe below. Previous newsletter editions are available here.