What I've Been Up To...
So instead of eating turkey, I celebrated Thanksgiving 2018 with a martini in Casablanca ready to begin a three-week adventure in Morocco, finishing with a quiet layover in Paris for a few days.

It was a most amazing journey and a place with no end of photographic opportunities. The colors, textures, faces, juxtapositions of old and new were as magnetic to me as the food, sounds, dress, culture(s), the people I met and the daily experiences.

Below are a few of my favorite shots - the lantern bearer who guided us through the narrow alleys in Fez, the drummer in the medina, the women returning from the marketplace near Tangier and two from Chefchaouen, the eye-popping 'blue city'.
---
---
The Books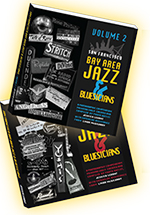 The two volumes of Bay Area Jazz and Bluesicians, with a total of 251 local musicians photographed while performing are available on amazon.com (fastest way to get them) or online at www.bayareajazzandbluesicians.com probably a bit cheaper and takes 7 - 10 days to receive them. You can preview some of the pages on either site. If you prefer hand to hand consumerism, they can be purchased at Glen Park's Bird & Beckett Books & Records, at Noise, a really cool record store on Balboa St, San Francisco and The Jazz Conservatory bookstore in Berkeley.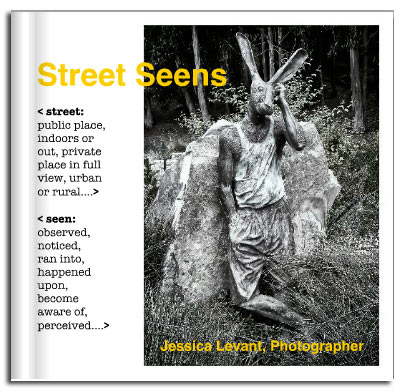 And never out of date, Street Seens can still be had from blurb.com. It's full of street photography from my jaunts here and there in the world, and it's available in both paper and hard cover versions.

You can preview the whole book HERE. It's only available online - purchase details on the preview page.
Two on the Gallery Walls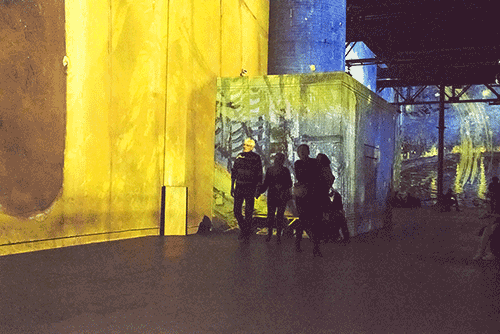 I was very pleased that two of my pictures were accepted into the February show at the SFWA Gallery. The piece above is called "Into the Picture" and is one of two photographs in this exhibit that I took at the Atelier des Lumieres in Paris. The figures are watching a projected art show inside the huge empty warehouse and the art is being projected onto them. It's matted in white and sitting in a 21 x29" simple black wooden frame.
The companion piece, shot at the same location shows a seated line of people watching projections of white characters. And they too become part of the artwork. Called "Projections", it is also matted in white and framed in a simple black frame, this one 16 x 20".
These are two of a half dozen pieces of photo art that resulted from my most wonderful visit to this amazing hall. (If you're planning a trip to Paris, do not miss the Atelier des Lumieres!)
PLEASE JOIN ME AT THE OPENING RECEPTION on Thursday, February 7th from 5:30 - 8pm at the SFWA Gallery, 647 Irving Street @ 8th Avenue, SF. There's always lots of wonderful art on the walls and in the print bins, and the jewelry and ceramics are stunning. Refreshments and live music of course to accompany your gazing. If you can't make it, the Gallery is open from 10 to 6 Tuesdays - Saturdays and 11 - 4 on Sundays. The show continues until March 2.
---
In the Unframed Print Bin:
So after my three incredible weeks exploring Morocco, it's only natural then that some of my output from that trip landed in the print bins at the SFWA Gallery. You'll be seeing more, but here are four. [All my Morocco photos are now on my website, nicely categorized so you can pick and choose what to look at. Start at jessicalevant.com/morocco.]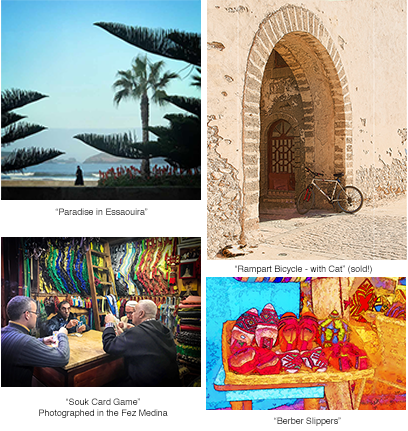 ---
New Works - A few more from the Atelier
The two pieces above in this month's Gallery show are part of a series that I created from my visit to the Atelier des Lumieres. Here are three more. All are on my website at jessicalevant.com/france.
---
Please forward this email if you think it would be of interest to anyone you know. And, of course, if you don't want to receive my nearly monthly announcements any more, you can unsubscribe below. Previous newsletter editions are available here.