New Works in January

As many of you know, my friend and very talented photographer, Robin Allen and I spent the last two weeks immersed in France, first in the Languedoc, on the Med, and in Aix-en-Provence, and then in that most glorious of cities, Paris. I still haven't gone through all of the thousands of pictures I took, but here are a few.
They will all be on my website soon. Use the search box to find these or any other particular images or 'topics' you fancy.
---
And one more thing -- A Special Exhibit and Art Sale in honor of a fellow artist.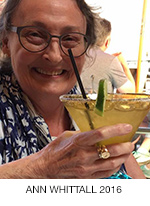 Along with the art on the wall in the main gallery and the artist salon at SFWA Gallery, there will be a special sale of photographs and photo art done by Ann Whittall, left. Annie, who passed away last year, was a dear friend of mine. She left me all her unframed prints to be sold at the gallery, which I am donating to support the always-in-need non-profit arts organization. For the month of February, the prints will be on display in the Artist Salon and on offer at a very favorable discount. Annie would like nothing better than for her artwork to raise enough money to really help the SFWA where she volunteered her services since 1986. If you think some prints would be a happy addition to your own or someone else's life, please come have a look at Annie's creative and joyful works.
---
And then, the books of course ....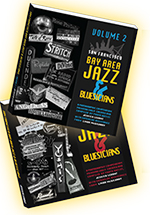 My two volumes of Bay Area Jazz and Bluesicians, with a total of 251 local musicians photographed while performing are available on amazon.com (fastest way to get them) or online at www.bayareajazzandbluesicians.com probably a bit cheaper and takes 7 - 10 days to receive them. You can preview some of the pages on either site. If you prefer hand to hand consumerism, they can be purchased at Glen Park's Bird & Beckett Books & Records who just got a new supply, at Noise a really cool record store on Balboa St, San Francisco and The Jazz Conservatory bookstore in Berkeley.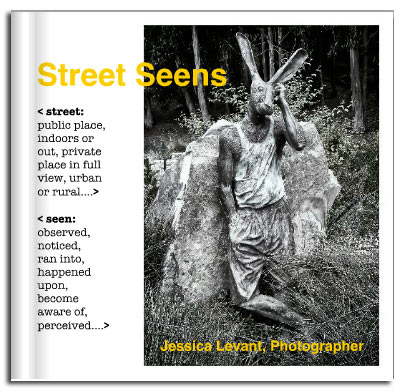 And never out of date, Street Seens can still be had from blurb.com. It's full of street photography from my jaunts here and there in the world, and it's available in both paper and hard cover versions.

You can preview the whole book HERE. It's only available online - purchase details on the preview page.
---
Please forward this email if you think it would be of interest to anyone you know. And, of course, if you don't want to receive my nearly monthly announcements any more, you can unsubscribe below. Previous newsletter editions are available here.