If images below are not visible, please click HERE to view online
Love in Colors
Well it is the month for Valentine celebrations and thoughts of Love - or close approximations. Love in Colors is the theme for the February show at the SFWA gallery. I'm pleased that two of my entries will be on exhibit. Hope you like them!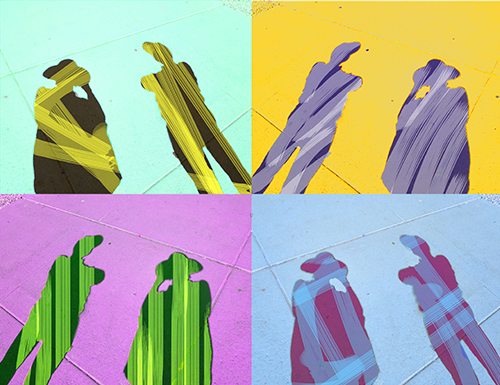 Above is a composite I've worked and reworked over the last year. Happy with it now, it started as two shadows on a street corner - yeah, the one in the big hat is me. I've added some filters, some 'pixel painting' and obviously shifted colors. I've been calling it Shadows, but for this show at least I've renamed it "You Look Familiar". It's a descreet 10x13" in a black frame with a white mat.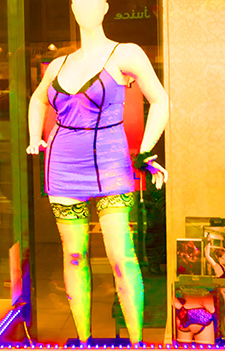 On the left is "Lotta Lovin", shot when walking by a particular shop window in downtown San Francisco. Of course I played with the colors. She's rather stunning and makes quite a statement in a 29x21" black frame with white matting. Would it enhance a room in your home?
Of course there will also be lots of greeting cards appropriate for the season. And as always jewelry, small sculpture and ceramics and other fine crafts. Really, a perfect place to hunt up that unique gift even if you're not looking to redecorate your own space.
---
Still in the Print Bin
I have four unframed prints in the print bin, with seasonal themes to get you ready for Valentines Day and Mardi Gras. All standard sizes, matted and ready to pop into a frame of your choice.

---
The Opening Reception for the San Francisco show is Thursday, February 9th from 5:30 - 8pm at 647 Irving Street @ 8th Avenue, San Francisco. Music, wine, finger food and many interesting and creative depictions of Change.
---
New Works

As I mentioned last month, I've been doing a whirlwind of travel in Costa Rica and Panama. A bit out of my usual ilk, I actually shot wild life and nature along with people and 'things'. Here are a few of the black and whites, but there are also many in color. You'll be seeing them pop up in various ways as time goes on. Meanwhile you can check jessicalevant.com/monochrome) for these or any of the other portfolios for colored shots.
---
And the books.... always a good Valentine's gift for music lovers.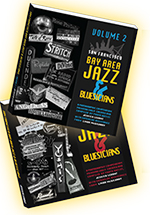 The two volumes of Bay Area Jazz and Bluesicians, with a total of 251 local musicians photographed while performing are available on amazon.com (fastest way to get them online) or at www.bayareajazzandbluesicians.com probably a bit cheaper and takes 7 - 10 days to receive them. You can preview some of the pages on either site. If you prefer hand to hand consumerism, they can be purchased at Glen Park's Bird & Beckett Books & Records and at Noise a really cool record store on Balboa St, San Francisco, the Piedmont Piano Co. in Oakland and The Jazz Conservatory bookstore in Berkeley.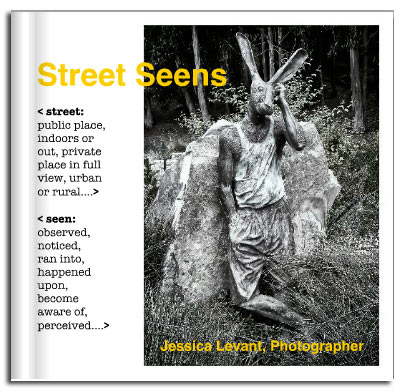 And never out of date, Street Seens can still be had from blurb.com. It's full of street photography from my jaunts here and there in the world, and it's available in both paper and hard cover versions.

You can preview the whole book HERE. It's only available online - purchase details on the preview page.
---
Please forward this email if you think it would be of interest to anyone you know. And, of course, if you don't want to receive my nearly monthly announcements any more, you can unsubscribe below. Previous newsletter editions are available here.