If images below are not visible, please click HERE to view online.
Joy!!
I entered two pieces of photo art in this month's juried show at the SF Women Artists gallery and I'm pleased to say they were both accepted. As many of you know I'm writing this from far away from home and appreciate my fellow artist, Virginia Van Zandt for schlepping my work into the gallery along with hers! So, first, the theme this month is JOY. I was interested that I only came up with two! Am I that dour?? Anyway, below, which I have named Dancing with Shadows, was shot at a dance perfomance and then 'treated' with various filters.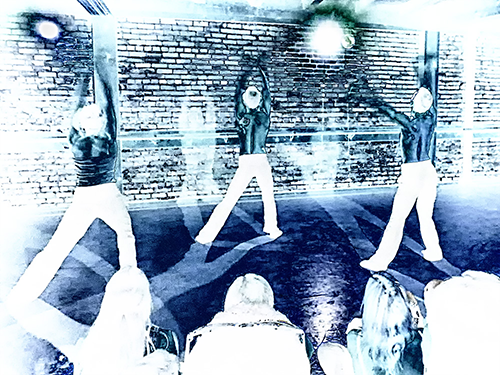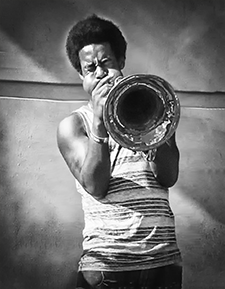 It's matted to 18 x 24" and framed in a plain black satin finish. My other piece is small, but I do feel joyous whenever I see it and remember seeing him in person on the street corner in Washington DC last summer. He was part of a rather ragtag brass band, but clearly the one most lost in what he was doing. It's called The Hornblower and framed at 11x14.
The Reception is Thursday, February 6 from 5:30 to 7:30 at the SFWA Gallery, 3489 Sacramento Street @ Laurel. Come and say hi meet some of the other artists.
---
New Works
My aforementioned travel included 3 days in the amazing New Orleans and 5 on a Cruise ship. I'm still in Texas as I write this, but can pull up a few new pieces that resulted from my days away from home.
---
Books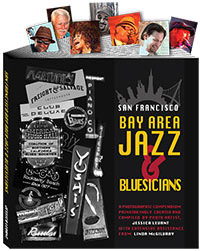 My new book, SF Bay Area Jazz and Bluesicians has been doing very well - now sold over 180 copies since Thanksgiving. I'm happy that the sales didn't completely disappear after Christmas! Being rather unstoppable however, I've started on Volume 2. I have over 100 artists on my list and have over a dozen approved photographs so far. I'm aiming for next Christmas....
The current volume with its 117 musicians is available at bayareajazzandbluesicians.com or on amazon.com - or wherever I am - I usually have some copies in my car. In addition, Bird & Beckett Books & Records stocks it, so if you're near Glen Park, you can pick one up there. A partial preview is available here.
My previous book, Street Seens can still be had from blurb.com.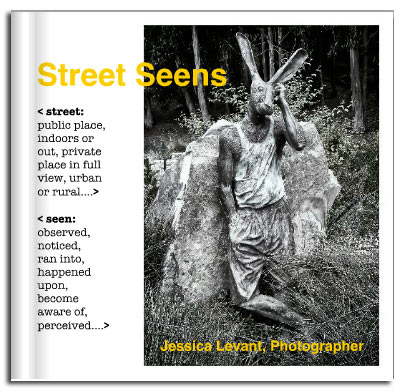 It's full of street photography from around the world, and it's available in paper and hard cover versions.

You can preview the whole book HERE. It's only available online - purchase details on the preview page.
---
Still on show at the Brisbane Marina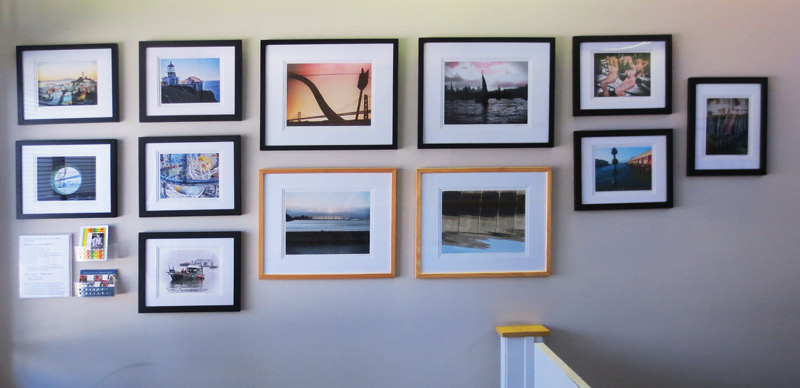 In the Harbor Master's Office. Open 7 days a week during the day. Prints of all of the pieces are available for purchase, framed or unframed, in a variety of sizes. Just let me know your preferences and we'll go from there.
---
As always, I love hearing from you with comments, critiques, questions and suggestions or to just generally keep in touch. Every month I get back in touch with a few folks from far away. Please forward this email if you think it would be of interest to anyone you know. And, of course, if you don't want to receive my monthly announcements any more, you can unsubscribe below. Previous newsletter editions are available here.