If images below are not visible, please click HERE to view online.
---
December Show Theme: "Celebration!"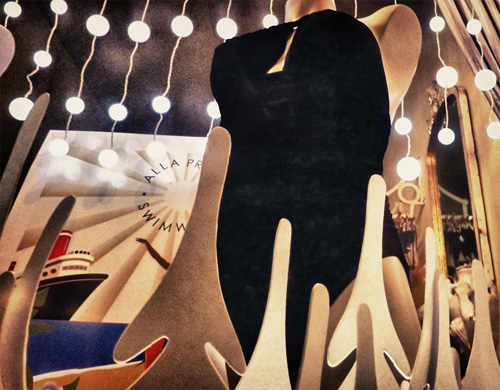 Happily, all three of my entries to this month's SFWA Gallery show were accepted by the jurist. I've been saving Swimwear for a Christmastime show. I shot it in a store window last December - loved the paper trees and velvet swimsuit, not to mention the thought of sailing out on an old ocean liner. Then my warped sense of humor suggested
The Morning After as befitting a celebration theme as well. This is a photograph of an installation at the DiRosa Gallery in Sonoma. For this show, I gave it some digital watercolor treatment to bring out some of the texture and color in the shadows. Both of these are in black 20 x 28" frames. Finally, for my 'small entry' I made a 4 x 6 print of Small Glories which I shot at the Bay View Boat
Club one sunny evening. Those little flowers were just fighting to be seen amidst the rubble. So I celebrated them. It's in a 10 x 12" cherrywood frame. The Opening Reception is Thursday, December 8 from 5:30 - 7pm at 3489 Sacramento Street, San Francisco. Hope to see some of you there.
---
New Works
I managed to produce several abstracts in the past month. The first ones happened while I was waiting in the lobby of UCSF.

I
Then during my photo-wanderings on the East Coast last week, I came upon 'natural abstracts'. The texture on the wall of this very old building needed no enhancing, and then there was the way the sun played on the swirley water in a pond at the Pepsico Sculpture Garden. All of these will probably be submitted for later shows at the SFWA Galleries, so you may see them again, but I thought I'd introduce them here.

---
Still at the Belmont Art Center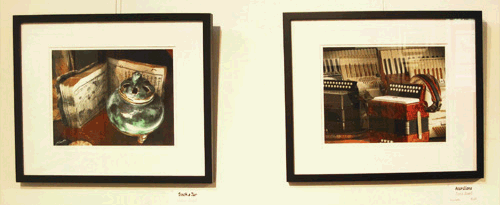 Two of my photographs, Book and Jar and Accordions, (above) are on display at the Belmont Arts Council Gallery which is at the Twin Pines Art Center, 10 Twin Pines Lane, Belmont for their two-month show, "Art Makes a Wonderful Gift." The gallery, which is housed in a wonderful and historical mansion, is open Wednesday through Sunday in the afternoons. The show will be up until December 30.
---
FREE E-CARDS of any of my works are available from my website. Click on a picture you like in any of the portfolios and follow the links at the bottom.
---
As always, I'd love to hear from you with comments, critiques, suggestions, etc. Please forward this email if you think it would be of interest to anyone you know. And, of course, if you don't want to receive my monthly announcements any more, you can unsubscribe below. Previous newsletter editions are available here.