If images below are not visible, please click HERE to view online
Something a little different in this issue:

Holidays are in abundance at this time of year - and many involve gifts! Have you thought about ART as a unique, specially chosen, offering?


Gifts for the Party Giver - Instead of the bottle of wine, would your host or hostess like a small framed original photograph or photo art? They can be had for under $50!




Gifts for Special People (or yourself!) - wall art, tabletop art, framed and matted, printed on canvas or metal - sentimental, funny, seasonal, decorative, 'artsy', etc. - easy to wrap, deliver, ship and starting at under $100.

Here are a few ways to make it happen
Go to jessicalevant.com and pick out any artwork you like from the 20 separate galleries. Then contact me and tell me what you want - size, shape - many pieces can be reconfigured as square - type of frame. I will print, sign, mat and frame it and have it for you within a very few days.

Go to jessica-levant.pixels.com and pick something there - you can search by subject, or just visit the several 'galleries'. Then click on the type of product and size and order online. It will be shipped to you or sent directly to your 'giftee'.
Contact me directly and buy a gift certificate so that your recipient can pick out exactly what they want. I'll make you a pretty, gift-quality certificate made out to the person of your choice and complete with envelope.
---
About those squares, groupies and independent types.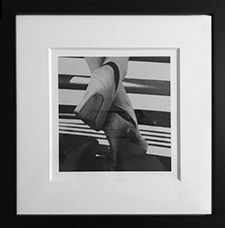 Some of my images are meant to be square, but many others will happily lend themselves to a square shape - this one for example was at my show on the Embarcadero in both an oblong and a square format. Which brings me to Groupies - have you thought about making a group of small pictures? Below is a decorative little group of four rectangles, in this case with versions of the same photograph, but just as well could be different but similar in subject, color, style etc. all grouped with matching frames. The choices are endless.
And then there is the independent. That of course is anything that shows itself off in or enhances a particular space. Can be big or small and is generally a way to highlight a particular picture you want to enjoy looking at.
One example is Señora Habana at right which hangs alone in an entrance way so it cannot be ignored:


And speaking of independents, below is one of mine that is on display at the December SFWA Gallery show, themed 'Small Presence" where all artworks are 15" or less. It's called Play! and began as a shot of some climbable objects in my local playground: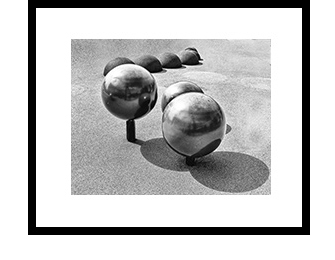 The opening reception is Thursday, December 7th from 5:30 - 8pm at the SFWA Gallery, 647 Irving Street @ 8th Avenue, San Francisco. The Small Presence show with 100 small works on the walls and many prints in the bins, along with jewelry, ceramics, and lots of pretty things ends 1/6.

Still In the Print Bin
Four of my prints are in the print bin until the first week of January, matted in white at standard sizes, ready for your own frames:

---
New Works in November

Here are a few abstracts from a lovely day walking around SFMOMA with my friend Linda. She lent the hand (literally) and stars with me in Urban Stroll.
All of the above and more are on my website of course, which now sports a search box to make it much easier to find particular images or 'topics'.
---
And the books are still available....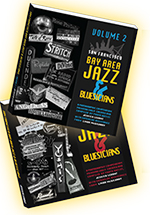 The two volumes of Bay Area Jazz and Bluesicians, with a total of 251 local musicians photographed while performing are available on amazon.com (fastest way to get them onlinr ae) ot www.bayareajazzandbluesicians.com probably a bit cheaper and takes 7 - 10 days to receive them. You can preview some of the pages on either site. If you prefer hand to hand consumerism, they can be purchased at Glen Park's Bird & Beckett Books & Records and at Noise a really cool record store on Balboa St, San Francisco and The Jazz Conservatory bookstore in Berkeley.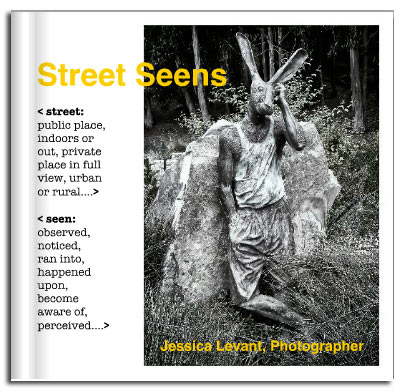 And never out of date, Street Seens can still be had from blurb.com. It's full of street photography from my jaunts here and there in the world, and it's available in both paper and hard cover versions.

You can preview the whole book HERE. It's only available online - purchase details on the preview page.
---
Please forward this email if you think it would be of interest to anyone you know. And, of course, if you don't want to receive my nearly monthly announcements any more, you can unsubscribe below. Previous newsletter editions are available here.