If images below are not visible, please click HERE to view online.
IN THIS ISSUE: 4 SHOWS: Federal Building, SF: 12/3-28;
Misho Gallery, SF: 12/7-15; CK Gallery, Oakland: 12/8-29; SF Women Artists Gallery, SF: 12/5-1/5 PLUS $10 OFF ON BOOK PURCHASES!!
I was very pleased to be selected as one of the guest artists for the new Misho Gallery show opening this Friday in the Design District. The show is called Trios and Quartets. There will be a reception Friday evening, Dec. 7 from 5 - 9 pm and the show runs until 12/15. The address is 680 8th Street, suite 230. The receptions there are always fun and buzzy, so try to make it! There will be lots of wonderful art, both paintings and photography to enjoy. Here's a tiny view of my three pieces:
---
Patterns and Rhythm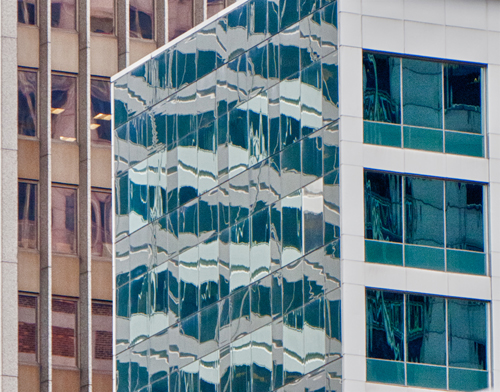 Two pieces this month, at the San Francisco Women Artists Gallery. Above is Dancing Windows, a detail from some of the many skyscrapers in Chicago where I spent an eye-popping week last month. Below is Sun Patterns, which appeared in my living room one bright sunny day, also last month.
Both are framed in matte black wooden 16 x 20" frames.
The show opens on the December 5th and runs to January 5th. The Opening Reception on Thursday, December 13 from 5:30 - 7pm at 3489 Sacramento Street, San Francisco. Unfortunately, I won't be able to make it myself this month.
---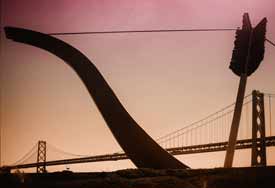 And for the East Bay
The CK Gallery in Oakland asked me for a larger version of Bulls Eye which was at the SFWA Gallery last month, so if Piedmont Avenue is more convenient for you, you can see a 16 x 20" version there. This charming gallery is having an opening bash on Saturday evening, December 8 from 5 - 7:30 pm.
---
The Federal Building
And finally, last month's 'San Francisco' show has moved from the SFWA Gallery to the San Francisco Federal Building at 90 Seventh Street (between Market and Mission). It now includes some additional works, including some more of mine. The show will be on all month, but there will be a Meet the Artists Reception on Wednesday December 5 frm 11:30 a.m. to 1 p.m. It's an interesting building so take time to check the architecture if you've never been there.
---
New Work...
I went to a wonderful photography show called The New York Photography Project at the Contemporary Jewish Museum in San Francisco early last month. The CJM is one of the most unusual art buildings around and of course I took photographs of it and some of its occupants. Here are three of my favorites:
---
$10 off till Dec. 12
A really nice little holiday gift and you can have it shipped to the recipient without ever going to the post office!! 80 pages of fascinating images!! (Well, I would say that, wouldn't I?) The publisher is offering $10 off orders over $50. Use promo code GIVE10 by Dec. 12.

You can preview the whole book HERE. It's only available online - purchase details on the preview page.
---
A very happy Holiday Season to you. It's been a difficult year in many ways and in many parts of the earth. I hope my little artsy news has brought you a tiny ray of pleasure. As always, I love hearing from you with comments, critiques, questions and suggestions or to just generally keep in touch. Every month I get back in touch with a few folks from far away. Please forward this email if you think it would be of interest to anyone you know. And, of course, if you don't want to receive my monthly announcements any more, you can unsubscribe below. Previous newsletter editions are available here.