If images below are not visible, please click HERE to view online
Get out your calendar - here are the dates:
SFWA Gallery, San Francisco: 8/6-9/7- Reception: Aug. 8
North Tahoe Arts Gallery, Tahoe City: 8/7-9/8- Reception: Aug. 10
Nick's On Grand, South San Fran:

BIG SHOW!

Reception: Sept. 13
Three at the Gallery & one Juror's Award...
The theme for the August Exhibit is Memories and all three of mine will be on the wall.

Above called The Things Left Over received a Juror's Award from the venerable DeWitt Cheng. Memorializing the person and the collection of items, the photograph is printed in sepia and is 21x29" including the black contemporary frame around a white mat.
Also in the show is Reflection on Peace and Food, a picture I captured in a San Francisco antique shop when I saw the dappled sun dancing on certain objects creating a scene that gave me a feeling of universal time and peace. This one is framed in dark wood with gold trim, 20", with a gray mat. My third piece, Roller
Skates was featured in last month's Art News when it was in the Marin County Fair exhibition. Now you can see it, larger and close-up in San Francisco, and perhaps relive your childhood transit of choice. Like the first above, it is also framed in a black 21x29" frame with white mat.

In the Print Bin ("Do it Your Way")
These four prints will be at the SFWA gallery for another month. Signed, matted, and ready for your own choice of standard sized frames.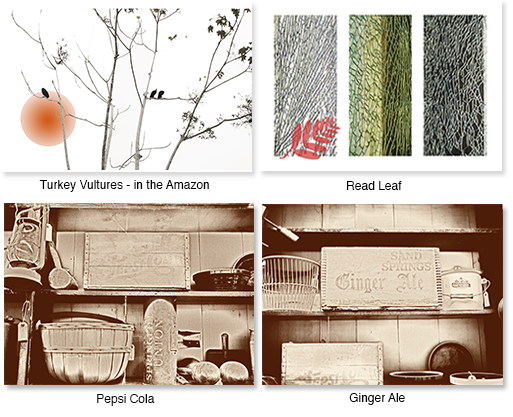 THE OPENING RECEPTION
The reception is Thursday August 8th from 5:30-8pm at 647 Irving Street @ 8th Avenue, San Francisco.
Come see a wall full of 'memories' and enjoy light refreshments, gentle guitar jazz and great vibes. Meet the artists, Enjoy the Inner Sunset energy. And find me and say Hello!
---
And then there's Tahoe
It was exciting to have two pieces juried into the North Tahoe Arts Black and White Exhibition. It also gave me an excuse to visit the summering spot of my childhood. These pieces are two of my favorites. On the left is In The Flow X, which began as a photograph of a dancer performing at SFMOMA and ended with some solarization and partial overlaying which created the sort of X shape. On the right is a photo of a woman seated in what looks like an ice cave, however she is actually on a marble bench treated to the wonders of photographic filters and processes that I love to play with. The show opens on August 7 and runs to September 8th, hours: 11 - 4pm daily. The Artists Reception is Saturday evening, August 10th from 5 - 7pm. The address: 380 North Lake Blvd, Tahoe City, CA . . . . . . . . . Fancy a scenic ride to the Mountains? I'll be there!
---
And then the Really Big Show next month but extra notice doesn't hurt!
I hope you will save the date to join me in South San Francisco at a very special place. It's easy to remember: Friday the 13th of September. Nick's on Grand is a friendly neighborhood restaurant with a creative vegan menu liked by vegans and non-vegans. It has a cozy covered patio with a rustic stage that has already been discovered by jazz lovers as well as vegans! My music-themed artwork will be on the walls throughout the entire restaurant, about 30 pieces. There will be refreshments, live jazz and lots of my artwork. And you are welcome to treat yourself to a nice dinner while you are entertained by Steve Nelson and his band. Meanwhile, here's a taste - 6 of the 16 Chameleon Jazz pieces.
I hope to see you there!
---
Do you know?
All works seen here, in earlier issues of my Art News, or on my website are available in many different sizes, printed on a choice of papers, canvas, metal, acrylic or wood, and you can even get them on coffee mugs and phone cases! Check out the shopping cart site at https://jessica-levant.pixels.com/. And, of course, let me know if there is anything you would like!
---
The books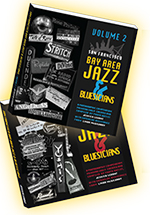 The two volumes of Bay Area Jazz and Bluesicians, with a total of 251 local musicians photographed while performing are available on amazon.com (fastest way to get them) or online at www.bayareajazzandbluesicians.com probably a bit cheaper and takes 7 - 10 days to receive them. You can preview some of the pages on either site. If you prefer hand to hand consumerism, they can be purchased at Glen Park's Bird & Beckett Books & Records or The Jazz Conservatory bookstore in Berkeley.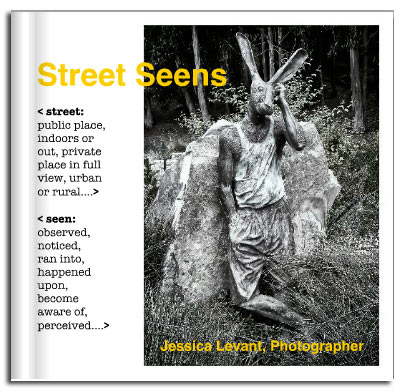 And never out of date, Street Seens can still be had from blurb.com. It's full of street photography from my jaunts here and there in the world, and it's available in both paper and hard cover versions.

You can preview the whole book HERE. It's only available online - purchase details on the preview page.
---
Please forward this email if you think it would be of interest to anyone you know. And, of course, if you don't want to receive my nearly monthly announcements any more, you can unsubscribe below. Previous newsletter editions are available here.