If images below are not visible, please click HERE to view online.
Something new this month - Heavy Metal
I was persuaded to enter a show called Heavy Metal in the Artist Salon of the SFWA Gallery. The criteria is photographs printed on metal. There will be a whole room full of them, some clearly magnificent. And on one wall you will find mine - 8 small rectangles showing details of shiny colorful Cuban cars and one larger piece of a rust bucket that represents the other kinds of cars found in Cuba.
Come have a look!
Also in the main gallery with the show called 'Angles and Curves', you will find a shot I did in Los Angeles a couple of years back. I always liked the scale and am glad the juror thought it worthy of showing. It's called LACMA Lobby (since it was taken at the LA Museum of Contemporary Art). It is matted and framed at 19" x 25" and as I look at it before bringing to the galley, makes a rather bold statement on an otherwise blank wall space!
Two receptions this month, one especially for the Heavy Metal show in the Artists Salon. But of course you can see both spaces at the same time at either reception, and the shows will run until September 1. The Gallery Opening Reception is Wednesday, August 10 from 5:30 - 8pm and the Heavy Metal reception is on Saturday, August 20 from 2 - 4pm. Both at the SFWA gallery, 647 Irving Street @ 8th Avenue, San Francisco. Hope to see you at one or both!
---
Still in the Print Bin
The print bins offer visitors an opportunity to pick up matted art ready to frame the way you want. I'll have a couple of new ones and a couple of old favorites in the bin for your viewing pleasure.

---
New Works

In gearing up for a show coming in September, I looked over what I have 'filed' under 'Abstracts' and found quite a few I have ignored. I then proceeded to make a few new pieces, done by combining others, changing colors, adding or subtracting bits and pieces, and basically had a whole lot of fun. I'd love to know what you think! If they're too small to 'analyze', they're all on my website.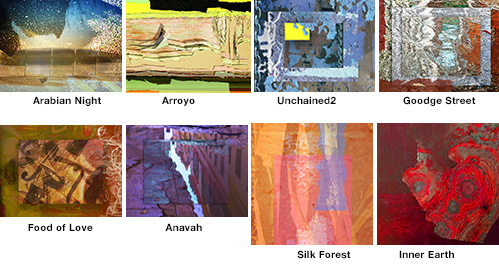 ---
The Books
Still being talked about by musicians and music lovers, Bay Area and beyond -- San Francisco Bay Area Jazz & Bluesicians
Now being offered at the new, cool Vinyl store, Noise, in the Outer Richmond district - live music every week!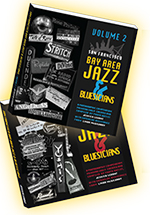 The two volumes of Bay Area Jazz and Bluesicians, with a total of 251 local musicians photographed while they were performing are available on amazon.com (fastest way to get them online) or at www.bayareajazzandbluesicians.com probably a bit cheaper and takes 7 - 10 days to receive them. You can preview some of the pages on either site. If you prefer hand to hand consumerism, they can be purchased at Glen Park's Bird & Beckett Books & Records and at Noise a really cool record store in San Francisco, the Piedmont Piano Co. in Oakland and The Jazz Conservatory bookstore in Berkeley.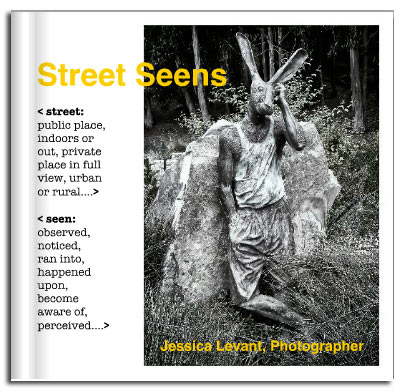 And never out of date, Street Seens can still be had from blurb.com. It's full of street photography from my jaunts here and there in the world, and it's available in both paper and hard cover versions.

You can preview the whole book HERE. It's only available online - purchase details on the preview page.
---
Please forward this email if you think it would be of interest to anyone you know. And, of course, if you don't want to receive my nearly monthly announcements any more, you can unsubscribe below. Previous newsletter editions are available here.