If images below are not visible, please click HERE to view online.
More shows - more Receptions, one opening, one closing, one for September
Water, Water but only wine to drink
The August juried show at the San Francisco Women Artists' gallery is themed "Water, essense of life". So, there will be lots and lots of water around, at least on the walls. But not to worry, there will be wine at the reception. I have two pieces in this show.
Room for One More? was shot one afternoon in Sausalito while the cormorants were lining up to get the best fishing spot. My other piece in this show, Morning at Crooked Tree, was shot in Belize in the wee early hours. It was truly a wonderful sight to wake up to at first light. Both are in matte black wooden frames, 18 x 24".

The Opening Reception is on Thursday, August 6 is from 5:30 - 9pm at 647 Irving Street, San Francisco @ 8th Avenue. For those on public transit, the N-Judah line to 7th or 9th Ave.

---
Women and Money - closing reception and artist talk
I was pleased to see my photograph of The Necklace just inside the front door placed near a chair as if in a living room, looking just like she belonged there. This is an intimate gallery, with only 15 pieces of art spaced tastefully around the rooms. The Necklace is 18" wide and 24" tall, matted in white in a black frame.
The show, sponsored by Rhodes & Fletcher Wealth Management LLC, is at the Small Change Gallery in San Francisco's financial district. The Closing Reception and Artists' Talk is on Thursday, August 27th from 6 - 8pm. You are invited to view the works, mingle with some interesting peoplle and meet some of the artists who will discuss their work and process. The Gallery is in the financial district at 465 California Street, SF. Parking after 6 should not be a problem.
---
For your September Calendar
Time for another solo show at the Bay View Boat Club - This year I'm showing some of the whimsical side of my work, so bring your sense of humor. 13 pieces of photo art on the wall, and for the reception, greeting cards, a bin or two of unframed prints and Ned Boynton's Surfer Roma to entertain us, so get it on your calendar early!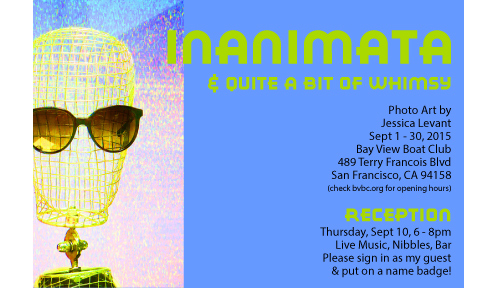 ---
New Works

Two from San Francisco and one from a couple of months ago from London. As usual, most are on my website, but not all, so if you want more details (or a larger view!) of any, please get in touch.
---
And The Books...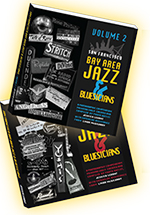 Between the two volumes of Bay Area Jazz and Bluesicians, there are 251 local musicians that I have photographed while performing. Each sits alone on a page with a bio. Both books are available on amazon.com (fastest way to get them online) or at www.bayareajazzandbluesicians.com probably a bit cheaper but takes 7 - 10 days to receive them. If you prefer hand to hand consumerism, they are available at Glen Park's Bird & Beckett Books & Records and The Jazz Conservatory bookstore in Berkeley. One of my favorite non-profits, Jazz in the Neighborhood, offers them for purchase at their shows.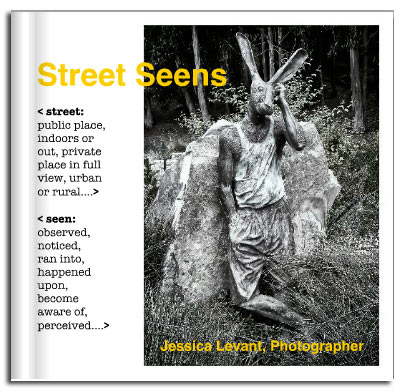 And never out of date, Street Seens can still be had from blurb.com.
It's full of street photography from my jaunts here and there in the world, and it's available in both paper and hard cover versions.

You can preview the whole book HERE. It's only available online - purchase details on the preview page.
---
Ongoing Installation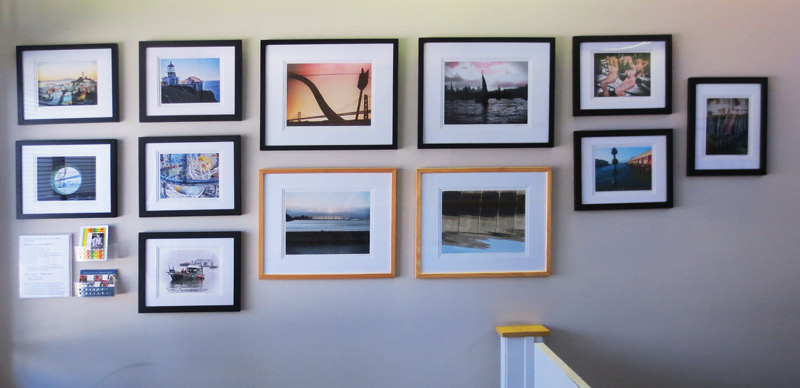 In the Harbor Master's Office of Brisbane Marina. Open 7 days a week during the day. Prints of all of the pieces are available for purchase, framed or unframed, in a variety of sizes. Let me know your preferences and we'll go from there.
---
As always, keep those cards and letters coming (well emails anyway). Every month I get back in touch with a few folks from far away. Please forward this email if you think it would be of interest to anyone you know. And, of course, if you don't want to receive my monthly announcements any more, you can unsubscribe below. Previous newsletter editions are available here.