If images below are not visible, please click HERE to view online.
Spirit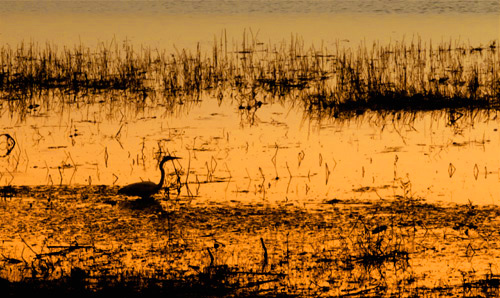 This month's show theme is "Spirit" - "whether inside us or around us". I have three pieces in this show: above is Morning at Crooked Tree, shot in Belize last year upon opening my cabin door when I awoke.
Another is Mona Luna at left. A lucky combination of an enigmatic look and a full moon. The third (below), Golden Stairway, shows the sun shining down into an underground stairway.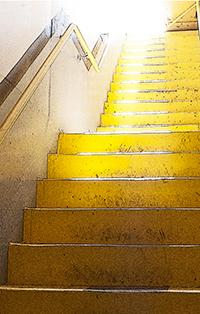 All three are framed in contemporary black 18 x 24" frames with thick white matting around the images.
The Reception is Thursday, August 8 from 5:30 to 7:30 at the SFWA Gallery, 3489 Sacramento Street @ Laurel. I hope you come and enjoy the Spirit! I will be there to greet you.
---
Crossing the Country
Many of you know I just returned from a two-week cross-country trip which started on the train from San Francisco. I stopped in beautiful ChIcago for two days, then went on to New York, and ended in D.C. (In between I took a road trip to the Berkshires and went to a wonderful wedding in Pennsylvania).

Naturally I took pictures. For those interested in the pictorial travelog, you can see the whole shebang HERE. (Click on the information icon [i] to get captions below the images.
---
New Works
A few pictorial highlights from my travels (The first one was shot from my phone, the other three are available in various sizes, should you want to grace your walls with any of them):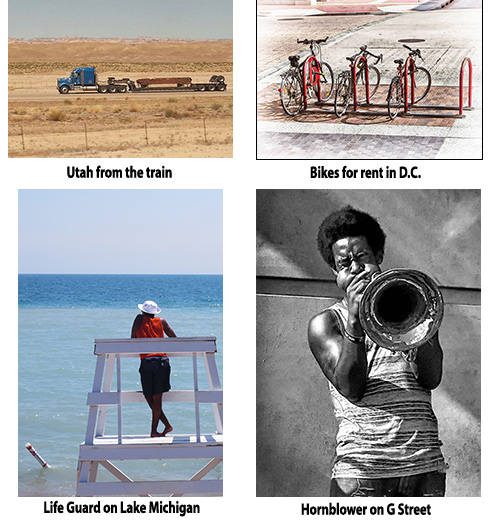 ---
Still on show at the Brisbane Marina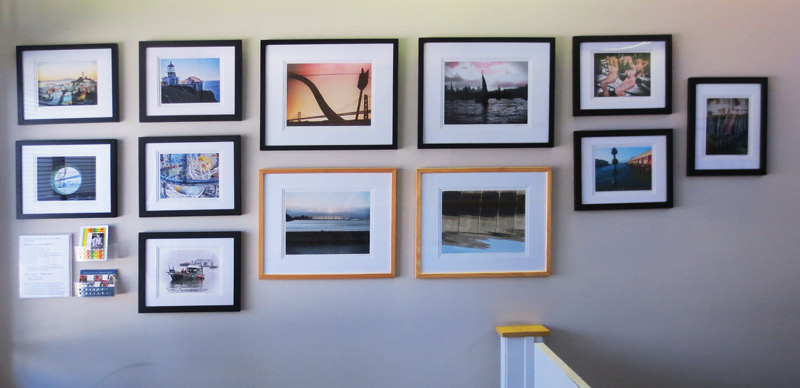 You're welcome to wander in and have a look during business hours (and get a handful of free popcorn). They're open 7 days a week. Of course prints of all of the pieces are available for purchase, framed or unframed, in a variety of sizes. Just let me know your preferences and we'll go from there.
---
Street Seens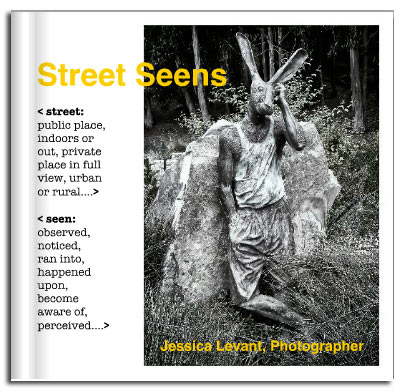 Still available - It's 8 x 8" and 80 pages. Click below to purchase.

You can preview the whole book HERE. It's only available online - purchase details on the preview page.
---
As always, I love hearing from you with comments, critiques, questions and suggestions or to just generally keep in touch. Every month I get back in touch with a few folks from far away. Please forward this email if you think it would be of interest to anyone you know. And, of course, if you don't want to receive my monthly announcements any more, you can unsubscribe below. Previous newsletter editions are available here.