If images below are not visible, please click HERE to view online.
Journey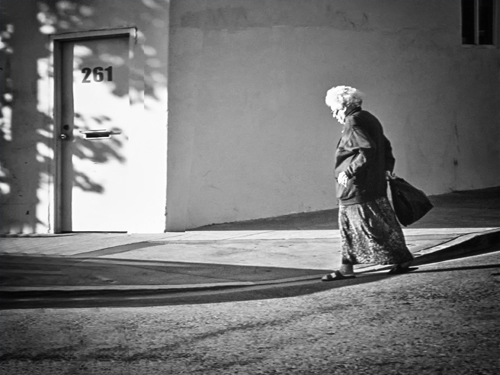 The annual August collaborative all-media show at the SF Women Artists Gallery is themed Journey. The collaborative show is always fun as there are crafts, jewelry, wall art and sculpture, all pertaining to the theme. Half the accepted pieces are from SFWA submissions and the other half from Berkeley's Expressions Gallery. I'm very pleased that my piece above, called One Step at a Time was not only accepted into the show, but won a Merit Award. It's almost embarrassing that it was one of a couple I shot of the woman on Sixth Street from a car window! I just loved the way she looked - like she was trekking across the desert even though it was in the heart of urban grittiness.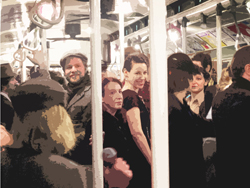 My other entry also was accepted, Vintage Train Trip, which I shot a couple of years ago in New York City on a day they put the old subway trains from the 30's out for a couple of special runs. Note the figure in front with her back to the camera - she was singing!
The reception is on Thursday, August 9 from 5:30 - 7pm at 3489 Sacramento Street, San Francisco. The show runs until September 1.
---
Dog Days of Summer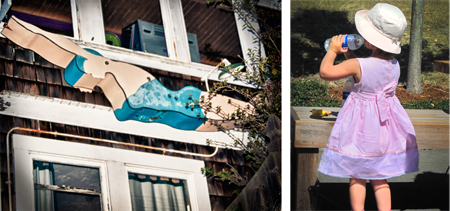 I also had two pieces accepted at the Belmont Art Center for their August Show "Dog Day Afternoons". On the left is "The Swimmer", a photo of a house in Sausalito. On the right, "Sonoma Girl", who seems to be from some summer day in years past, quenching her thirst in the park. Visit that gallery any Wednesday through Sunday afternoon at 10 Twin Pines Lane, Belmont, CA.
---
And for Next Month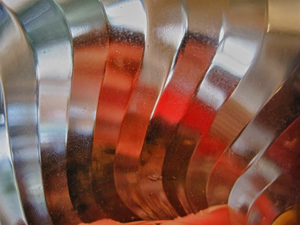 I was excited to have two pieces chosen by the Expressions Galley in Berkeley for their next show. Their exhibition is called Attraction to Abstraction, and they took my "Plastique No.2" on the right and "City Colors" below. The show will be up for two months, from September 8 to November 9. (I'll remind you again next month of course!)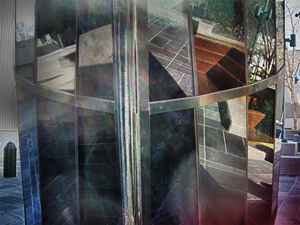 ---
New Work
Since I spent June packing and July unpacking (having just moved off my boat and into a San Francisco condo), most of my recent photography has been of furniture I was thinking about, or decorating ideas and the like, but I did manage a few new pieces, 'just for me', ranging from downtown windows to barn doors at a 4th of July picnic, with some playfulness in between.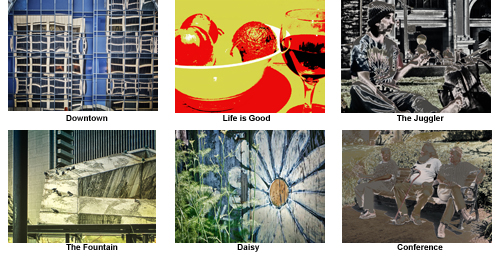 ---
Street Seens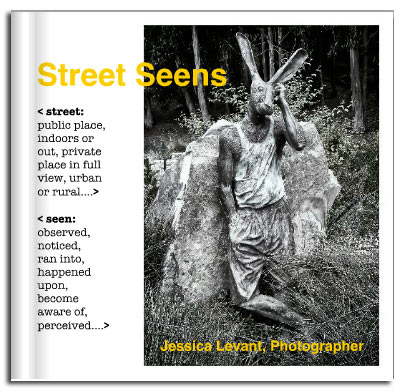 And finally, another repeat of my blatent pitch for you to look at and preferably enhance your coffee table and those of all your friends with my book.

You can preview the whole book HERE. It's only available online - details on the preview page.
---
As always, FREE E-CARDS of any of my works are available from my website in various formats and sizes. For free e-cards, click on a picture you like in any of the portfolios and follow the links at the bottom.
---
I love hearing from you with comments, critiques, suggestions, etc. and to just generally keep in touch. Please forward this email if you think it would be of interest to anyone you know. And, of course, if you don't want to receive my monthly announcements any more, you can unsubscribe below. Previous newsletter editions are available here.