If images below are not visible, please click HERE to view online
---
A Tiny correction for your Calendar now:
BIG event for Thursday, September 28th - Reception at Pier 26 for my September Guest Artist Residency. More Below
Group Show at the SFWA Gallery: Thursday Aug.10th - come see my award winning "Community of Tin"
---
Scapes at the Gallery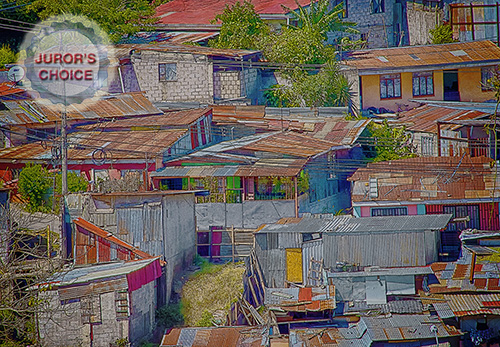 In this month's SFWA juried show, the theme is City, Sea and Landscapes and I'm excited that two of my pieces were juried into the show - one even got an award!.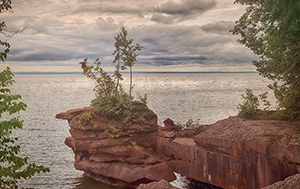 Above, Community of Tin, is 18x24" in a black frame with white mat. I shot this image in San Jose, Costa Rica, a country where nearly ALL the rooftops are made of tin. (It never snows there.) I can go on about this part of town, so if you're interested, get in touch. Pretty interesting. Sand Cliffs, to the right, is framed similarly but in a 29x21" frame. These cliffs are on the Apostle Islands of Lake Superior in Northern Wisconsin where I visited last Autumn..  The show is up until September 2nd.

---
In the Print Bin
Four abstract photographs. The first is 3 panels of patterns shot through shattered safety glass in front of different lighting - with a digital red leaf added in. The next three are walls seen in Panama City's Casco Viejo, an amazing patchwork of textures and colors, all to disappear soon due to serious gentrification in that part of town. All prints are 18 x 24", matted in white and ready for standard sized framing. If one of them 'speaks to you', it would love to meet you.
The Opening Reception for the Sea, City and Landscapes show is Thursday, August 10th from 5:30 - 8pm at the SFWA Gallery, 647 Irving Street @ 8th Avenue, San Francisco. Music, wine, finger food and 57 other scapes on the walls along with the unframed works and jewelry, ceramics, sculpture, glasswork, greeting cards, for view and for sale.
---
Guess Who got a Guest Artist Residency at the Troll House!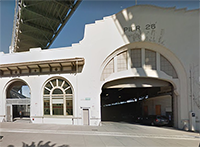 I am really excited to be able to spend a month working and showing my work on San Francisco's Embarcadero in September. This is my first major show since starting to hone my photo/digital skills in 2010. I'll have approximately 35 framed works on the walls from Sept. 2 to the 30th. Because of Labor Day Weekend, it seems prudent to have the reception at the end of the month - but I'll actually be there many afternoons and if you contact me, I'll be happy to show you around at a time convenient to you. I do hope you can make it to the reception though! It would be very lonely if no one comes!! (Though I'd get to drink all the wine....)

Thursday, September 28th from 5:30 - 8:30pm - The 'Official' reception with unframed works* and cards available for sale along with the art on the wall. You're welcome to come any time throughout the month however to view the framed art - just call so I can be sure to meet you there. The Troll House is at PIer 26, on the Embarcadero between Harrison and Bryant. It's 1 block from the Folsom St. stop on the N, T or E lines or served by various busses. * Possibly some pieces from my incredible trip to Peru will be available by the reception as well. I plan to work on them at the Troll House during September.
---
New Works last month

Spent a warm and wonderful weekend in June exploring the Little Petroglyph Canyon at China Lake, CA - before and after that natural beauty were ghost town visits and the Trona pinnacles at night. A small selection of the output below. I know natural wonders and landscapes are 'not my thing', but when your surrounded by such stark and historic beauty, well, something's got to give.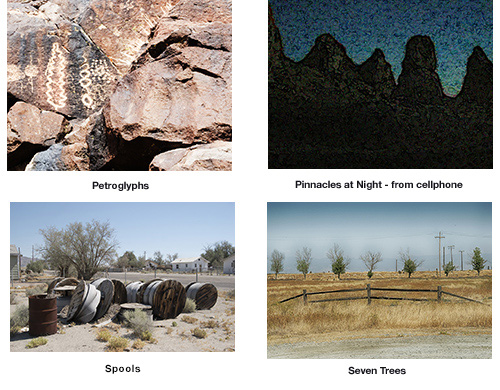 ---
And where you get your Bay Area jazz documentation...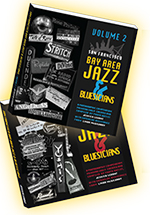 The two volumes of Bay Area Jazz and Bluesicians, with a total of 251 local musicians photographed while performing are available on amazon.com (fastest way to get them online) or at www.bayareajazzandbluesicians.com probably a bit cheaper and takes 7 - 10 days to receive them. You can preview some of the pages on either site. If you prefer hand to hand consumerism, they can be purchased at Glen Park's Bird & Beckett Books & Records and at Noise a really cool record store on Balboa St, San Francisco, the Piedmont Piano Co. in Oakland and The Jazz Conservatory bookstore in Berkeley.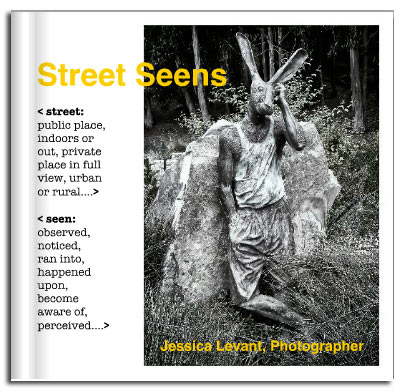 And never out of date, Street Seens can still be had from blurb.com. It's full of street photography from my jaunts here and there in the world, and it's available in both paper and hard cover versions.

You can preview the whole book HERE. It's only available online - purchase details on the preview page.
---
Please forward this email if you think it would be of interest to anyone you know. And, of course, if you don't want to receive my nearly monthly announcements any more, you can unsubscribe below. Previous newsletter editions are available here.