A fascinating country to 'discover', offering new sights and sounds, occasional frustrations, delightful surprises and a developing feeling of confidence in the ability to travel without the comforts and conveniences taken for granted in our more mundane holidays. While Tony has been to South American jungles, Algeria and Ethiopia, Jessie's experience with Third World travel was limited to taking a rickety bus in Thailand to get from Bangkok to the island ferry and a week in Turkey, spent mostly on a boat. Always the optimist, however, she bought the very best in mosquito repellent, packed her medium size backpack and set off to have a wonderful time. Tony was nervous about her endurance - but didn't have to be.

Week One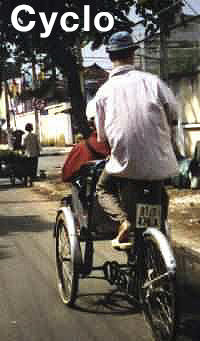 We landed in Ho Chi Minh City (still 'Saigon' to the natives) and found ourselves a clean, well equiped 'home' in one of the many new 'mini hotels' in the Pham Ngu Lau area. For $15 a night we had air conditioning, television, a refrigerator, hot and cold water, a comfortable bed and a family of hoteliers who made our every comfort their priority. We also had a view down to the street that afforded the first insight into how industrious the local people were. Though many of them were too poor to have indoor living accommodation, they lived in the streets, sleeping in cyclos or on rolled out camp beds between midnight and the early hours of the morning. It was fascinating to watch them silently set up their food stalls, serve up family meals and get their kids dressed and ready for the day before 5 a.m when the 'bustle' began. I know this because the change in time allowed me to wake up just about hourly allowing me to hang out the window for a few minutes periodically throughout the night. As the days went on, I got to recognise the patterns of activity.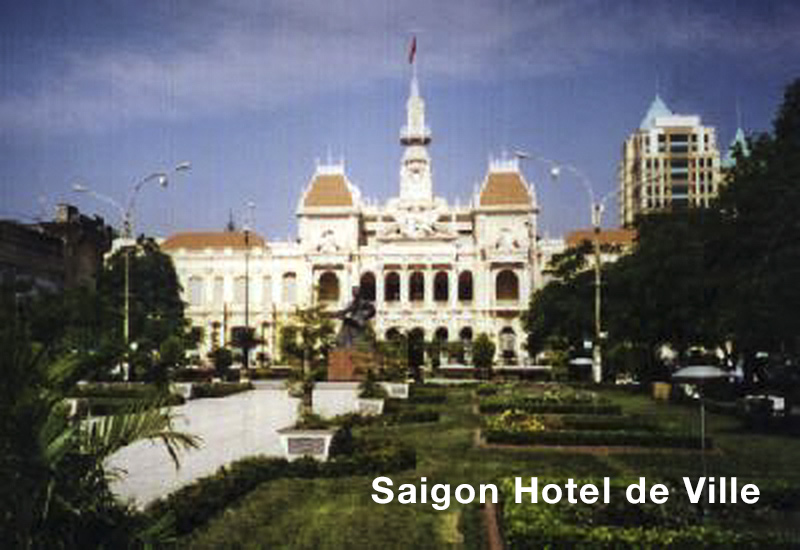 We spent the first couple of days getting used to the culture and the language and walking the length and breadth of Saigon's central area and learning how to 'handle' the constant flux of young vendors that never leave you alone. By the time we left Saigon we learned how to say no to the constant stream of cyclo drivers, how not to buy cheap (working?) lighters, postcards and reprinted books, and other souvenirs, all of which could be had cheaper in shops. The children selling them are mostly very appealling however, and it is hard to be hard. A couple of times, very small children asked for the food on our plates, then carefully shared it with chosen siblings - but no one else - before bringing back the empty plate.

Vietnam is unique in the Third World for its setup of 'travellers' cafes'. In all major cities, you go along to one or several of these to learn which tours are available, get the gossip on which companies provide the best guides, buses, food, etc. and sample some at least adequate food. (The best local food is NOT in the travellers' cafes).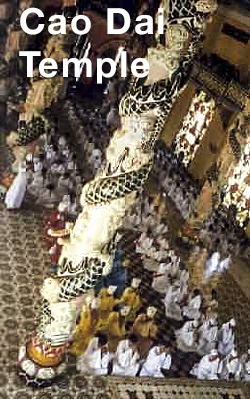 The first tour we took was to a Cao Dai temple (a pragmatic and colorful amalgam of Confucianism, Buddhism and Christianity) and to the Cu Chi tunnels - the means the VC guerrillas used to consistently maintain their presence in the South. It was a fascinating, enlightening excursion led by 'Minh', who after growing up in Cu Chi had worked as an interpretor for the US Army (101st Airborne Division). He was quite outspoken on the current government and how it had treated him and his colleagues who had been fighting on the 'wrong' side. He was also the first to explain many things about the system - that schools and medical care are not free - except for the minority tribes - that since '89, people can own their own land and businesses, and that since that time, they all work very hard to increase their wealth. This is the industriousness we were to observe everywhere in the country. There simply was not any 'hanging around'. Everyone from about 2 years old and up had a job to do and seemed to rather happily do it - 7 days a week. There is great hope here.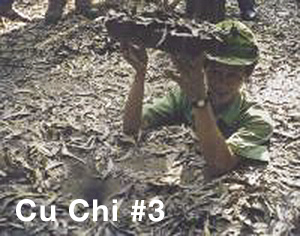 We then booked onto a two-day tour of the Mekong Delta which included 4 or 5 boat trips, a visit to a noodle factory, a floating market, a tour of the wartime Viet Cong base and a wander through a bonsai growing and garden nursery village. I tasted snake wine and we began to actually get used to seeing rice paddies and water buffalo.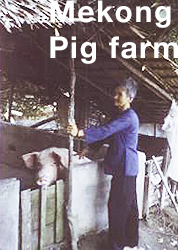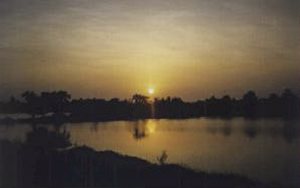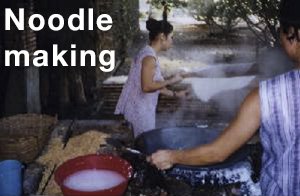 Several rolls of film later, we booked flights to Da Nang for the second week of our adventure.
Week Two
As recommended by books and other travellers we met, we skipped Da Nang entirely and took a taxi directly to Hoi An, a seaside village about 35 km to the south. We chose a hotel just outside the town centre. This time no TV, but bicycles were included, very handy for getting in and out of the village and to the beach. Hoi An was definitely the prettiest place, with the best food and the greatest abundance of silk shops. We spent four days there, exploring the Vietnamese - Chinese - Japanese and French architecture, visiting mansions and temples, and biking out to Cua Nam beach where we ate grilled crab and clams dipped in salt and lime. We also got some silk 'things' made including matching pyjamas!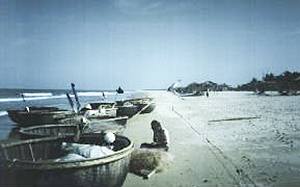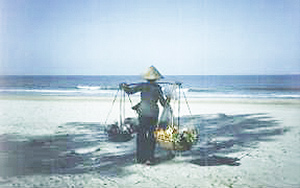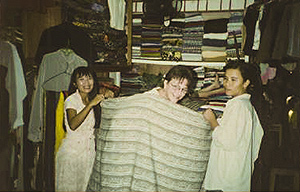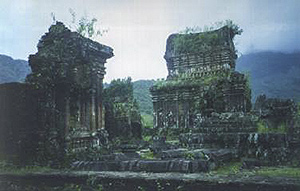 We took a daytrip to My Son, the most extensive Cham site outside of Angkor Wat in Cambodia. Most of it was bombed though and we had to make do with bits of wall and fragments of sculptures.

Reluctantly, (since we hadn't sampled ALL the good restaurants yet) we set off north again, this time taking the train to Hué. The 4 hour train trip wound up the coast affording breathtaking views not visible to road traffic. The English speaking conductor befriended me and after asking for an English paragraph he'd written to be corrected, let me wear his hat for photo. This caused much envy by the female onlookers in Hanoi who giggled at his good looks as we looked at our newly printed photos.

Hué seemed a bit 'heavy' after Hoi An. We never really got to like it. The people seemed to have lost their warmth, and were just plain relentless in their pursuit of the dollar. We toured the old Citadel and took a day-long boat trip to ancient royal tombs (the Vietnamese equivalent to the pyramids). It was then time to head north again.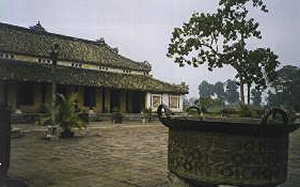 Week Three and then some
We flew to Hanoi, expecting to like it and we did. We stayed in the old quarter which is made up of streets named after the 36 ancient craft guilds. They are still each throbbing with their particular industry, though not always the same as the name indicates. So that while 'silk street' still had silk it also was the centre for tee shirts. There was 'tin street', 'stone street' (where they carve grave stones), etc. We had a lovely hotel room with heavy carved furniture, and satellite TV (finally European languages to keep us up to date) and this for $16 (skillfully bargained down from $30 since we were staying for over a week. Tony became very adept at this money preserving practice)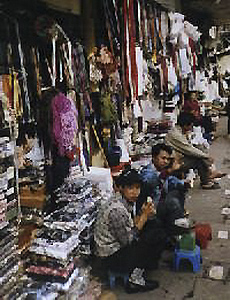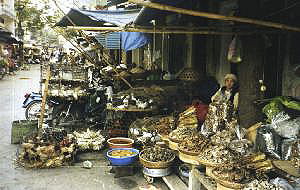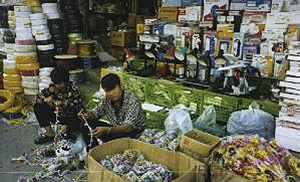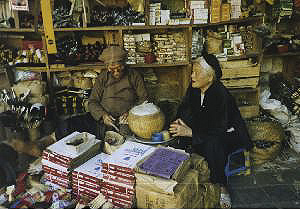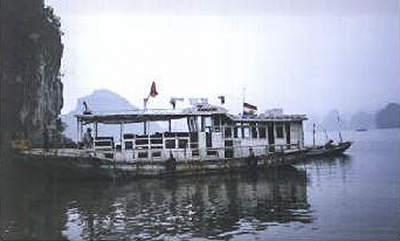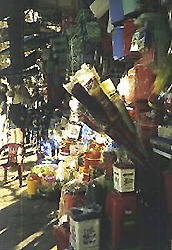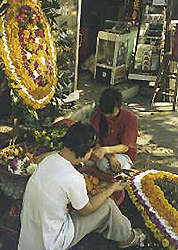 While the food wasn't memorable - and good eateries harder to find - Hanoi had life to it. We explored for a day and then booked onto a three day boat trip on Halong Bay and Cat Ba Island. No red sails or sunsets, but great scenery even in the mist and very nice people on the tour. (There were THREE other HR/OD consultants!).

On return to Hanoi, we took in the major sites - including the mausoleum and the required viewing of Uncle Ho. (I'm still not entirely sure he wasn't produced by Madame Tussaud). We went to the Water Puppet show which we found magical and took photos of innumerable markets and shrivelled old ladies balancing baskets of items on their shoulders (or their heads in the case of the the 'bread ladies'). It was strange, in the capital of this communist country, to run into Lego shops, a Baskin Robbins and, in the Sofitel, Louis Vuitton. They also have a joint venture Ford plant which should become wholly theirs in 20 years. Turns out one of our tour guides used to work in the personnel dept there. In the photos below, you'll see the 'Hanoi Hilton' - the prison made famous during the American War which has now been reduced to a tiny museum in a part of the original wall and a brand new tower housing luxury apartments, office space and a conference venue rises from the interior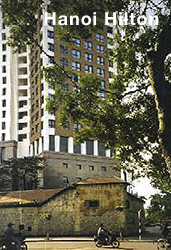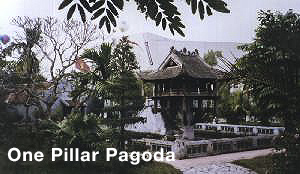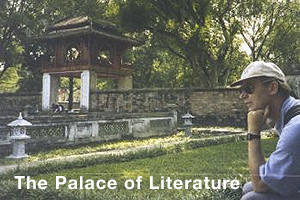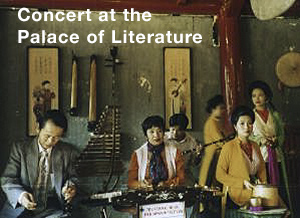 One last tour, a one day trip: This was perhaps the nicest tour visually. We were bussed to Hoa Lu where we checked out the sites with some still standing temples of the first two emperors of the country (dating from 1090). Then on to Tam Coq (The 'Halong Bay of the Rice Paddies') where in woven reed boats we were rowed through the paddies for 2 hours, going under several mountains.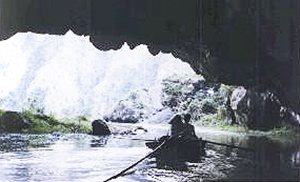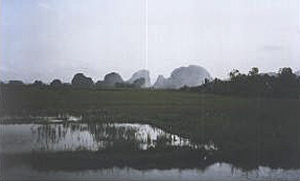 We marvelled at the fact that we had warm sunny weather almost the whole time, despite the fact that the north and south normally have opposite seasons. After a few days of greyness in Hanoi, the sun came out again and we ended the trip back in our sandals and short sleeves.

Well, that was it. Hope this will be an acceptable substitute for the xmas cards we didn't send. Let us know what you think. For ourselves, we have 11 rolls of film to help jog our memory. Here's how we celebrated New Years Eve - followed by New Year's Day breakfast at Charles De Gaul airport.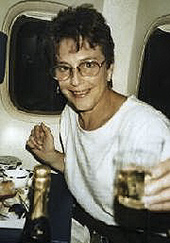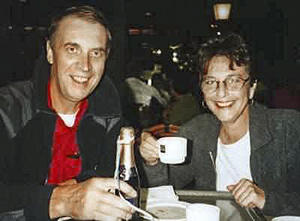 January 1998