HIGHLIGHTS:
*** Thursday, August 27, 5:30 - 7:30pm: Closing reception and Artist Talk at Spare Change Artist Space, 465 California St, #838 - Come if you can.
*** Through Saturday, August 29: Current show, "Water", at SFWA Gallery, 647 8th Avenue, SF - Lots to see there including two by me on the walls and several in the print bin. Open 10 - 6 Tues - Sat.
*** Wednesday, Sept. 9, 5:30 - 9pm: Grand Opening & New Show, SFWA Gallery, 647 8th Avenue, SF. More info below.
*** Thursday, Sept 10, 6 - 8: My 6th annual solo show at the Bay View Boat Club - more details below - Hope to see you!!
Sunset Rising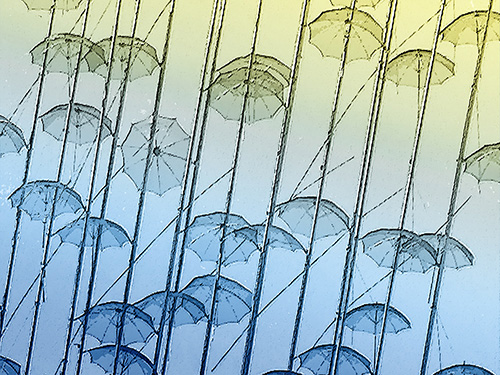 The San Francisco Women Artists' Gallery is having it's GRAND OPENING and chose Sunset Rising as the theme for the juried exhibition to represent our new neighborhood - Inner Sunset - as well as the concept of rising, emerging, transforming. I have three pieces in this show, all brand new and I'd love it if you came to see them in full size, framed and hanging on a wall! Above is a piece I call Fair Winds. This photograph was shot in Thessaloniki, Greece and straight out of the camera showed a large steel installation along the waterfront in front of a pale sky. Should I tell you I shot this from a moving bus?
Another piece I created just for this show is Going Home, shot from the bottom of one of the several tiles or mosaic'd staircases in the Sunset. On the left is a partial detail of the picture.
Finally, below is On the Avenue named so because it's on one of the many avenues in the Sunset (where I grew up) and is typical of the multicolored, similar-faced dwellings built in the 30's and 40's.

The aformentioned Grand Opening Reception from 5:30 - 9pm on Wednesday, September 9 is at 647 Irving Street, San Francisco @ 8th Avenue and will be an extra special reception at our beautiful new space. For those on public transit, the N-Judah line to 7th or 9th Ave will get you there easily.

---
And then the Goofy, Irreverent and Whimsical
My solo show at the Bay View Boat Club this year will feature the more whimsical side of my work, so bring your sense of humor (and your dancing shoes). 13 pieces of photo art on the wall, and for the reception, greeting cards, a stack or two of unframed prints and Ned Boynton's Surfer Roma Band to entertain us, and, no doubt, make us dance. Music goes on until 9.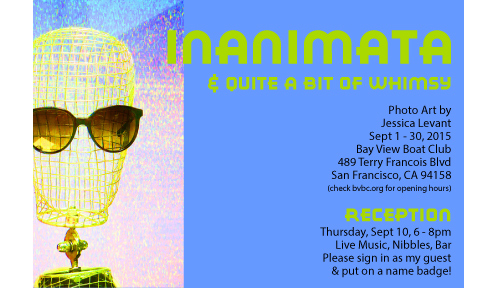 ---
Back to Bethlehem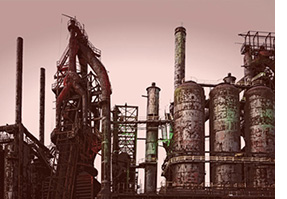 I'm excited that one of my pictures is now part of a collection in Allentown, PA. Several years ago I shot this photo of the Bethlehem Steel plant, with its rust and reflections of Christmas lights from across the highway. The 'Stacks' has now been converted into a wonderful art and event venue and is a primary icon of the area. Last week, my rendition of it went 'home' and is now hanging in the Director's office of the Bradbury-Sullivan LGBT Community Center.
---
New Works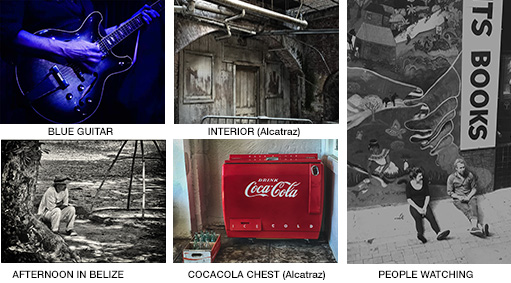 OK, they're not all really new, but they are newly 'processed'. People Watching, however, was shot just 2 days before writing this. As usual, most are on my website, but not all, so if you want more details (or a larger view!) of any, please get in touch.
---
And The Books...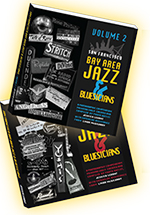 Between the two volumes of Bay Area Jazz and Bluesicians, there are 251 local musicians that I have photographed while they performed. Each sits alone on a page with a bio. Both books are available on amazon.com (fastest way to get them online) or at www.bayareajazzandbluesicians.com probably a bit cheaper and takes 7 - 10 days to receive them. If you prefer hand to hand consumerism, they are available at Glen Park's Bird & Beckett Books & Records in San Francisco and The Jazz Conservatory bookstore in Berkeley. One of my favorite non-profits, Jazz in the Neighborhood, offers them for purchase at their shows.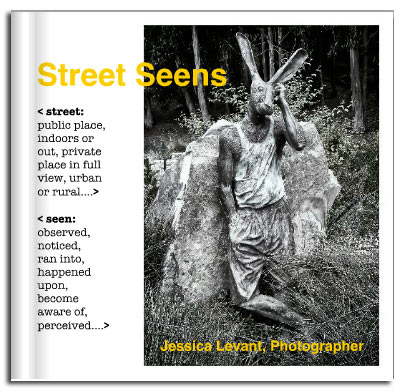 And never out of date, Street Seens can still be had from blurb.com.
It's full of street photography from my jaunts here and there in the world, and it's available in both paper and hard cover versions.

You can preview the whole book HERE. It's only available online - purchase details on the preview page.
---
Ongoing Installation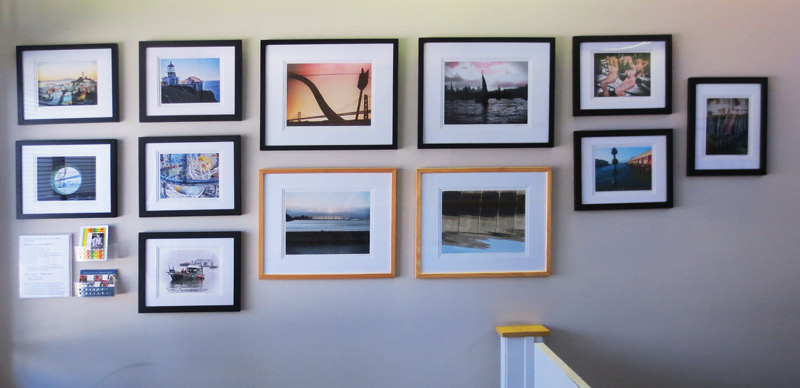 In the Harbor Master's Office of Brisbane Marina. Open 7 days a week during the day. Prints of all of the pieces are available for purchase, framed or unframed, in a variety of sizes. Let me know your preferences and we'll go from there.
---
As always, keep those cards and letters coming (well emails anyway). Every month I get back in touch with a few folks from far away. Please forward this email if you think it would be of interest to anyone you know. And, of course, if you don't want to receive my monthly announcements any more, you can unsubscribe below. Previous newsletter editions are available here.