If images below are not visible, please click HERE to view online.
Urbane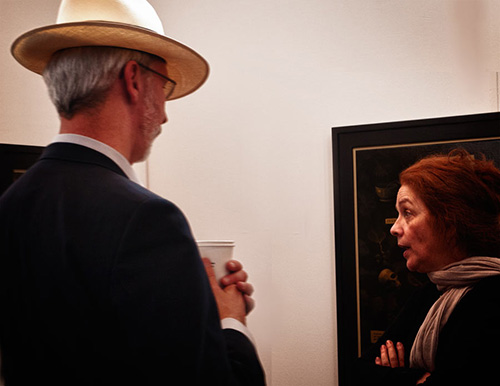 Urbane - "polished, suave, sophisticated, elegant". Do I move in those circles?? Well, I did find a few opportunities to shoot those who do and three results are now on display at the San Francisco Women Artists Gallery for their September show. Above is 'Let's Talk Art', not surprisingly taken at an art show. Below left was a painstakingly planned shot overlooking the tearoom at the Biltmore Hotel in Los Angeles this spring. A truly elegant hotel with service that seemed to be never ending. I called it of course, Biltmore Service. It's in an 18 x 24" gilded frame.
Below is a site I found on my way down from the Signature Bar at Chicago's Hancock Tower. Despite the martinis, I was able to notice the geometry of the scene and the lovely late-dusk colors. Wonder what the food is like?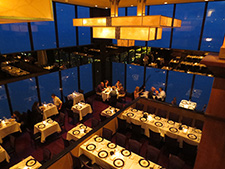 Both Let's Talk Art and the Hancock Dining Room are matted and framed in 16 x 24" contempory black.
The Reception is Thursday, September 12 from 5:00 to 7:30 at the SFWA Gallery, 3489 Sacramento Street @ Laurel. I hope you come and enjoy an Urbane evening. I will be there to greet you.
---
New Works
I found myself playing with filters this month. A couple of interesting results below:

I also had the opportunity to shoot Carlos Santana who was dining at my local jazz venue. On the right below was a lucky viewing in my neighborhood while walking down the street one sunny afternoon.

---
Latest Project
Just a heads-up for what's been keeping me most busy these last several weeks. I've decided to put together a book of Bay Area Jazz and Blues Musicians. All are shot during performances (no posing!). Here's a tiny sampling:

I'm hoping to get it out before Christmas. Watch this space.
---
Still on show at the Brisbane Marina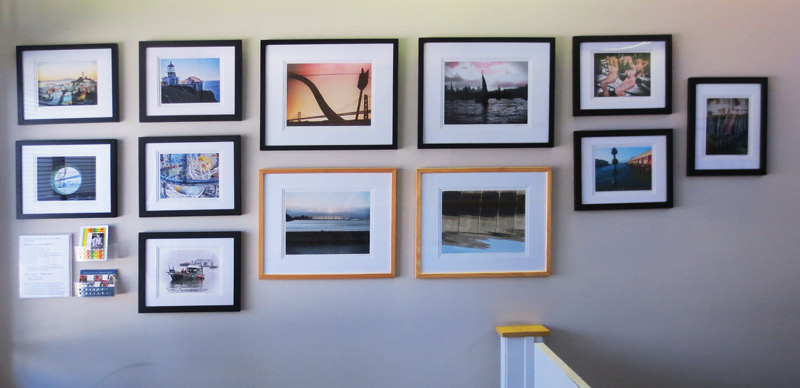 You're welcome to wander in and have a look during business hours (and get a handful of free popcorn). They're open 7 days a week. Of course prints of all of the pieces are available for purchase, framed or unframed, in a variety of sizes. Just let me know your preferences and we'll go from there.
---
Street Seens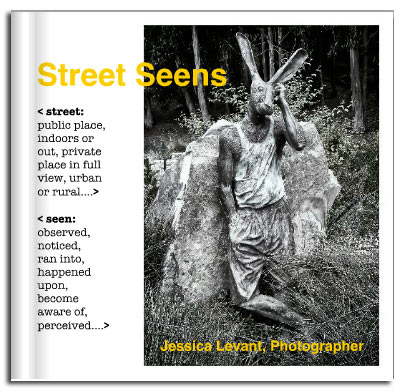 Still available - It's 8 x 8" and 80 pages. Click below to purchase.

You can preview the whole book HERE. It's only available online - purchase details on the preview page.
---
As always, I love hearing from you with comments, critiques, questions and suggestions or to just generally keep in touch. Every month I get back in touch with a few folks from far away. Please forward this email if you think it would be of interest to anyone you know. And, of course, if you don't want to receive my monthly announcements any more, you can unsubscribe below. Previous newsletter editions are available here.