If images below are not visible, please click HERE to view online.
"Head to Toe"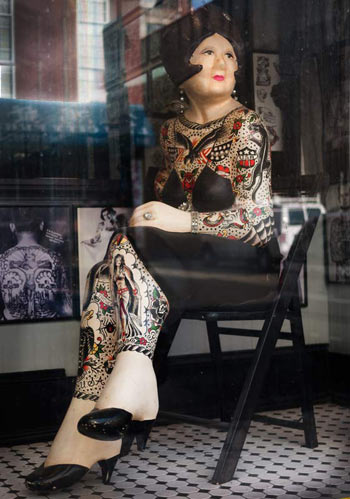 I'm a very literal kinda person. The entries in this month's show demonstrated a wide interpretation of the theme - ranging from heads of cabbage and other vegetables to in-depth psychological makeovers, but as I said, I'm pretty literal. So when I heard about the "Head to Toe" theme (late last year walking around Philadelphia) and came upon this tattoo shop window, well, it just seemed like a natural. She's quite large - framed at 31 x 23 inches in one inch matte black wood. She's got a nice white mat around her and looks rather stunning on the wall...but far better in person, so I hope you can come to the reception! She won me another Merit Award too!

Another of my entries for the Head to Toe theme is On Broadway, shot, I must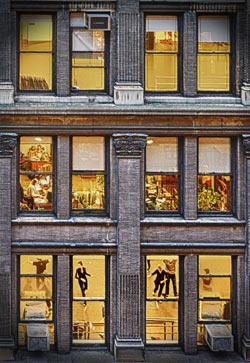 confess, with my little Canon Point and Shoot from a store window across the street. This one was in New York at dusk. I found it fascinating to look in on all the different lives visible, especially the dancers rehearsing on the first floor. The image is about 8 x 14", matted with a large, thick white mat and framed in a matte black 16 x 24" frame.


My 'small entry', Window Dressing [right], seems to bridge the two above. Shot in Mexico City, it's the facade of a zócolo building housing costume and tattoo shops. Processed in black and white, it's in a silver 9 x 11" frame, matted in white with a black border and can be hung or stood up on a shelf.
The reception for the Head to Toe show is on Thursday, September 13 from 5:30 - 7pm at 3489 Sacramento Street, San Francisco. The show runs until Saturday, October 6.
---
Attraction to Abstractions

As I mentioned last month, I had two pieces chosen by the Expressions Galley in Berkeley for their show, Attraction to Abstraction. The opening was last night and the show runs until November 9. Here's a shot of the reception with both my photographs visible in the middle (the two lower ones in the center of the photograph].
The Expressions Gallery is at 2035 Ashby Avenue, Berkeley in the heart of the Berkeley Arts District. (They also have poetry readings on Friday nights and other entertainment - check their website for details.)
---
New Work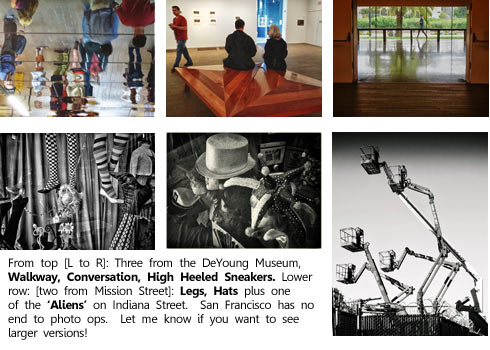 ---
Street Seens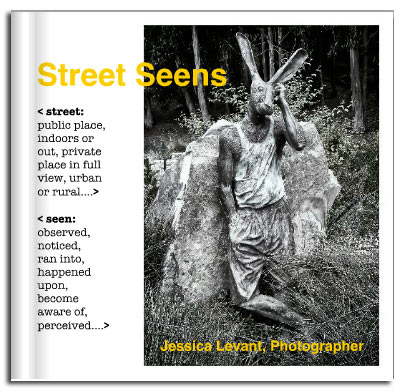 And finally, don't forget my blatent pitch for you to look at and preferably enhance your coffee table and those of all your friends with my book.

You can preview the whole book HERE. It's only available online - details on the preview page.
---
As always, FREE E-CARDS of any of my works are available from my website in various formats and sizes. For free e-cards, click on a picture you like in any of the portfolios and follow the links at the bottom.
---
I do like hearing from you with comments, critiques, suggestions, as well as your own news. Please forward this email if you think it would be of interest to anyone you know. And, of course, if you don't want to receive my monthly announcements any more, you can unsubscribe below. Previous newsletter editions are available here.