If images below are not visible, please click HERE to view online.
A Place in Time
It's called VVVROOM! and was selected for the postcard promoting this month's show, A Place In Time. It's one of the few photographs I have 'staged' - thank you Anna for having such an interesting bookcase to whet my fancy. Anyway, it's prominently displayed at the SF Women Artists Gallery, dressed in a white mat with an 18 x 24" black wooden frame with a satin finish.


I was really pleased to have all three of my entries accepted into this show. The next one, seen here on the right, is Noir, which I shot in my neighorhood on a dark and stormy night - well, no, it was a sunny afternoon actually. But you get the idea. It just had to be processed in black and white. It's also framed in 18 x 24" black satin finish wood and matted in white.



And finally, for my 'small entry', Millennium Bridge, below, which is one of my own all time favorites - shot in London several years ago looking across the Thames at St Pauls Cathedral. It is nearly square, c. 6" on each side, set horizontally in a white mat in a black metal frame 12" x 10".
The Opening reception is on Thursday, October 11 from 5:30 - 7pm at 3489 Sacramento Street, San Francisco. The show runs until Saturday, November 3.
---
Expressions Gallery Show

Two of my pieces are still on show at the Expressions Galley in Berkeley for their show, Attraction to Abstraction. The show runs until November 9.
The Expressions Gallery is at 2035 Ashby Avenue, Berkeley in the heart of the Berkeley Arts District. I will be there on Thursday, October 25 from noon to 2:30 and will be happy to show you around.
---
New Work
A few from this month's output: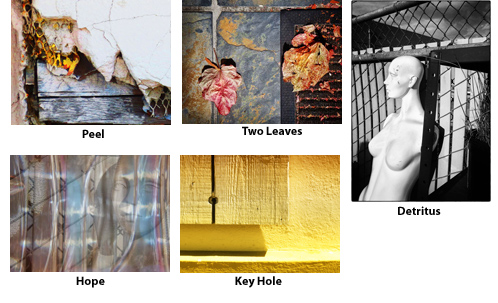 ---
SPECIAL BOOK DISCOUNT GOOD UNTIL 10/23!
Street Seens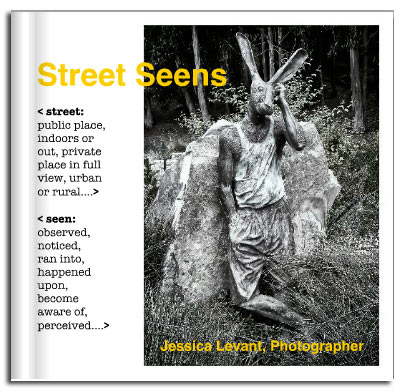 The publisher is offering a 20% discount between now and October 23. Use the promo code FANS to get your copy - or some for your Christmas list - and cheer up dreary Winter coffee tables with this little 80 page collection of whimsy and wonder!

You can preview the whole book HERE. It's only available online - details on the preview page.
---
I do like hearing from you with comments, critiques, suggestions, as well as your own news. Please forward this email if you think it would be of interest to anyone you know. And, of course, if you don't want to receive my monthly announcements any more, you can unsubscribe below. Previous newsletter editions are available here.