If images below are not visible, please click HERE to view online.
---
Freedom and Change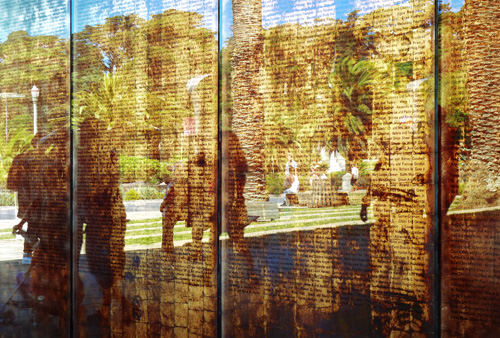 Interesting theme for the November gallery show - my responses to it were symbolic. Above is 'The Wall', shot outside the DeYoung Museum, reflecting the scene behind me. It seems to encompass many forms of life and activities, history and structure, all 'caught' in the wall. And then of course I loved the colors! The Juror selected this one for one of the Merit Awards.
Also in this month's show is Outside Inside, another photograph from a visit to the DeYoung, which is an interior stairway. The patterns of light from the outside hitting the concrete steps and the large view of the lush greenery through the glass wall informed the title, and seemed to demonstrate boundaries that can be seen as being breached. The Wall and Outside Inside are c. 19 x 13", matted and framed in 22 x 28" black frames.
Life Cycle is my small submission, shot on a rainy day on my back deck. The new growth and decay accompanied by the dandelion and spider web had been intriguing me for weeks. It's about 7 x 9" in a black 10 x 12" frame. The Opening Reception is Thursday, November 10 from 5:30 - 7pm at 3489 Sacramento Street, San Francisco.
---
Down the Peninsula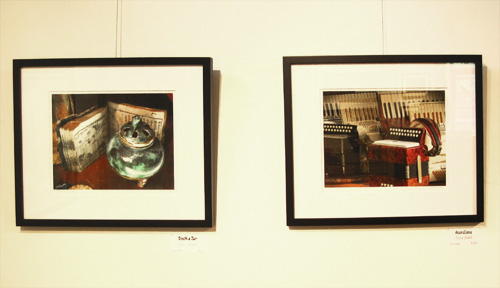 Two of my photographs, Book and Jar and Accordions, (above) are on display at the Belmont Arts Council Gallery which is at the Twin Pines Art Center, 10 Twin Pines Lane, Belmont for their two-month show, "Art Makes a Wonderful Gift." The gallery, which is housed in a wonderful and historical mansion, is open Wednesday through Sunday in the afternoons. The show will be up until December 30.
---
New Works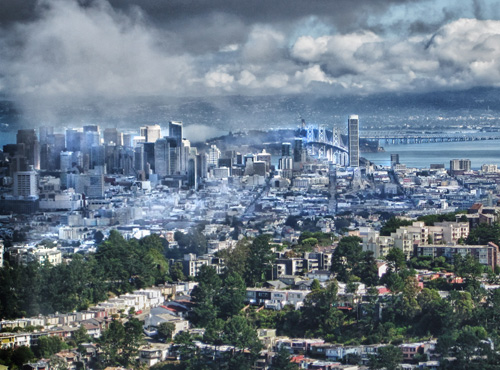 Not too much this month. I did hike up to the top of Mt. Davidson, a mountain in San Francisco that this native had never visited! Above is the view of the city opening up after the fog - it's called 'Under the Clouds''. Below left is the landmark cross atop the mountain. Later that night I went to one of my favorite local jazz venues, the 7 Mile Club. Below right is Dima, a singer who was performing there.

---
FREE E-CARDS of any of my works are available from my website. Click on a picture you like in any of the portfolios and follow the links at the bottom.
---
As always, I'd love to hear from you with comments, critiques, suggestions, etc. Please forward this email if you think it would be of interest to anyone you know. And, of course, if you don't want to receive my monthly announcements any more, you can unsubscribe below. Previous newsletter editions are available here.