If images below are not visible, please click HERE to view online.
The big news - the book is coming!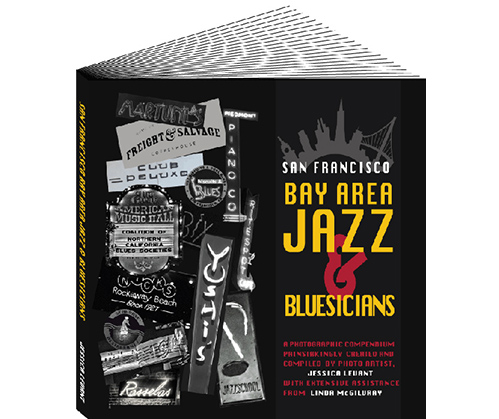 Only one more photo to take and that will happen tomorrow to bring the total to 116; the layout is complete and it's going to the publisher this week. Looking towards a book release party on the Sunday before Thanksgiving. But you will be notified!! I know - things can always go wrong. What a fun project it has been!
On Show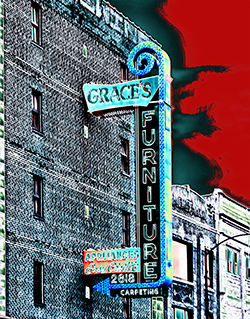 This month's show theme at the SF Women Artists Gallery is Grace - however the artist wants to define it. So right away, I thought about the Jefferson Airplane - that's how my mind works - but didn't know how to get a photograph of Ms. Slick. I did however find a wonderful building in Chicago that I shot just for this show. It's matted in white in a 16 x 20" black wooden frame.
I have two other pieces in this show which are probably more what the theme intended. Grace Notes, which is a detail of the relief on the arch at the Golden Gate Park band shell - which I then colored and duplicated, placing the top one just a bit offset from the bottom one. The third piece is Monk at the Top of the Stairs, which surprising for me, is just a straight photograph that I took at the Contemporary Jewish Museum when I was walking up the stairway and saw him above me. These two are also matted in white and framed in plain black 1 x 20" frames.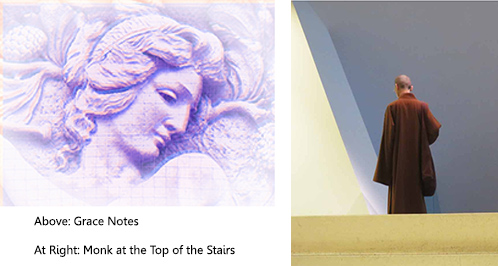 The Reception is Thursday, November 7 from 5:30 to 7:30 at the SFWA Gallery, 3489 Sacramento Street @ Laurel. I hope you come and enjoy the evening.
---
Recent Sales
Two of my San Francisco shots were purchased in October, so, on the premise that San Francisco is 'hot' right now, I thought I'd share them here ('Across the Bay on the left; Telegraph Hill on the right).:
---
Still on show at the Brisbane Marina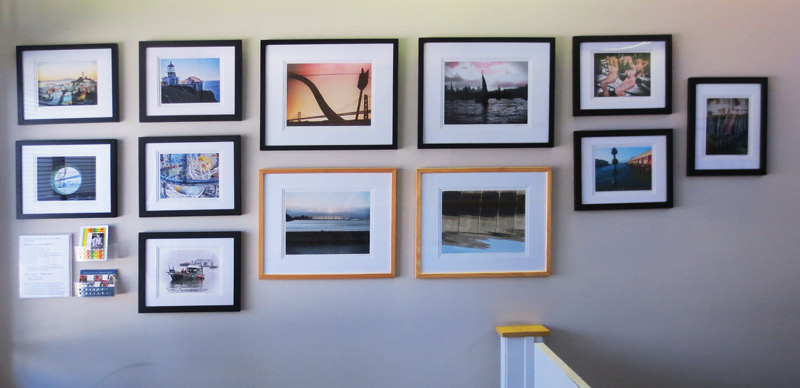 In the Harbor Master's Office. Open 7 days a week during the day. Of course prints of all of the pieces are available for purchase, framed or unframed, in a variety of sizes. Just let me know your preferences and we'll go from there.
---
Street Seens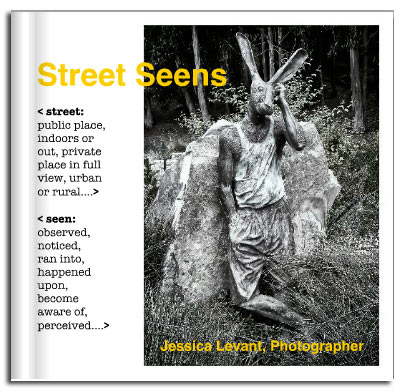 Still available - It's 8 x 8" and 80 pages. Click below to purchase.

You can preview the whole book HERE. It's only available online - purchase details on the preview page.
---
As always, I love hearing from you with comments, critiques, questions and suggestions or to just generally keep in touch. Every month I get back in touch with a few folks from far away. Please forward this email if you think it would be of interest to anyone you know. And, of course, if you don't want to receive my monthly announcements any more, you can unsubscribe below. Previous newsletter editions are available here.