TWO invitations for you!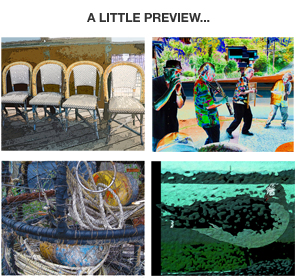 Two exciting events for my May Art calendar - and I hope for yours. I'm having a solo show at the Bay View Boat Club for which I've chosen digital art and photographs related to the waterfront, the bay, the club and music (for those unfamiliar with the club, there is ALWAYS wonderful music there). The show runs for the month of May and I hope you will come to my Reception on Monday, May 2 from 6 - 8pm. Since it's a 'first Monday' which means the Randy Craig trio will be playing that evening, I've engaged them to start earlier, so you will have jazz with your nibbles. For directions to the boat club, please see bayviewboatclub.org. Hope to see you!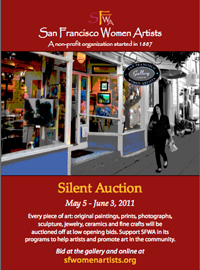 The other event is a month-long art auction at the San Francisco Women Artists Gallery. As a non-profit, they are trying this out as a fundraising activity which will benefit the art organization as well as all the succesful bidders who walk away smiling with the art they got at great prices. I have donated 4 pieces including last month's The Look. At this writing there are about 80 more artworks - framed and unframed wall art, sculptures, and fine crafts. The auction runs from noontime, May 5 to June 3, 6:30pm, as a silent auction at the gallery, 3489 Sacramento Street, San Francisco, and simultaneously, as an online auction for those who aren't able to go in person. The Opening Reception will be Friday, May 5 from 5:30 - 7:30 and the Closing Reception - where hopefully there will be frantic last-minute bidding - will be June 3 from 5:30 - 7:30. For more information and directions to the gallery, click the image above. The online auction link on the homepage will go 'live' in May.
---
New work: I haven't had time to do ANY new pieces this month! So here are a couple of my favorite photos from my website. Both of these have been made into cards and are for sale during April at the SF Woman Artists Gallery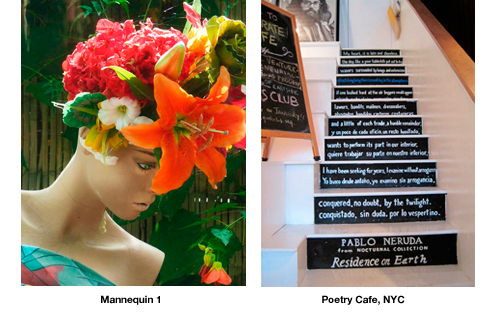 ---
Still on view: 6 of my still life pieces at the Stillpoint Gallery's Online Exhibition Still Life: Ordinary and Extraordinary (page 13) will be up until April 19, 2012.
---
As usual, I'd love to hear from you with comments, critiques, suggestions, etc. Please forward this email if you think it would be of interest to anyone you know. And, of course, if you don't want to receive my monthly announcements any more, you can unsubscribe below. Previous newsletter editions are available here.