If images below are not visible, please click HERE to view online.
---
It's all about women....
This theme for the March show at the SF Women Artists Gallery is Women's History Month. I was actually surprised that all my pieces were juried into the show. My two main entries are both dolls! Above is a composite I made of photos of a window in Philadelphia's Chinatown- purportedly 'celebrating' the historic brothel that once inhabited the building. It was really something to see! It's in a gold-toned metal frame, 27 x 16".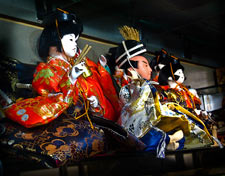 The other entry, I call Facades. I shot it through a shop window in Japantown, San Francisco. Framed in basic black, 16 x 21".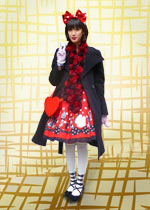 My small show entry is called The Pose. I took the original picture one day when I was passing by the Betsey Johnson store in downtown San Francisco. They were having an annual sale and their aficianados were costumed to the hilt and lined up around the block. As you can see, I've changed the background. It's framed in black with a double mat, 10 x 12".
The Opening Reception is Thursday, March 8 from 5:30 - 7pm at 3489 Sacramento Street, San Francisco. Do come if you can!
---
New Work:
February involved lots of black and white processing, a shoot at the Headlands Art Center, some impromptu 'catches' and some portrait practice at the Palace of Fine Arts. Here's a sampling.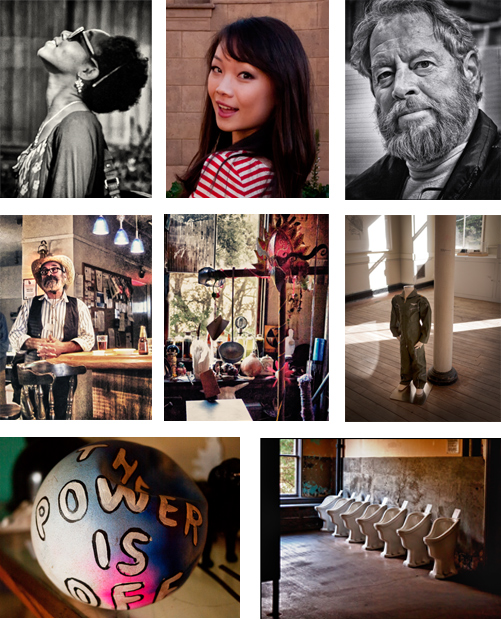 ---
Three at the Belmont Art Center
The theme for March was 'Playing with Green'. I printed two from my files and created the other one by playing with green. You can probably figure out which one.
---
Facebook Activity
Since my last newsletter, I was invited to join a facebook group called The Street is My Studio. (facebook.com/groups/hit-the-street). That got me searching through my files and running out and shooting even more than before. It resulted in the book above, but you might want to have a look. There are 179 members now and some wonderful photos to enjoy. It makes my page, facebook.com/jessicalevantphotoart pale by comparison, but you might like to visit that one too every once in a while - it's got a new look since last month. And next month, I'll highlight my new book, Street Seens, that came out of it.
---
As always, FREE E-CARDS of any of my works are available from my website in various formats and sizes. For free e-cards, click on a picture you like in any of the portfolios and follow the links at the bottom.
---
I love hearing from you with comments, critiques, suggestions, etc. Please forward this email if you think it would be of interest to anyone you know. And, of course, if you don't want to receive my monthly announcements any more, you can unsubscribe below. Previous newsletter editions are available here.