If images below are not visible, please click HERE to view online.
Yin Yang
The theme for this month's SF Women Artists Gallery show is Yin Yang, defined as "celebrating the feminine in everything and honoring women's history month". I didn't really manage that but they certainly feature the feminine. All three of my entries were juried into the show, so here they are:
On the left is 'The Overseer' which some of you might recognize as a feature of the Palace of Fine Arts structure in San Francisco. It's in a burnished coppery wooden frame. At right is 'Boot Leg', which was a chance shot I took from a theater seat looking out at the entrance where a woman was standing, mostly out of my line of vision. It's in a contemporary black frame. Both are 17 x 21" framed.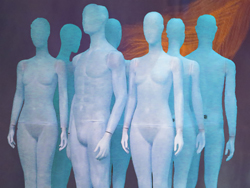 And on the right is one I had lots of fun with. It started out as some pale mannequins in a store window that was due for a grand opening the following day. I switched out the background and turned them blue and call it (appropriately I think) 'Ready to Wear'. The print on the gallery wall is 4 x 6" in a 10 x 12" black frame, and I have a larger one that will be in the print bin there matted but unframed. Just in case it's of interest, this piece can be printed in any number of color combinations to match your decor!
The show opens on the March 6th and runs to April 6. The Opening Reception on Thursday, March 7th from 5:30 - 7pm at 3489 Sacramento Street, San Francisco. Hope to see you there. Always lots of interesting people and good nibbles to enjoy.
More of the pieces for this month's show can be seen on the sfwomenartists.org website.
---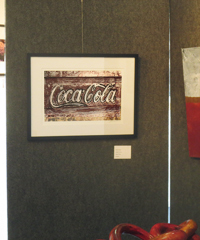 The Coast
I had one piece selected for the March Member Show at the Coastal Arts League, Half Moon Bay. Here it is hanging on a panel front and center in the gallery. It's a nice show and runs until March 31.
There's a reception on Friday March 15 from 5pm - 7pm and I promise to show up if anyone I know will be there! Let me know!!
---
Still Point Online Gallery

I was pleased to learn that all 5 of my entries to the Still Point Gallery's Everyday Ordinary Objects show were accepted into their show last month. They will be in the current exhibit at http://www.stillpointartgallery.com/index.php?action=gallery&id=23 until April 30. Mine are sort of in the middle of the page. One piece above (Grater, on the far left) is also featured in their quarterly print journal.
---
Continuing
Still at the CK Gallery, PIedmont Avenue in Oakland: Love Notes, framed in black at 16 x 20" and The Look, in a 22 x 28" black frame.

---
New Works
I did some photo-walking in February. Below are a few results - the top two from a mushroom vendor in the Ferry Building and the 3 at the bottom from an afternoon in Chinatown. There are more on my photo blog from these and other February walks.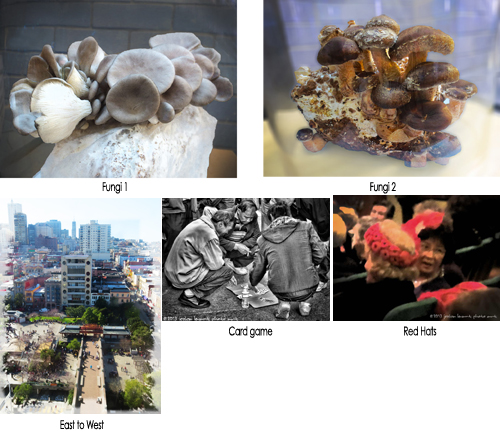 ---
Street Seens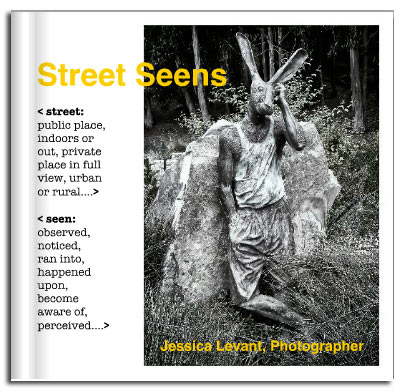 Still available - It's 8 x 8" and 80 pages.

You can preview the whole book HERE. It's only available online - purchase details on the preview page.
---
As always, I love hearing from you with comments, critiques, questions and suggestions or to just generally keep in touch. Every month I get back in touch with a few folks from far away. Please forward this email if you think it would be of interest to anyone you know. And, of course, if you don't want to receive my monthly announcements any more, you can unsubscribe below. Previous newsletter editions are available here.