Dancing in the Dark
The theme for the March show at the San Francisco Women Artists Gallery is 'Women's History Month'. Since not much of my work focuses on people, this was a hard nut for me to crack. But back in September I went to an extraordinary performance event one evening and shot these dancers 'flying' off the top of the four story San Francisco Women's Building on Valencia Street. It was in celebration of the 100th anniversary of this amazing institution, and the dancers really are called the Flyaway Dancers. I should mention that the performance took place after dark, so I was happily surprised that my little pocket Panasonic was up to task. It's printed at about 18 x 12", and in a gold frame.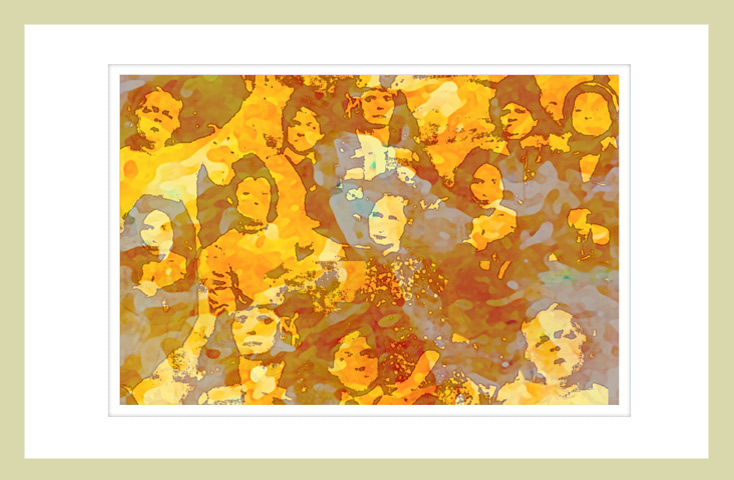 My other piece in this show demonstrates a technique I've been playing with for a year or so where I take a black and white photograph (this one I didn't take, since I wasn't born yet) and do some 'work' on it and then overlay another photograph that I did take. I then manipulate the pixels and colors, sometimes add more overlays until I'm happy with the result. The original photo in this case is a group of WCTU ladies of 1910. I named the piece Temperance Revisited, and while this will be it's first airing matted and framed (pale wood; 20 x 28"), I am pleased to have sold an earlier print of it during one of the recent gallery 'Artists' Sale' days.

The opening reception is Thursday evening, March 10 from 5:30 to 7pm at the gallery, 3489 Sacramento Street, San Francisco. The show will be up until April 2. Sadly, I won't be at the opening since I'll be in Mexico - well, OK, not sadly - the colors of Oaxaca beckon, and I expect to come back with lots of new material, not to mention a bit of new silver jewelry. There should be a lot of interesting art in this show, so don't let my absence stop you from attending.
---
New work: Two new pieces are now on my website, and just so I can't be accused of having an identifiable body of work, they're about as different as they could be.
Pool for Dummies will be found on the 'People Doing' page of my website, and - well - how could I resist? My boat club just sends up the strangest views! And then nature did her bit and presented me with a most stunning sunset off the bow of my boat. It's on the Colors page.
---
Still on view: 6 of my still life pieces at the Stillpoint Gallery's Online Exhibition Still Life: Ordinary and Extraordinary (page 13) will be up until April 19, 2012.
---
I was pleased to get some very nice comments after sending out my first newsletter last month (if you missed it, you can see it here). I'd love to hear from you with comments, critiques, suggestions, etc. Pleae forward this email if you think it would be of interest to anyone you know. And, of course, if you don't want to receive my monthly announcements any more, you can unsubscribe below.