Derivitives?
My challenge this month was to submit art to fit the gallery show theme 'Homage to a Favorite Artist'. That was a bit tricky since I have many, many favorite artists - from Matisse to Warhol, Breugel to Rothko, not to mention Henri Cartier-Bresson, but in the end I managed. The first started as a photo I took last Autumn in Visalia, CA and, well how could I not think of Hopper, certainly one of my favorites.
It has a wide white mat and is framed in white wood. My other submission is a photo I took at the De Young Museum of a small Calder sculpture - While the piece itself is my kind of whimsical, I was particularly attracted to the reflections of the patrons on the sculpture case.
The opening reception is on Thursday, June 9 from 5:30 to 7 pm at the SF Women Artists Gallery, 3489 Sacramento St.
---
Thank you all who came to my show at the Bay View Boat Club. It was well received I was very happy to fill so many orders!
---
New work: Couple of fun ones this month.
Desktop and Desktop 2. They're 'filed' under portfolio/favorite photos on my website.
Plus a couple of San Francisco sites: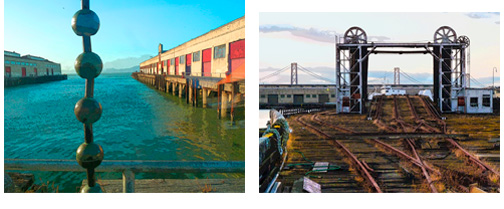 The left one is at Fort Mason and on the right the Santa Fe RR Bridge in China Basin. These are filed under portfolio/san francisco.
Speaking of my website, let me remind you that you can send unlimited free ecards of any of my porfolio contents. Just click on the image to see the options.
---
Still on view: 6 of my still life pieces at the Stillpoint Gallery's Online Exhibition Still Life: Ordinary and Extraordinary (page 13) will be up until April 19, 2012.
---
As always, I'd love to hear from you with comments, critiques, suggestions, etc. Please forward this email if you think it would be of interest to anyone you know. And, of course, if you don't want to receive my monthly announcements any more, you can unsubscribe below. Previous newsletter editions are available here.