If images below are not visible, please click HERE to view online.
---
I don't do Landscapes...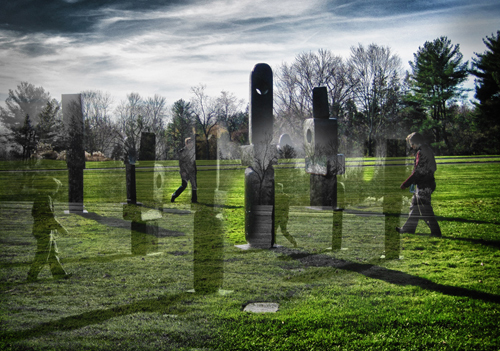 I was surprised to get my work into the January show. The theme for this month's exhibit at the SFWA Gallery is Landscapes. And landscapes are not really what my creativity thrives on. However, I submitted what might be called 'Landscape Variations' and find that two of my pictures were selected for the show. I shot the above at the Pepsico Sculpture Park in Purchase, New York in November. I then did a bit of compositing and 'whatnot', resulting it a piece I call Meeting. It's matted to 20 x 18" and in a black frame.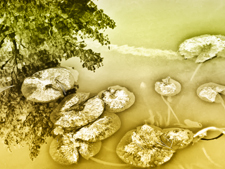 My other photograph is called Lily Pads, a small image in a 10 x 12" gilded frame with a double gold-trimmed mat. Lily Pads is also from my Pepsico Sculpture Park tour.
The Opening Reception is Thursday, January 12 from 5:30 - 7pm at 3489 Sacramento Street, San Francisco. I do hope to see some of you there.
---
New Works
It's been a busy holiday season but a recent wander through Sausalito's Gate 6 resulted in some interesting vistas. Here are four of them.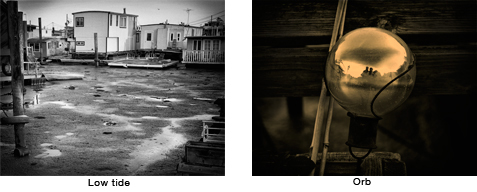 The next two came from a chance encounter with an art installation - a pyramid of basketballs. It was shot through a glass door and there was a glass wall behind the piece allowing a view back into the lobby of the Herbst Theater ( where I had just been wowed by an Ahmad Jamal concert). I'll take votes on color vs. black and white preferences. I'm also in need of a title. All I've come up with is 'Balls'.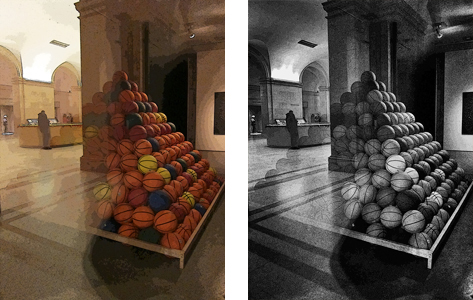 And finally, from my trip to Philadelphia in November, my rendering of the old Bethlehem Steel Plant.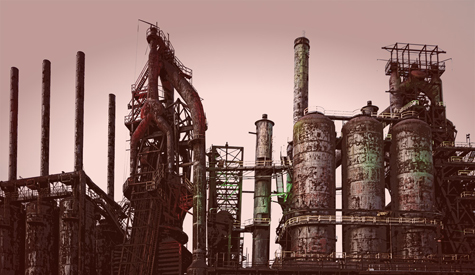 ---
FREE E-CARDS of any of my works are available from my website. Click on a picture you like in any of the portfolios and follow the links at the bottom.
---
As always, I'd love to hear from you with comments, critiques, suggestions, etc. Please forward this email if you think it would be of interest to anyone you know. And, of course, if you don't want to receive my monthly announcements any more, you can unsubscribe below. Previous newsletter editions are available here.