If images below are not visible, please click HERE to view online.
Interiors
The theme for this month's SF Women Artists Gallery show is Interiors, defined as "revealing the 'inside', the secret; a peek into what wouldn't be seen in a cursory glance". I had all three of my entries accepted. The one above is my latest version of Hope, composited from a manniquin photograph and some other transparent background photographs I had taken. I call it Hope because it brings to mind (my mind at least) a person hoping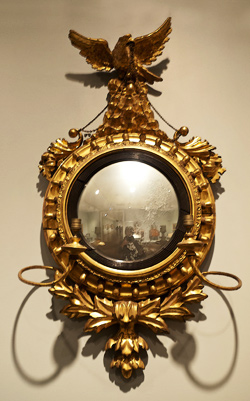 to get beyond whatever barriers, entrapments, impediments exist. It's in an 18 x 24" plain black frame.
My second piece is called American Mirror, a more traditional interpretation of Interiors. This mirror was hanging in the Chicago Art Institute, and yes, that's me reflected in it. Also 18 x 24" in a black frame.
My small entry is a shot I took one evening in the lobby of 77 Geary St, San Francisco (it's aptly called 77 Geary). Seen below, it's nicely matted in a brown wooden 10 x 12" frame.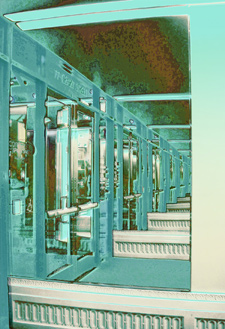 The show opens on the February 6th and runs to March 2. The Opening Reception on Thursday, February 7th from 5:30 - 7pm at 3489 Sacramento Street, San Francisco. Hope to see you there. Always lots of interesting people and good nibbles to enjoy.
Have a look at some more of the pieces for this month's show on the sfwomenartists.org website.
---
And for the East Bay
I again have works at the CK Gallery in Oakland who set the theme for this Valentines Month as Michelle and Barack - but actually all things about love were acceptable. So my two pieces there are Love Notes, framed in black at 16 x 20" and The Look, in a 22 x 28" black frame.

The official opening reception is on Saturday evening, February 9 from 5 - 7:30 pm at 4125 PIedmont Avenue, Oakland. The show goes on until March 2.
---
New Works
One of my favorite new pieces was shot the day the herrings ran. I was walking along the embarcadero and the colorful fenders and hundreds of seagulls were too hard to resist.
I have done some more but they'll probably be in the next couple of month's shows at the SF Women's Gallery so I'll keep you in suspense.
---
Street Seens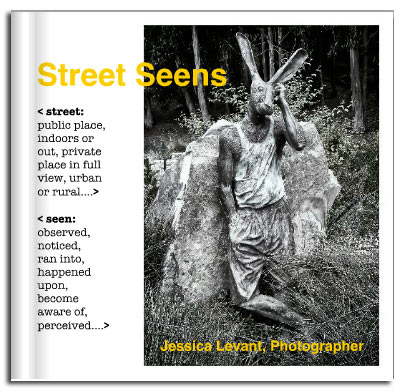 Still available - and what a lovely Valentines Day Gift! It's 8 x 8" and 80 pages.

You can preview the whole book HERE. It's only available online - purchase details on the preview page.
---
As always, I love hearing from you with comments, critiques, questions and suggestions or to just generally keep in touch. Every month I get back in touch with a few folks from far away. Please forward this email if you think it would be of interest to anyone you know. And, of course, if you don't want to receive my monthly announcements any more, you can unsubscribe below. Previous newsletter editions are available here.