If images below are not visible, please click HERE to view online.
December Gallery Show: San Francisco Impressions
Above is one of my pieces selected to be in the San Francisco Women Artists Gallery show, San Francisco Impressions. It's called Stockton Street, not surprisingly because I shot it on that Chinatown shopping street. I thought it had a universality to it, seeming to be untouched by time. It's matted in an 18 x 24" black wooden frame.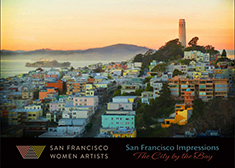 My other piece in the exhibit, and also on the postcard advertising the show, is Telegraph Hill. This one is matted in a 21x28" blond frame.

The Opening Reception is on WEDNESDAY, DECEMBER 9 from 5:30 - 8pm at 647 Irving Street, San Francisco @ 8th Avenue. I will be there along with many of the other artists responsible for the 60+ pieces of art on the wall. I hope you can come and join the party!
---
My first Open Studio
Since the world is my studio, I hadn't before considered having an Open Studio event, but then when I finally realized I had NO MORE ROOM to store any more framed work,
I thought I'd give it a try, right in my apartment. For several days prior I hauled framed and unframed prints, bins and small tables from my storage cage and found spaces to prop things up for easy viewing, all the while keepiing a small amount of living space for myself. It was like living in an art store - but not at all a problem!
With the help of a local-only mailing, signs in my building and a few promo postings on facebook, I ended up having a steady stream of people pop in (some old friends I had not seen in years which was even more fun), and many of my pictures have now found new homes. Above is how my living room looked. Below shows one of my few botanicals, 'Rainbow Leaves', in the entrance way of a charming home in Noe Valley.

By the end of the weekend, I decided this would become an annual affair.

---
New Works ...
A few bits and pieces from the past several weeks:

---
And don't forget books can be the perfect holiday gift ...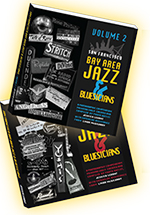 The two volumes of Bay Area Jazz and Bluesicians, with a total of 251 local musicians photographed while they were performing are available on amazon.com (fastest way to get them online) or at www.bayareajazzandbluesicians.com probably a bit cheaper and takes 7 - 10 days to receive them. You can preview some of the pages on either site. If you prefer hand to hand consumerism, they can be purchased at Glen Park's Bird & Beckett Books & Records in San Francisco and The Jazz Conservatory bookstore in Berkeley. One of my favorite non-profits, Jazz in the Neighborhood, also offers them for purchase at most of their performances.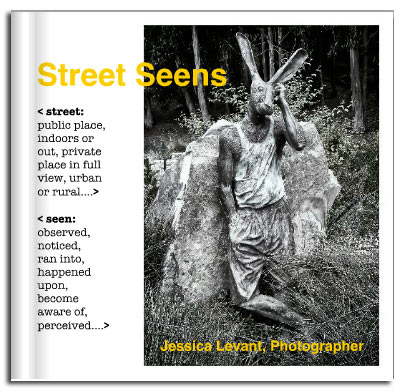 And never out of date, Street Seens can still be had from blurb.com. It's full of street photography from my jaunts here and there in the world, and it's available in both paper and hard cover versions.

You can preview the whole book HERE. It's only available online - purchase details on the preview page.
---
Please forward this email if you think it would be of interest to anyone you know. And, of course, if you don't want to receive my monthly announcements any more, you can unsubscribe below. Previous newsletter editions are available here.